Pineapple & Peach Turkey Meatballs.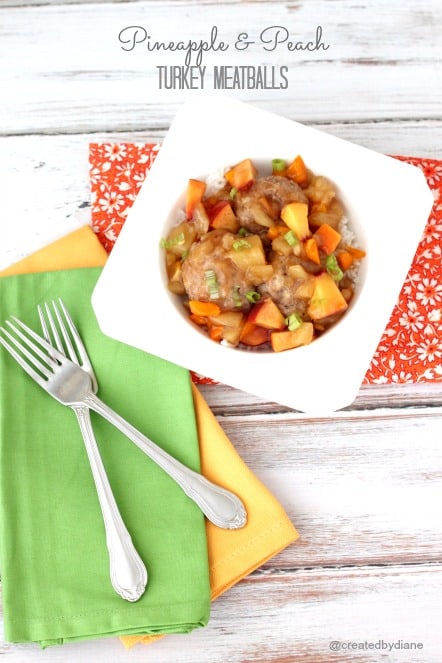 I won't lie I love meatballs
I think they go with everything from pizza to pasta and sandwiches to soups….
but I think I've completely converted to turkey meatballs
Really no one is more surprised than me
If you prefer beef meatballs or pork meatballs both will be delicious with this sauce as well.
One thing is for sure I can NEVER have too many meatballs in the house.
They get gobbled up each and every time I make them. I even triple the recipe and hide them in the freezer just to keep some for later.
I made a quick soup with these as well. Chicken broth, fresh spinach and orzo noodles, super quick and easy and if you make a bunch of meatballs ahead of time, it makes getting dinner to the table even faster.
I think someone should come up with a restaurant that is based on meatballs. All types of meatballs, all types of sauces…the possibilities are endless. I would be there every day. It would go meatball crazy! I can see it now, talk about fast food, you could drive up to the drive thru and get a meatball on a stick. hay, maybe that would be  a great place…..someone should open it, I'd visit all the time!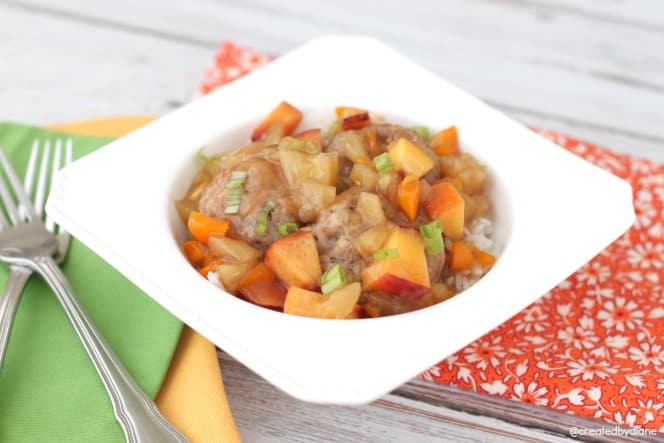 Pineapple & Peach Turkey Meatballs
Ingredients
1 pound ground turkey
1egg
1 cup panko breadcrumbs
1/4 cup parmesan cheese
1/2 teaspoon oregano
1 teaspoon fresh garlic ( I use Gourmet Gardens)
(1-2 tablespoon milk if needed)
Pineapple and Peach Sauce
1 can pineapple chunks
2 tablespoons cornstarch
1 tablespoon soy sauce
1/3 cup rice wine vinegar
1/2 cup brown sugar
1/2 cup yellow/orange pepper (diced)
1 peach diced
2 scallions diced
Instructions
Preheat oven to 350 degrees.
Mix turkey, egg, bread crumbs, cheese, oregano, garlic.
Mix and roll into round meatballs. I used a 2 tablespoon size scoop to portion out each meatball, then rolled them.
Bake for 20 minutes or until cooked through rolling the meatballs on their sides for even cooking half way through.
Pineapple and Peach Sauce
Bring the pineapple juice, cornstarch, soy sauce, vinegar and brown sugar to a boil.
Add diced pepper, pineapple and peach.
Serve over rice or pasta and add scallions on top.
If you like it spicy, when heating the sauce add some crushed red pepper flakes.
This falls under into the  30 minute meal category…which I love.
I bet I could think up enough ways to enjoy meatballs to fill and entire menu.
I will have to get working on that!
What is your favorite way to enjoy meatballs?