Grilled Romaine, Chicken, Peaches and Blue Cheese Salad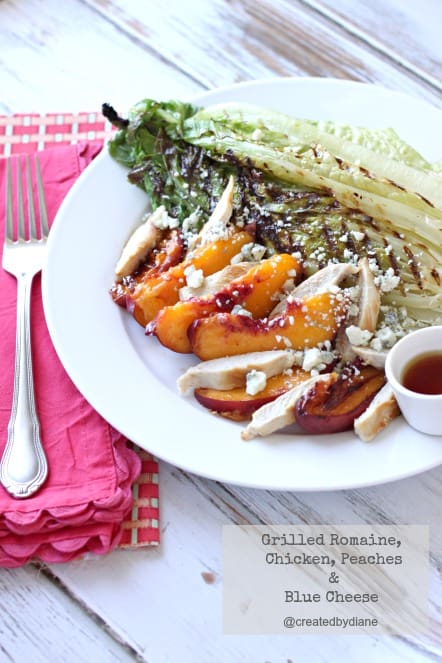 Grab some peaches and start grilling them.
They are so delicious hot off the grill,
the sweetness of the peaches with blue cheese is wonderful.
I love grilled salad.
I often heat up my grill pan and in minutes, my meal is ready.
Before winter creeps in be sure to try this!
Speaking of winter… the weather cooled off nice here tonight and I could open the WINDOWS, sure beats the temps over 100 during the day, it's about 70 degrees so the I flung open almost every window in the house and well, to be honest it got out the smokiness from the pan I "overheated" at dinner time. I may have put some oil in the pan and well forgot to add anything else to it for a few minutes (oops!).
I'm glad our smoke detector isn't super sensitive or that thing would be ringing A LOT this week. I may have burnt some bread in the toaster, it got a little smoky in the kitchen.
What is with me this week, maybe it's just the heat. Yep, that is what it is, I'm just anxious for it to cool off a little.  All this heat went to my head and I keep smoking us out in the house. Good thing I haven't burned dinner!
I may even head out for a run tonight…couldn't do that very much this past month or so, it's been TOO hot and hasn't cooled off enough at night when I would usually work out. Am I the only one who likes to work out at night? I see people running around town in over 100 degrees and they just look like they are in PAIN. I tend to go to the gym if it's hot out,  at night is cold inside the gym I go to.
Really… they must leave the air conditioning at the same temperature they have it set at during the day with 100 people there and 107 degrees because at 9 pm it's cold when you walk in and well….nice when you are working out. I am NOT complaining one bit that it's cold in there, I LIKE it! I try to avoid the busy times, it too hot and there are too many people. Tell me I'm not the only one who doesn't rush there in the morning or when it's mobbed with people.
No dressing is needed for this one, but if you are a dressing person and just have to have dressing on it, a balsamic vinaigrette is very nice.
Grilled Romaine, Chicken, Peaches and Blue Cheese Salad
Ingredients
1 Romaine Lettuce Heart
1 tablespoon olive oil
1 peach, pitted and cut in half
1 boneless skinless chicken breast cooked and sliced
2 tablespoons crumbled blue cheese
1 tablespoon olive oil
Instructions
Split the lettuce in half lengthwise leaving the core in.
Heat grill or grill pan lightly oil the cut side of the lettuce so it doesn't stick.
Cook the lettuce for 3-4 minutes until it softens slightly and has grill marks.
Oil the cut side of the peach and place on grill or grill pan and cook 3-4 minutes. (if using a grill or larger grill pan you can do these at the same time.
Place 1/2 the lettuce on each plate, add 1/2 cooked sliced chicken breast, (heated if desired) slice the peach and place 1/2 on each plate and top each plate with 1 tablespoon crumbled blue cheese.
Makes 2 salads.
Serve with balsamic vinaigrette if desired.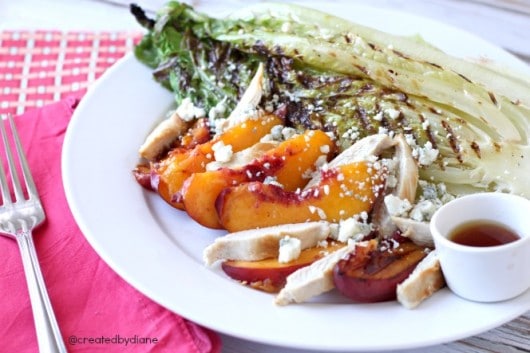 I just bought some more peaches and will be grilling up this again soon.
Do you have a favorite recipe using peaches, let me know. I may just want to try it, leave a link in the comments. Thanks!