Mocha Mint Cupcakes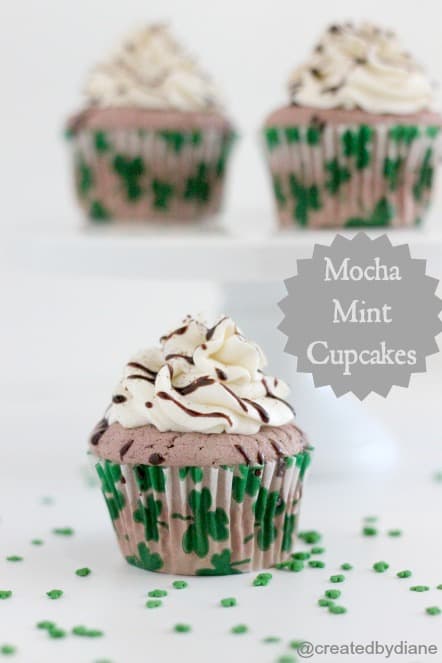 We are getting plenty of rain and by the looks of it…. the rain will continue into tomorrow.
There should be RAINBOWS popping up everywhere.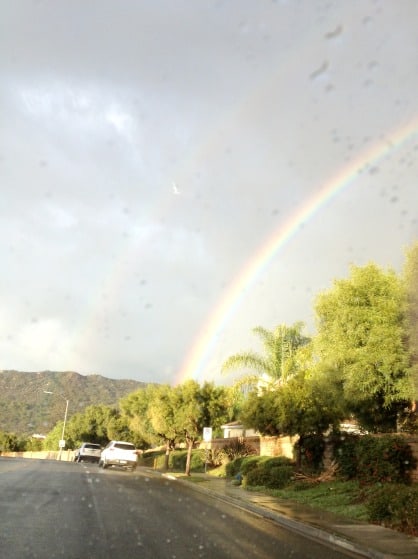 I took this photo  a few months ago when it rained, I love that when it rains where I live, we often see rainbows and even double rainbows.You can see two, right?  I don't recall seeing as many rainbows as I do now when I was younger.
So I waiting….. to see more rainbows.
Guess I'm just not have good luck in the rainbow area, but maybe because I put all my focus on these fun cakes.
I figured if I couldn't see a rainbow, I'd have to make something magical until I do.
These Mocha Mint Cupcakes are like biting into a mocha in cake form…
that is if they had some yummy mint creamy goodness on top.
Well I haven't seen that yet.
And really the mint frosting is one of the yummiest parts of these cupcakes. I just love creme de menthe in the frosting.
So whip up a batch of these until the rainbows come out! I won't even tell anyone if you eat most of them waiting.
Mocha Mint Cupcakes
Ingredients
1 box white cake mix (along with ingredients to prepare)
4 tablespoons Ghirardelli Sweet Ground Chocolate
3 teaspoons instant coffee
3 drops white food coloring to lighten up the color of the cupcake batter
3 tablespoons chocolate syrup
1 cup butter
4 cups powdered sugar
1 teaspoon vanilla extract (use clean vanilla for a whiter result)
3 tablespoons heavy cream
4 drops creme de mint flavoring
Instructions
Prepare cupcakes according to package adding in chocolate and coffee and coloring.
Bake cupcakes according to package.
Cool cupcakes completely.
Prepare Buttercream Frosting Recipe:
Beat butter with sugar, add in vanilla and cream and mix until smooth.
Frost cupcakes with a #2D tip and top with a drizzle of chocolate syrup.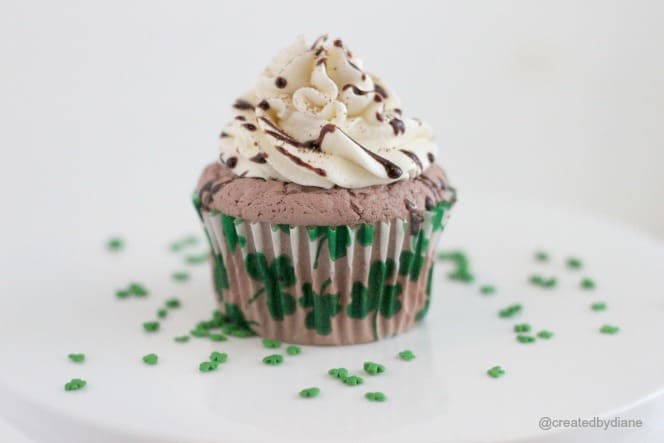 Hope you day is fun, and filled with rainbows….real or well you can create your own.
I saw these  and they are super cute! DON'T miss seeing these rainbows are St. Patrick's Day Gifts from The Idea Room.