Royal Icing Pumpkins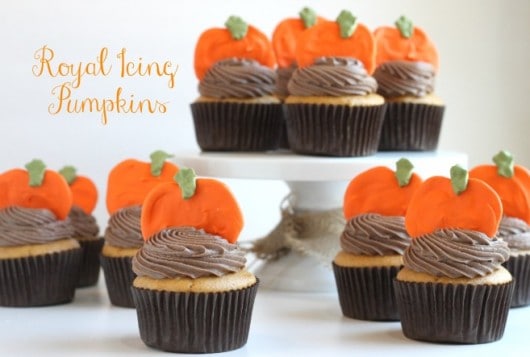 Create your very own pumpkin patch.
It's easy, trust me!
I had leftover royal icing from decorating cookies and tinted 1 cup of it orange and a 1/4 cup of it green.
I use Callye, Sweet Sugar Belle's Royal Icing Recipe.
I used a #10 piping tip and piped out a pumpkin shape onto parchment paper on a cookie sheet pan. Then I piped on the green stems with a leaf tip.
I let them dry overnight.
Then I lifted them off the parchment paper and place them on a wire rack to be sure the bottoms had dried also, for an hour or so.
I baked up some yummy Pumpkin Spice cupcakes with Chocolate Pumpkin Spice Frosting.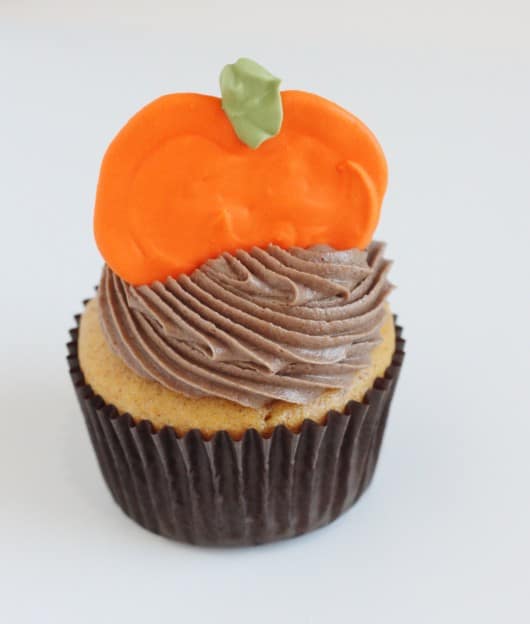 Although you need to make the pumpkins a day ahead they are really easy and make for some really cute cupcake toppers.
Royal Icing Pumpkins
Ingredients
1 box French Vanilla Cake mix
Ingredients to prepare mix
replace 1/2 the water with pumpkin puree
2 teaspoons pumpkin pie spice
Instructions
Prepare the mix according to package directions replacing 1/2 the water with pumpkin puree and adding 2 teaspoon pumpkin pie spice.
Cool cupcakes completely before icing.
Place pumpkin on frosting close to serving. The moisture of the frosting will soften the pumpkins, so don't apply them a day ahead of serving.
Notes
Chocolate Pumpkin Spice Frosting 1/2 cup butter 1/2 cup shortening 4 cups powdered sugar 2 tablespoons heavy cream 1 teaspoon pumpkin pie spice 1 teaspoon vanilla extract 1/4 cup cocoa Beat butter add shortening, sugar, cream, pumpkin pie spice, vanilla and cocoa and mix until smooth.