These are so fun, and they won't melt and they are perfect for Indian Summer…
It always gets hot on a few days at the minimum in October.
So whip up a batch of these pumpkin spice cookies, in popsicle shape or roll them out and cut them into a shape of your choosing,
they dipped in icing and graham cracker crumbs too… SO YUMMY!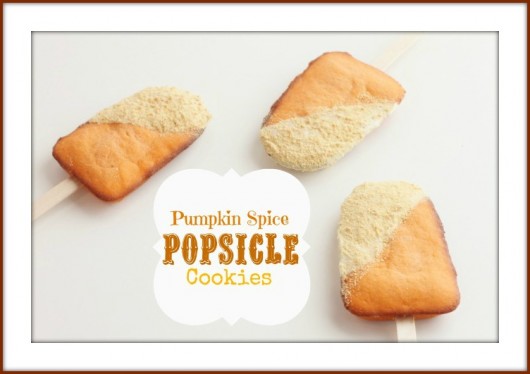 The weather here is hot one day and cooler the next.
Since the weather can't make up it's mind if it's summer and 104 degrees, or a cool Fall 73….
neither can I.
So I made these.
Pumpkin Spice Cookies dipped in icing and graham cracker crumbs.
It's all the wonderful flavors of pumpkin pie all wrapped into a cookie pop.
The best part, no matter how hot it gets these won't be dripping down your arm.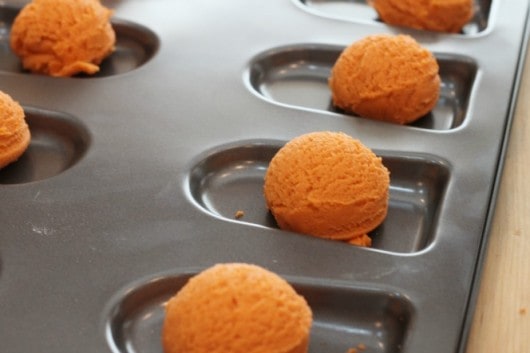 I saw this cute Popsicle Cookie Pan and just knew I would find many fun uses for it. It's available here on Amazon, if you can't find it in a store near you.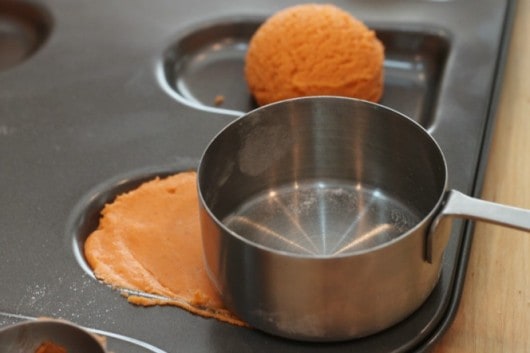 To smooth the cookie dough in the pan, I dipped the bottom of a measuring cup in flour and pressed the dough into the pan evenly.

Pumpkin Spice Popsicle Cookies
Ingredients
1 cup butter
1 1/2 cups powdered sugar
1 egg
1 teaspoon vanilla extract
1/4 teaspoon pumpkin extract-LorAnns
2 teaspoons pumpkin pie spice
4 drops orange Americolor Orange Coloring
3 cups flour
2 teaspoons baking powder
1 teaspoon salt
1 cup powdered sugar for icing
1 tablespoon corn syrup
1 tablespoon water
3/4 cup graham cracker crumbs
Instructions
Beat butter on medium until smooth.
Add powdered sugar and combine.
Mix in eggs, flavorings along with flour baking powder and salt and coloring.
Mix until all ingredients are incorporated and dough forms a ball.
Place two teaspoons of dough into each compartment of the popsicle pan or roll out dough on floured surface to cut with cookie cutter.
Bake in Popsicle pan for 7-9 minutes at 400 degrees.
Remove cookies from pan after two minutes carefully with spatula and place popsicle sticks into warm cookies holding the top of the cookie with one hand so the pressure of the stick moving in doesn't crack the top of the cookies.
Cool cookies completely.
Dip the cookies in icing.
Icing:
cup powdered sugar
tablespoon water
tablespoon corn syrup
then dip the iced cookies in graham cracker crumbs
and allow the icing to set up on the cookies.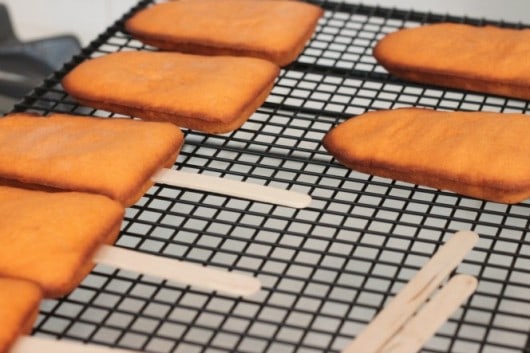 Be careful when placing the sticks into the warm cookies, and press one hand on top of the cookie as the other hand slides the stick into the cookies don't crack/break.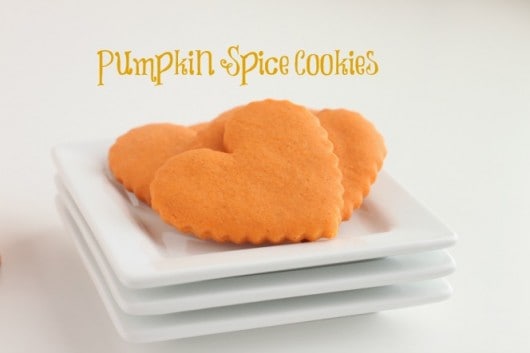 or roll out the cookie dough and cut it with your favorite cookie cutter 🙂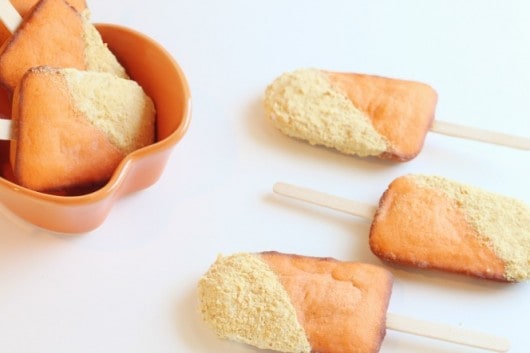 When I handed these out some people really thought I was handing them a popsicle. They are really fun and I'm sure I'll be using the pan again, I even bough two of the pans, just so I could back more at once.