This will cure all your chocolate banana cravings!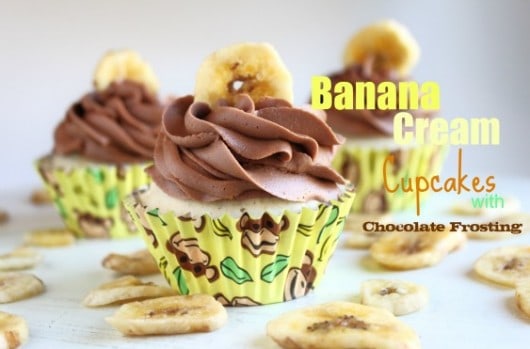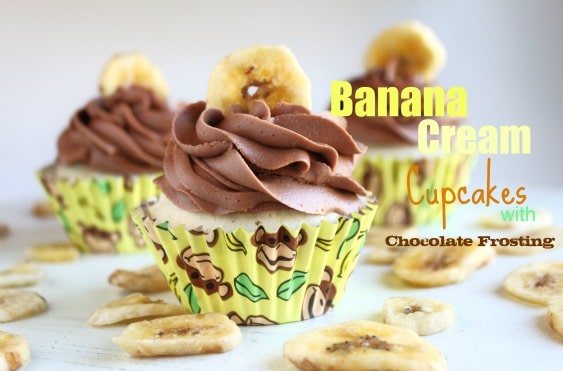 We're Goin' Bananas today on Created by Diane!
Are you ready for these super delicious banana cream filled cupcakes?
These do not disappoint one bit.
The frosting is smooth and creamy without being overly sugary, not that overly sugary doesn't have it's place….but just not today.
The banana cupcakes are lighter than banana bread but still moist and delicious.
The banana cream filling….
well that is the over the top delicious part.
I couldn't believe how something SO easy could have me standing at the kitchen sink eating what little was leftover
*note to self next time make more banana cream filling so I can eat it by the spoonful for DAYS!!!
Yes it was that good.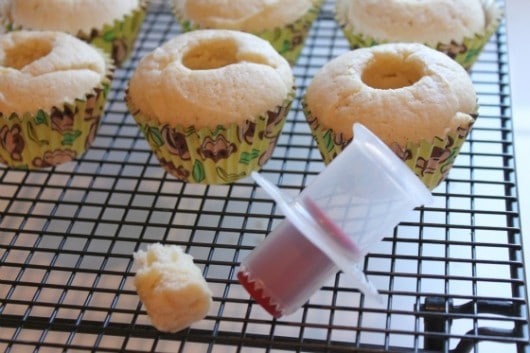 I've hollowed out cupcakes many times using a small knife or the back of a decorator tip and this handy little tool is WAY easier. Trust me especially if you are making 4 dozen cupcakes….this saves a lot of time. (Cupcake corer on Amazon $3.99)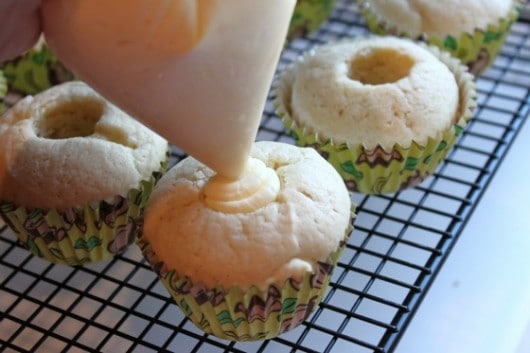 Place the chilled banana cream into a piping bag or plastic bag with the tip cut off so you can easily fill the cupcakes without any mess.
Place the top part of the cupcake piece you removed onto the cream. Just take a small knife and trim off the excess cake and eat it of course, that is the fun of making filled cupcakes, right?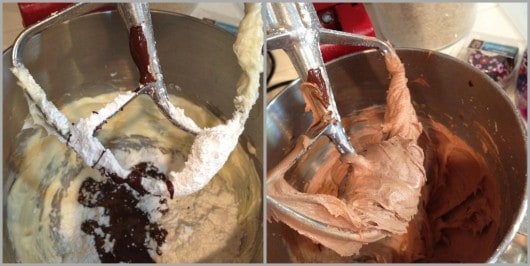 This is a delicious and easy chocolate frosting recipe, just remember to melt the chocolate chips and give them a few minutes to cool before adding it to the butter or the frosting will melt and you don't want melted frosting. If you are in a hurry, put the bowl of melted chocolate over a bowl of ice water for a couple minutes. You don't want the chocolate to firm back up, you just don't want it to be hot.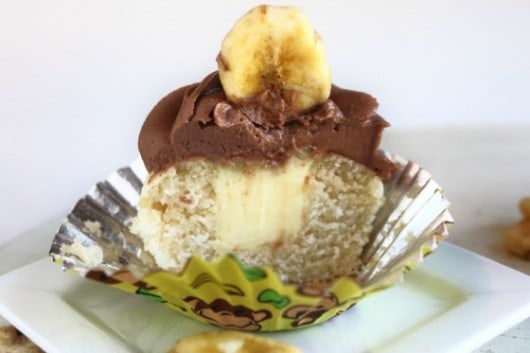 I decorated the banana filled cupcakes with the chocolate frosting and a 2D tip and added a banana chip to each one. Here you can see the thick banana cream filling. This is one of those times when you make something with a packaged item and don't follow the directions and wonder if you should call the company and tell them you made their product even better than they imagined and they should now put your idea on the box! Well at least I think they should.
The cupcakes remind me of banana cream pie and a frozen chocolate covered banana all in one.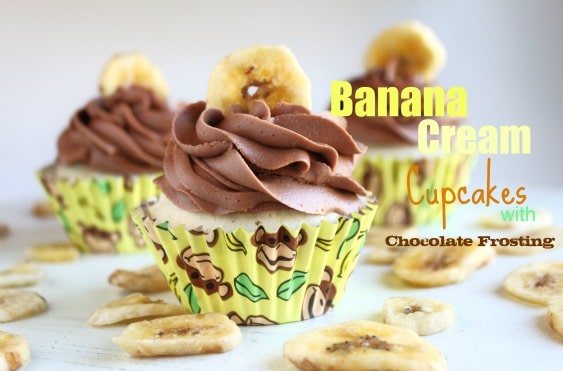 I just LOVE how cute these Monkey Cupcake Wrappers from Reynolds are they really looked so bright and pretty on the cupcakes.
Banana cupcakes with banana cream filling chocolate frosting and a banana chip, yes I told you we were goin' bananas today!

Banana Cream Cupcakes with Chocolate Frosting
Ingredients
1 cup sugar
2 eggs
1 1/4 cup flour
1 teaspoon baking powder
3/4 cup milk
1/2 cup butter
2 tablespoons oil
1 teaspoon vanilla extract
1 teaspoon banana extract
Banana Cream Filling
1/4 cup instant banana pudding mix
1 cup heavy cream Mix well and refrigerate
Chocolate Frosting
1/2 cup butter
2 cups powdered sugar
1/4 cups melted chocolate (Ghirardelli 60% Cacao Bittersweet Chips)
3 tablespoons heavy cream
Beat butter, add sugar, chocolate and cream and mix until smooth and creamy
Instructions
*be sure to make banana cream filling first so it has time to set up in refrigerator.
Beat sugar and eggs, add flour and baking powder.
Pour in milk and butter and oil, beat one minute until smooth.
Mix in extracts.
Beat sugar and eggs for 1 minute.
Fill each cupcake liner with 3 tablespoons of batter
Makes 12 cupcakes
Bake at 325 degrees (with dark pan and foil lined cupcake papers) for 20-25 minutes.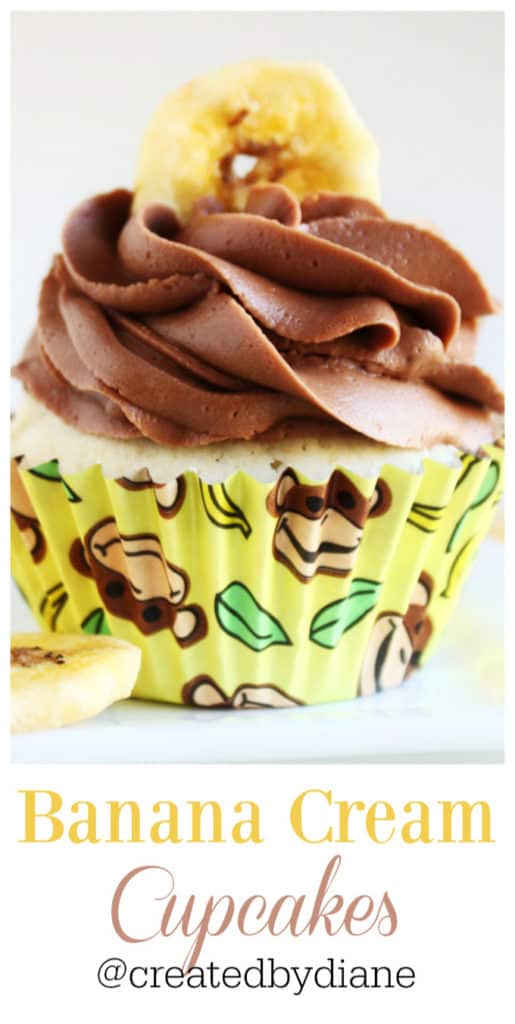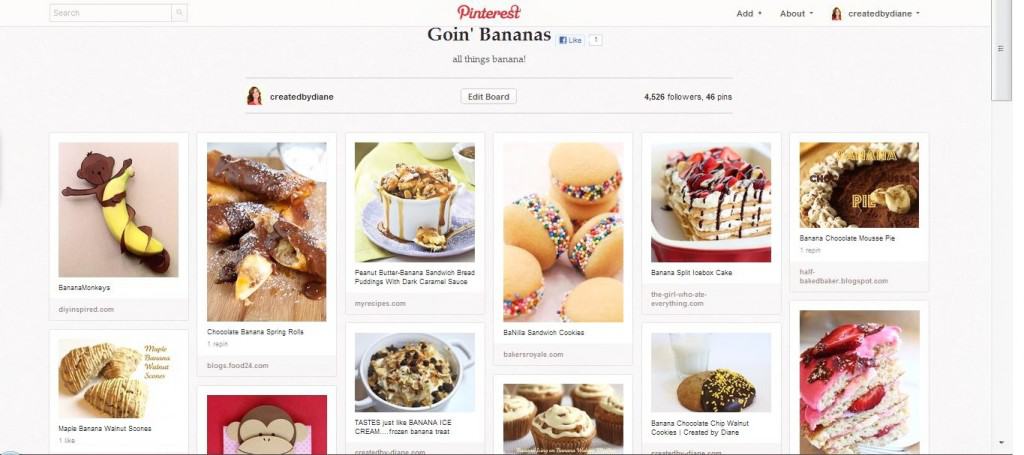 If you liked "Goin' Bananas" with me, you may like this fun banana board on Pinterest.