Reese's Peanut Butter Toffee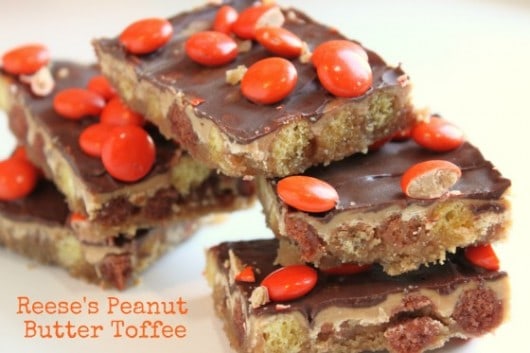 Since chocolate and peanut butter go so well together, toffee will make a better right?
Well it sure did to me.
It's crispy and crunchy with all three wonderful flavors together.
After making Pretzel Toffee a couple weeks ago, I guess you could say I'm going toffee crazy. Toffee really is crazy yummy though, so who could blame me for what could be described at ridiculous behavior! I then made four more types of toffee this one and three others who know maybe more will be added to the list.
I will say when doesn't chocolate and peanut butter get rave reviews? HUH?
and since it all starts with
Reese's Puffs Cereal, I won't say whether or not I had this for breakfast.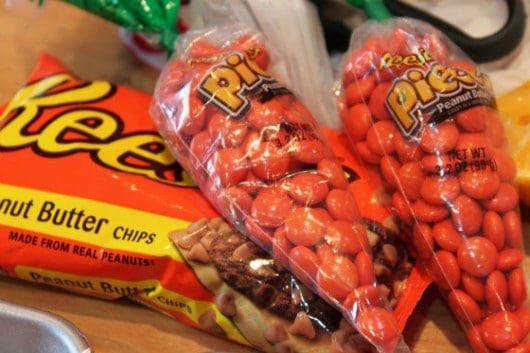 The base of the toffee is made with Reese's Puffs Cereal
added to it are Reese's peanut butter chips, mini chocolate chips and Reese's pieces.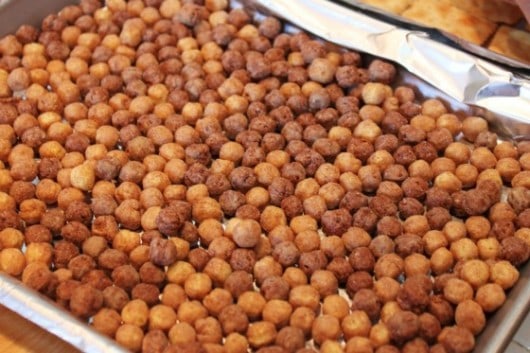 Spread an even layer of cereal onto a foil lined baking sheet.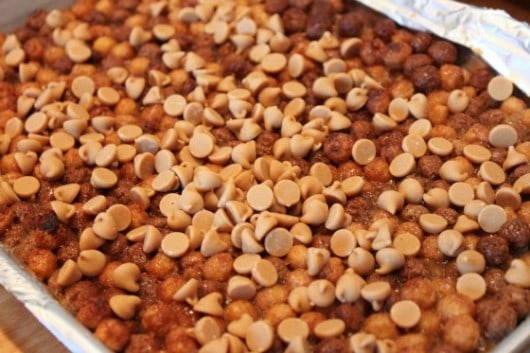 Cook butter and sugar then pour the boiled "toffee", over the cereal. Bake it for 8 minutes, then add Reese's peanut butter chips.
The heat from the "toffee" will melt the chips, spread the melted  peanut butter chips with a spatula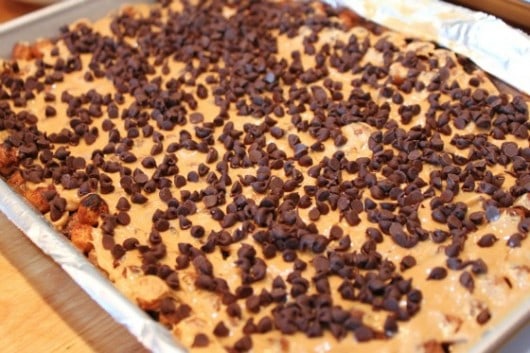 then add chocolate chip, allow them to melt and spread the chocolate chips around as well.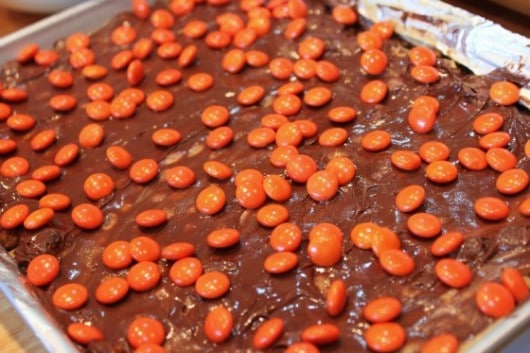 add Reese's pieces to the top
chill for 30 min. or until chocolate is firm.

Reese's Peanut Butter Toffee
Ingredients
1/2 cup butter
1/2 cup brown sugar
Reese's Puffs Cereal (enough to line baking sheet with about 4 cups)
1 10 oz. package Reese's peanut butter chips
1 cups mini chocolate chips
Reese's Pieces (I used 6 oz)
Instructions
preheat oven to 400 degrees
Line an edged pan with foil (1/4 sheet)
Line pan with cereal
Melt butter and sugar in saucepan, stir and boil for three minutes (this is the toffee)
spread toffee mixture over cereal
Bake for 8 minutes
Place peanut butter chips on top, when soft spread smooth with spatula then chocolate chips on top and when melted spread smooth
place Reese's pieces on chocolate and place baking sheet in the refrigerator for 30 minutes or until chocolate is firm. Cut into pieces and enjoy.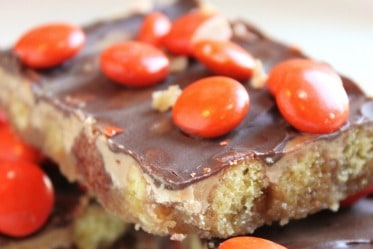 cut into pieces and enjoy.
If you like peanut butter and want another easy and fun Peanut Butter Bar Cookie Treat this one uses Reese's Puffs Cereal too.