Pumpkin Spice Cookies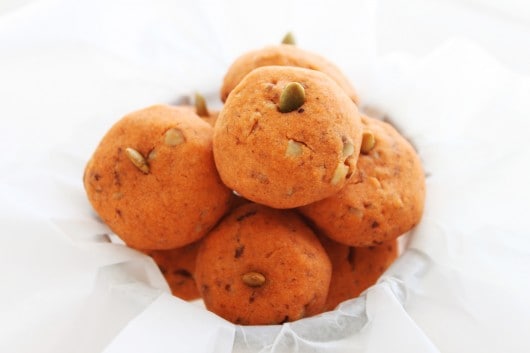 Pumpkin Cookies
I'd like to introduce you to my new favorite cookie.
Not only do they look like pumpkins they taste like the most wonderful pumpkin cookie.
I made them based off my Snowball Cookie Recipe, otherwise, know as "the Wedding Cookie".  Mexican Wedding Cookies, Italian Wedding Cookies, you know them, right?
These are melt in your mouth cookies! I can't rave over them enough myself or you might get bored, but others said they LOVE me when they had them and they aren't even related to me.
Pumpkin Spice Cookies
Ingredients
1 1/2 cups butter
3/4 cup powdered sugar
3 cups flour
1/2 teaspoon salt
1 teaspoon pumpkin pie spice
2 cups chopped pecans
1 Tablespoon vanilla
orange food coloring (Orange Americolor)
pepitas (shelled roasted salted pumpkin seeds)
Instructions
In a medium bowl with mixer beat butter with powdered sugar until smooth.
Add flour, salt, pumpkin pie spice, nuts and vanilla and mix until incorporated.
Roll into balls.
I use a tablespoon size scoop.
Place a pumpkin seed into the top of each cookie
Bake at 325 for 15 minutes.