Fresh Peach Cupcakes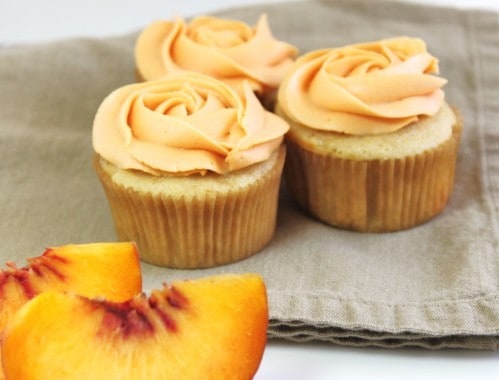 The smell of fresh peaches reminds me of walking through an orchard full of peach trees and filling a basket of fresh juicy peaches. It's one of my favorite memories and I'm so glad that memory has never faded.The smell of sweet peaches is overwhelming and there is nothing like eating a fresh peach while picking them, and of course there is nothing like the juice dripping down you arm like loads of foods seemed to do when you were a kid. Funny how it feels different when you're not a kid and you can't wait to wipe it off, but as a kid…ahh…who cared, it was all part of being a kid, or was it just me.
I didn't pick this beauty from an orchard….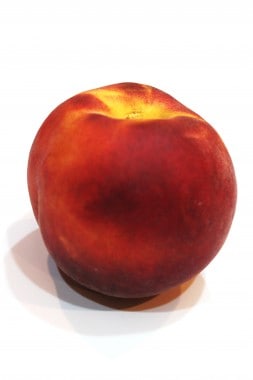 It came from my local farm stand and I think that is the closest I'm going to get to a peach orchard this year. It sure did taste like I picked it my self.
It was a large peach and oh how I had plans for this handful of joy to be put into some cupcakes. I bought four, just to be sure I'd have enough. Of course I had to sample a peach just to be sure it was going to be tasty enough for my cupcake, luckily it was and I was sure the others would too, they smelled so sweet.
Peach Cupake Recipe
1/4 cup butter
1/4 cup shortening
1 cup sugar
3 eggs
1 cup milk
1 3/4 cup flour
1/4 teaspoon cornstarch
1 teaspoon baking powder
1 teaspoon vanilla
1 cup fresh peach, pureed in a blender. I used 1 large peach.
Combine butter, shortening, and sugar, mix well. In a separate bowl beat eggs, then combine flour, cornstarch and baking powder to sugar mixture. Alternate it with the milk and eggs. blend in the peach puree until completely combined.
use a 3 Tablespoon scoop to fill cupcake liners and bake at 325 degrees for 15-20 minutes. Remove cupcakes from pan after 5 minutes and place on a cooling rack. Makes 24 cupcakes
Peach Frosting Recipe
1/4 cup butter
1/4 cup shortening
4-5 cups powdered sugar
2 teaspoons peach schnapps
1 teaspoon vanilla
1 drop each orange and egg yellow Americolor coloring
3 Tablespoons milk
Beat butter shortening and powdered sugar, then mix in flavorings, milk and coloring.
Place in a pastry bag fitted with the tip of your choice, I used a 2D tip to create the roses. Pipe on the frosting once the cupcakes are completely cooled.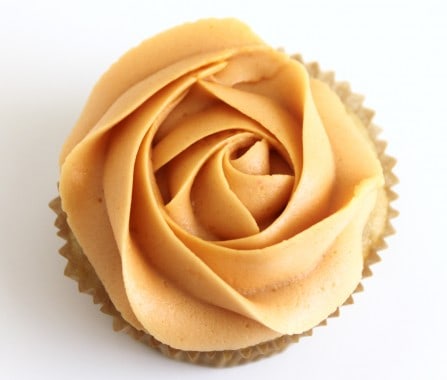 They smelled like sweet peaches!