Baked, Mini Apple Cider Donuts are just about the BEST thing ever! No need to run to the donut shop, you can bake a batch of these cuties any time of day (or night).

I was surprised to see it at a store the day after I made Baked Pumpkin Donuts and just had to have it.
I'm so glad I did, these mini donuts are so cute!
Powdered sugar and cinnamon topped donuts are my all-time favorite.  
These are easy to make and you can pop a whole bunch in your mouth as soon as they are done baking and the flavor is fantastic.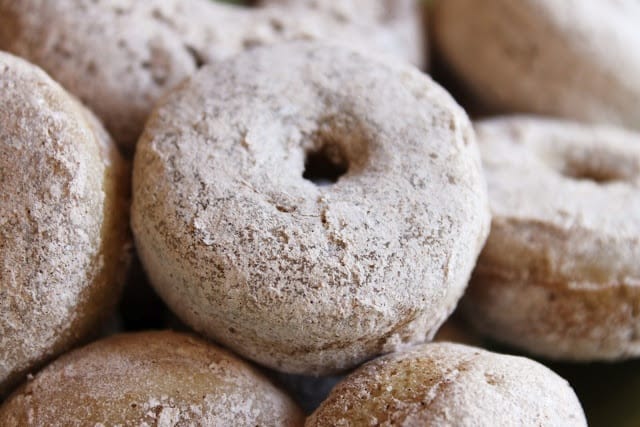 Just the right size to pop one,
 They were delicious and reminded me of the Wee Donuts I had as a kid hot out of the machine, as they passed by 🙂
Mini donut pan, I bet you'll come up with many uses for this pan. You can easily mix up a cake mix and make some yummy donuts using a cake mix.
Looking for some more fun recipes give my pumpkin funnel cake a try.
Baked Mini Apple Cider Donuts
Ingredients
2 cups flour
3/4 cup sugar
2 tsp baking powder
1 1/2 tsp cinnamon
1/2 tsp salt
then add:
3/4 cup apple cider
2 eggs
3 tsp vanilla
1 cup apple sauce
powdered sugar and cinnamon to roll donuts into.
Instructions
In a bowl, add flour sugar, baking powder, cinnamon, and salt mix well.
Add in apple cider, eggs, vanilla, and apple sauce.
Lightly grease the mini donut pan, and preheat the oven 325.
Fill pan 3/4 full.
Bake for 6-8 minutes.
When they were still warm I rolled them in a mixture of powdered sugar and cinnamon.
Notes
These are fat-free, but actually, I like the texture better with butter added in. So add 3 tablespoons of melted cooled butter to the batter if you prefer.