Peanut Butter and Jelly Cupcakes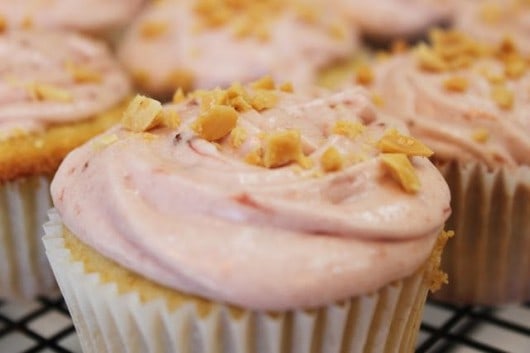 Delicious vanilla cupcakes with peanut butter filling with strawberry frosting
It all begins with a wonderful,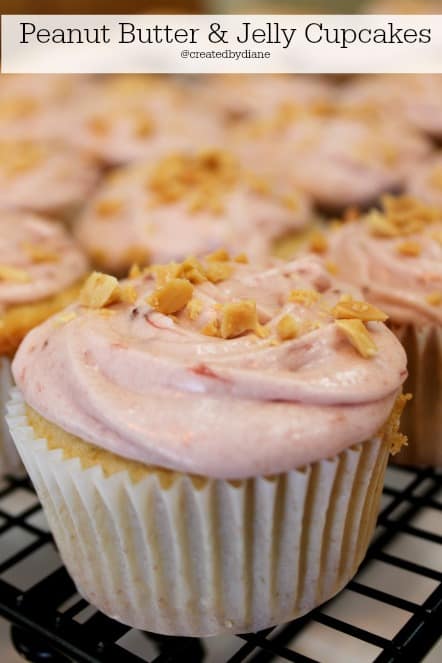 Vanilla cupcake
Sift flour baking powder and salt set aside
beat butter on medium until creamy,
then add sugar until fluffy almost 5 minutes.
Stopping to scrape sides down,
add the eggs a little at a time,
beating well after each addition.
then add the flour mixture in three portions
alternating with the milk beginning and ending with flour.
Bake at 325 for 25 minutes made 34 cupcakes
I removed a small portion of the cupcake with a cupcake frosting tip so there is space for the filling
Yes, filling…
a delicious
Peanut Butter Frosting
3/4 cup butter
1/4 cup peanut butter
4 cups powdered sugar
2 tablespoons milk
Beat butter and peanut butter then add powdered sugar and milk and mix until smooth
These bites of heaven get a swirl of Strawberry Frosting
Strawberry Frosting
1 1/2 cups butter
1/2 cup strawberry jelly
6 cups powdered sugar
5 tablespoons milk
Beat butter then add sugar and milk finally add strawberry jelly
Jelly makes the frosting soft if you prefer the frosting to stay firm add strawberry flavoring instead.
I loved that the frosting was softer than typical frosting 🙂
Top off the cupcakes with chopped peanuts.
YUM!