This weekend was filled with ball games!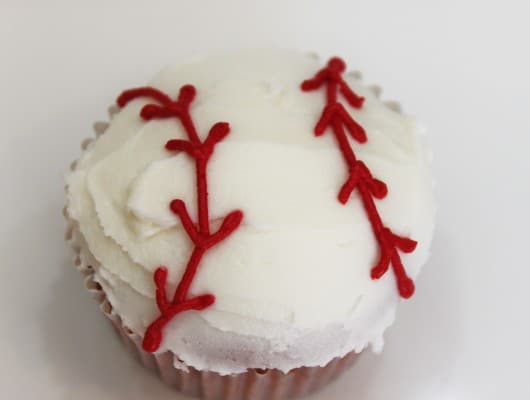 To get all set for this weekend…
there was a pre-game a couple weeks ago and I made these
I love the days when I forget how long it takes to get ready to leave the house…
I never seem to allow myself enough time.
I think, It'll only take me 10 minutes to frost the cupcakes
then 30 to get ready
and we'll be leaving within 45 minutes….
sure sounds good.
Then I realize how long it takes to pipe on laces on
a bunch of brownie cupcakes,
along with vanilla cupcakes
and some mini cupcakes too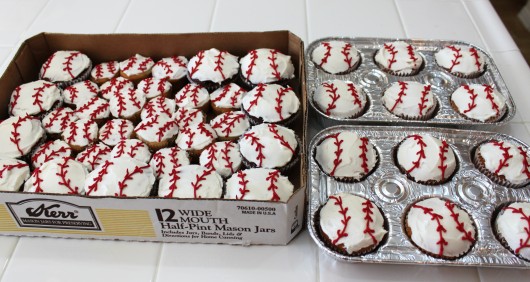 I really need to start planning better…
as well as remember to figure out a way to get all these cupcakes to not slide around in the car.
before I'm ready to leave the house..
what got into me,
I used to be a better planner!!!
(that would be planning error #2 but who is counting)
I have cupcake carriers that I usually take if I know I will remember to bring it home with me.
Trouble is I often forget and wouldn't want to have forgotten it in LA.
Unlike my little guy who forgot his scooter and helmet and is lucky we have an extra helmet for him to ride his bike to school with until we get it back, which might take a while.
Since it's not just around the corner.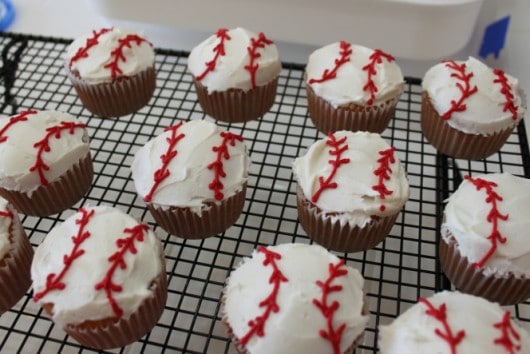 I used a cardboard box (for a case of water) for most of them and then remembered I had some more of these disposable tins. Wish I could find the deal I got on these again, 40 of them for $2.00. That's right, and a deal like that you don't forget! They are usually once in a lifetime deal, but I keep my eyes out just in case. I have used almost all of them in one year. Guess it's time to start saving the cardboard from more cases of water, it always seems between Halloween and Christmas I'm bringing cupcakes with me often.
So back to my weekend,
that is if you're still reading…
I was planning on making more
baseball cupcakes
or
to take with us to Vegas this past weekend.
( planning error #3 and #4 )
Sadly I ran out of time and didn't make anything!
That would require more planning and time than I had last week.
The other reason I think it was not the first thing on my list last week was the weather,
Vegas is hot in Sept. and I feared they would all melt.
Reminds me of the baseball bat chocolate covered pretzels that melted in the 95-degree car (error #5) before the party!
I said I'd never make them again in the summer.
Those cute candy molds just sit waiting to be made again…someday when it's cold in Sept. maybe they will get made again!
So instead of melted treats, I went with no treats.
I was as shocked as you are… you are shocked aren't you?
I was glad to be packed and ready to leave on time for this trip.
THAT WAS IMPORTANT and I was ready on time. (no treats but on time)
We walked in the door at 2 pm today from our drive back,
I baked two batches of cookies and two frozen lasagnas(really I had no idea frozen lasagna took so LONG to bake…it was my first time buying frozen lasagna…
REALLY!
but that's what you do when someone says you are to bring two trays of lasagna on Friday morning and you've already left the house and won't be back until a couple hours before the meeting your daughter is attending, right.
Well, I hope you had a wonderful weekend!
I need a rest from mine and the week has only begun 🙂