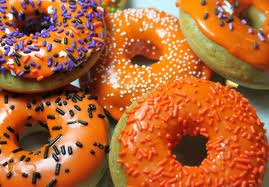 The thought of baked donuts doesn't usually sound so appealing to me,
 but I figure we consume enough fried food when we go out that I don't typically fry food at home. Baked donuts were worth a try!
They were a huge hit and my family can't wait to have more.
 They tasted delicious and there isn't much butter in them, and next time I might omit it entirely.
I adjusted the baked donut recipe the Norpro Donut Pan had on the package,
 it was for spiced donuts and I really wanted to make pumpkin donuts:
Pumpkin Baked Donuts Recipe
Mix:
2 cups flour
3/4 cup sugar
2 tsp baking powder
1 1/2 tsp pumpkin pie spice
1/2 tsp salt
then stir in:
3/4 cup milk
2 eggs beaten
3 tsp vanilla
1Tablespoon butter
1 cup canned pumpkin
Lightly grease pan, preheat oven 325. Fill pan 3/4 full, bake for 8-10 minutes.
For the glaze I used a cup of powdered sugar mixed with 4 Tablespoons hot water and two drops orange food coloring and a teaspoon vanilla. Apply sprinkles before glaze dries. This was enough for the 12 donuts the recipe made.