Yea, it's hard… sitting around all day long eating bonbons! Yes, people actually think that is what it's like to work from home… so it was about time I made some bon bons and had a little fun.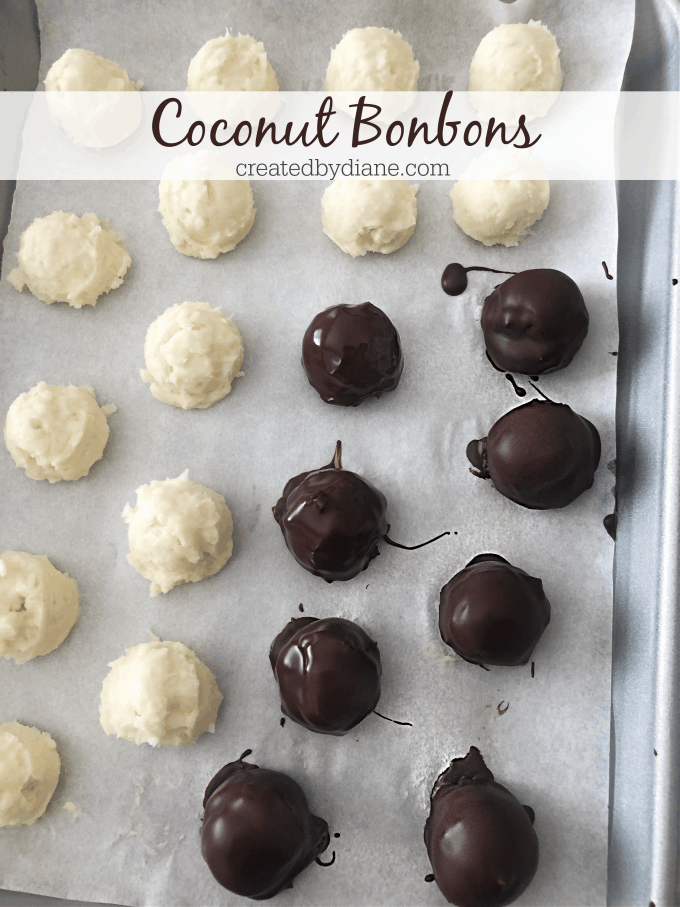 Are you craving a homemade bon bon recipe but don't even know where to start?
These simple Coconut Bonbons will have you loving every single bite!
Bon bons aren't really all that hard to make.
And truth be told, most people just think that I sit around all day long eating bonbons since I work from home and while I wish that was the truth – it's not! But now is the perfect time to give that whole idea a spin.
Trust me… I don't think we're all sitting around with our feet up in our fuzzy slippers snacking on bonbons all day.
I've worked from home for years, and if you would hear what people think my day is like working from home you'd get a good laugh. Working from home is not as easy to do long term as some may think, it does take a whole lot of self-motivation and organization especially if you start your own business.
This simple bonbon recipe is just one of those "rainy day" recipes that will have you grabbing one and popping it in your mouth every time you walk by the kitchen. They're just the perfect handheld size that you can't pass up!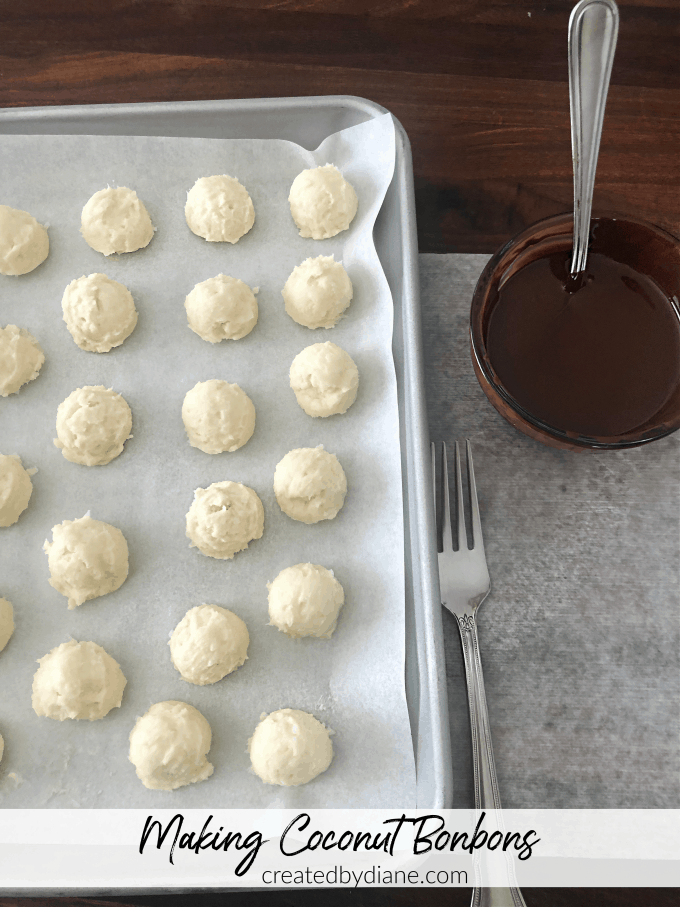 What is in a Bon Bon?
The word Bon bon actually means "good" and was introduced to us from the French. There's no denying that it's the perfect name for these treats.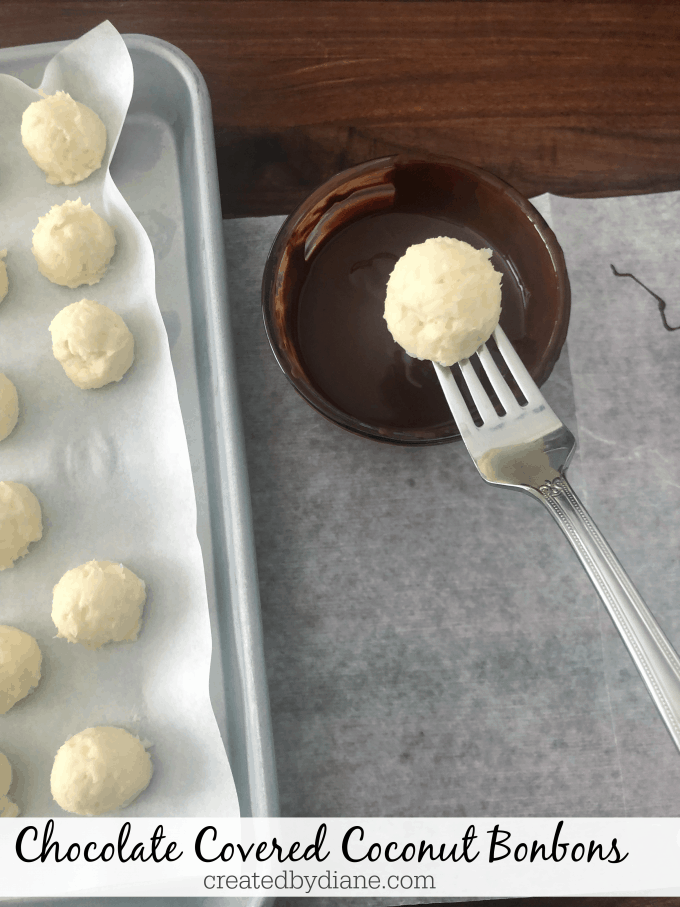 What is the difference between a truffle and a bon bon?
Many people actually think that they're the same thing, but they're not. Bonbons are typically rolled in small balls and bite-sized while truffles are created with an outer coating and typically have some sort of melted or smooth mixture in the center. (Both are totally delicious!) 
I find it easiest to place the bonbon on a fork, then dip it into the chocolate and allow the excess chocolate to drip off before placing it on a parchment-lined baking sheet.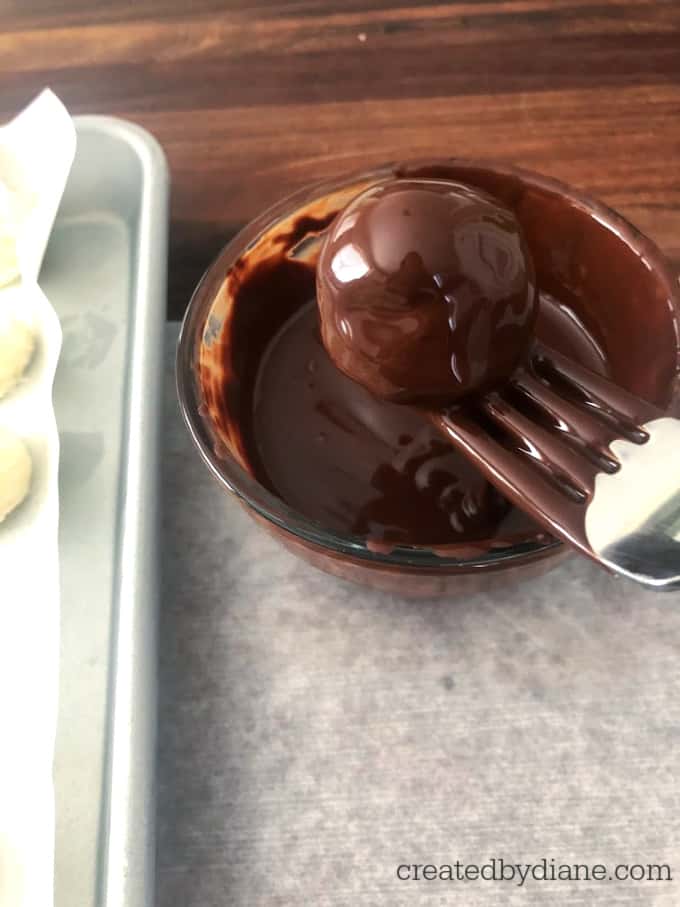 Now that you know a little bit about bon bons, let's get down to the delicious recipe! It's not hard to make at all and you'll be snacking on these "good" treats in no time at all.
Mixing the chocolate with coconut oil to melt it makes it silky smooth, 
which allows the chocolate to give a delicious thin coating on the bon-bons or anything else you want to make chocolate coated.
I love Ghirardelli 60% Cacao Chips, they are my go-to for the best chocolate flavor (except chocolate chip cookies, those I love Nestle chips for those) the 60 % chips have a richer flavor and therefore making these coconut bon bons delectable! This is the coconut I like.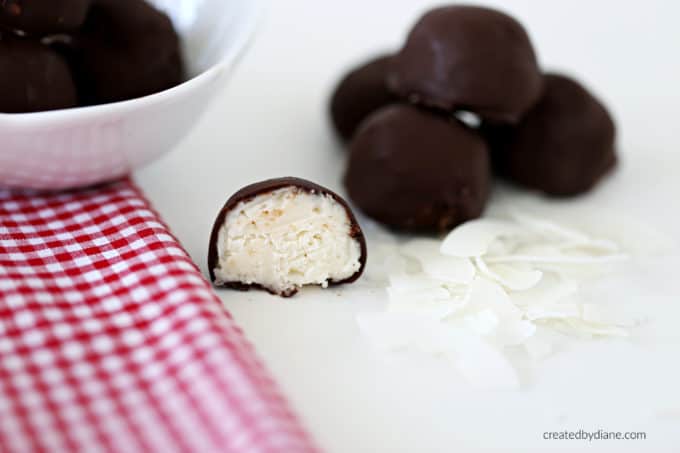 These are the Parchment Paper Sheets, I use on these Baking Sheets.
Now don't be afraid to make a double batch and keep them in a container in the freezer for the perfect little any time treat!

Coconut Bonbons
chocolate covered coconut bonbons, full of great coconut flavor, stored in the freezer these cold treats are indulgent bite-sized treats any time of day.
Author:
Diane Schmidt Created by Diane
Ingredients
8 oz cream cheese, room temperature
2-1/2 cups powdered sugar
1 cup sweetened coconut, chopped fine
1/2 teaspoon coconut extract (or 1 teaspoon vanilla extract but coconut is really the best for these)
1 cup dark chocolate chips (I use Ghirardelli 60% cacao chocolate chips)
1 tablespoon coconut oil
Instructions
In the bowl of a mixer beat cream cheese smooth.
Add in powdered sugar, chopped coconut, and coconut extract.
Mix on low until combined then mix on medium-high to fully blend everything for one minute.
On a parchment-lined or a wax paper-lined baking sheet place, tablespoon-sized scooped out balls of the mixture.
Put the tray in the freezer for 20 minutes or longer to completely chill the mixture.
If the balls need smoothing roll them in between your hands smoother, a stainless scoop makes them fairly smooth.
Melt the chocolate and coconut oil in a microwave-safe dish at 30-second intervals and stir well before microwaving again usually, this only takes a minute.
With two forks, use one to scoop the ball onto the one fork, dip it into the chocolate, and with the second fork slide it onto the lined baking sheet.
Place the bonbons back into the freezer for 5 minutes to set up or in the refrigerator.
Serve or store in the fridge or freezer.
I like them frozen!