Chocolate and peanut butter are always a winning combination in my book, and this cracker toffee is all the better with the WINNING flavor combo added to it.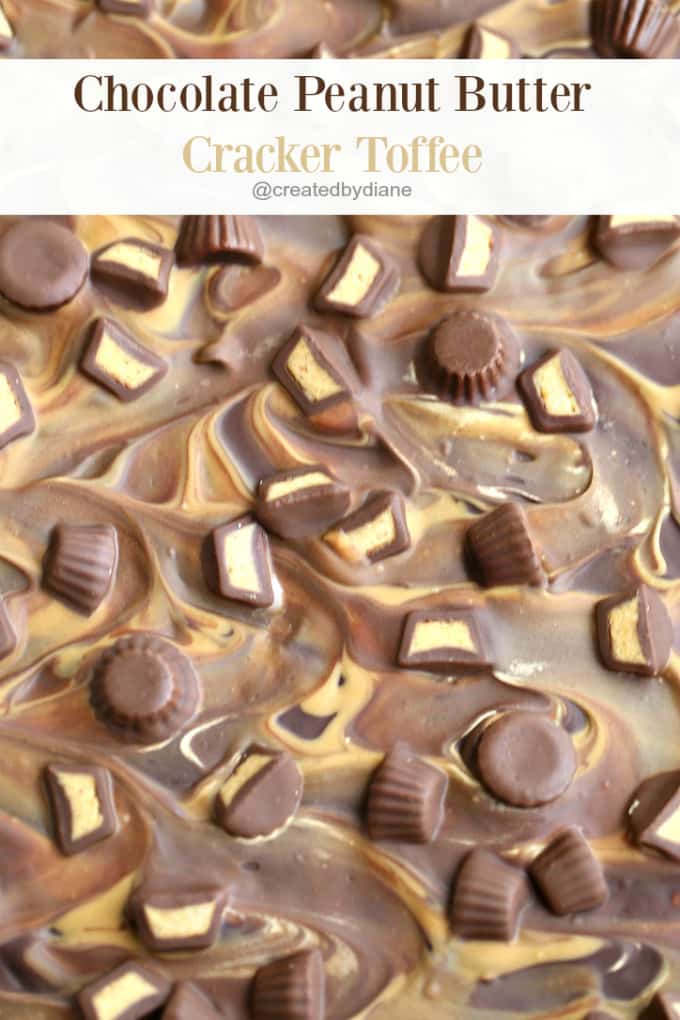 I've been making toffee for years,
I am always up for trying a new flavor and this time the chocolate gets blended with peanut butter for a really smooth delicious flavor.
I love the salty crunchy crackers on the bottom. Pretzels would be good too!
Just before the chocolate sets up I added a bunch of bite-sized Reeses peanut butter cups to off the tray of toffee nicely.
It not only looks irresistible, it tastes it!
You simply can't eat just one piece.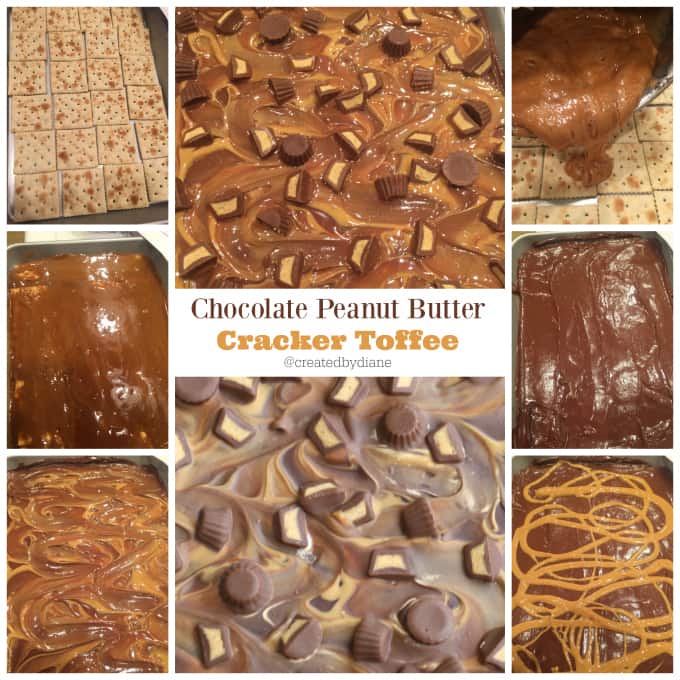 Within in a short amount of time you will have a nice sized tray of toffee, I love making this to bring to parties and it's perfect for just hanging out. It's ready in about 30 minutes including chilling it in the fridge, so you can whip up a batch anytime really.
The melted peanut butter really is so fantastic in this that I am going to make the next batch with pretzels. Although everyone said they LOVED the crackers in this one… I guess I'll just have to make two batches!
Toffee is great any time of year. I know some people only make it around the holidays, but me… I make it all year long!

Chocolate Peanut Butter Cracker Toffee
Ingredients
2 cups butter (1 lb.)
2 1/4 cups sugar
2 tablespoons water
1 1/2 cups chocolate chips ( I used semi-sweet chips)
1/2 cup peanut butter
1 1/2 cups tiny peanut butter cups
1 sleeve saltines crackers + a few more to fill the tray
Instructions
In a 1/2 sheet baking pan (13x18 with a rolled edge) lay the saltine crackers in a single layer all over the pan.
In a medium heavy bottom saucepan, bring butter and sugar to boil, slowly add in two tablespoons water and remain boiling mixture until the temperature is 285 on a candy thermometer.
Spread toffee over crackers, then add chocolate chips and allow them to soften and melt for a minute then spread them out over the toffee with an offset spatula.
Microwave the peanut butter for 20-30 seconds until it's melted enough to pour and swirl over the chocolate (spread it with an offset spatula to mix it into the chocolate)
Top with tiny cut peanut butter cups and allow the toffee to cool completely before breaking into pieces. You can allow it to cool at room temperature, or put the tray in the fridge for 10 minutes or so until it's set up and cool then break apart or cut into pieces with a knife.