Calling all eggnog fans! Instead of sipping it, why not try a fun new twist with these eggnog cookies.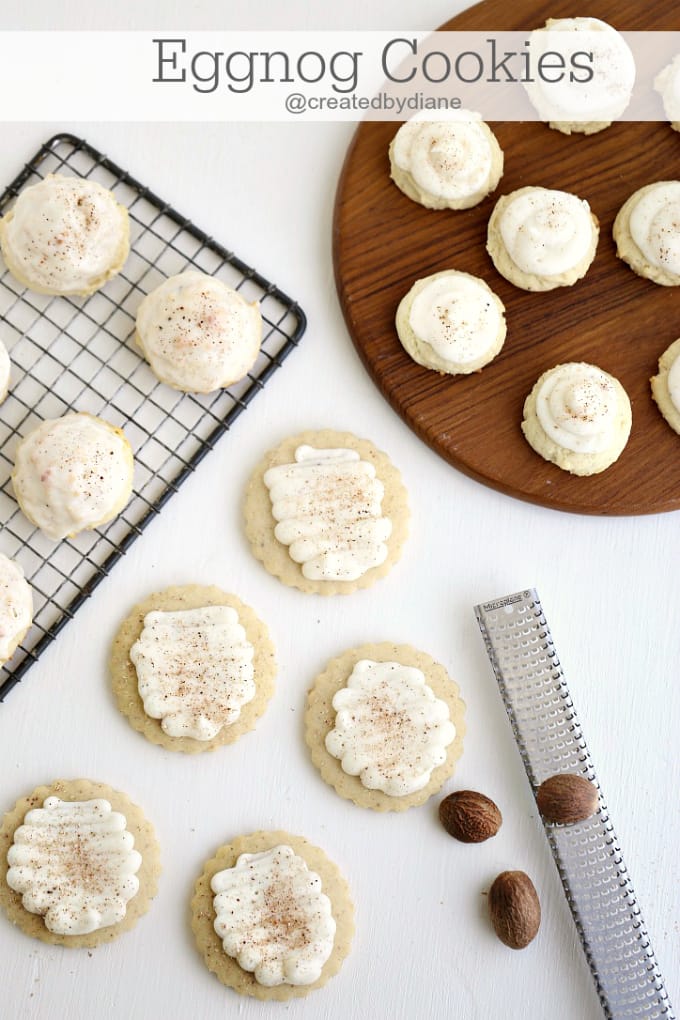 Creamy and dreamy…
I mean, eggnog is a truly decadent seasonal food,
extra special and always brings back fond Christmas memories.
As a kid, I was mesmerized by the eggnog punch bowl at Christmas parties, which looked like a tempting pool of cream and nutmeg.
I just wanted to dive right in.
Mmmm, I can taste it now!
Who would believe that your favorite holiday drink could be turned into a uniquely delicious dessert that you can sink your teeth into!
I wanted to bring back those memories in cookie form, of course, just in time for the holidays.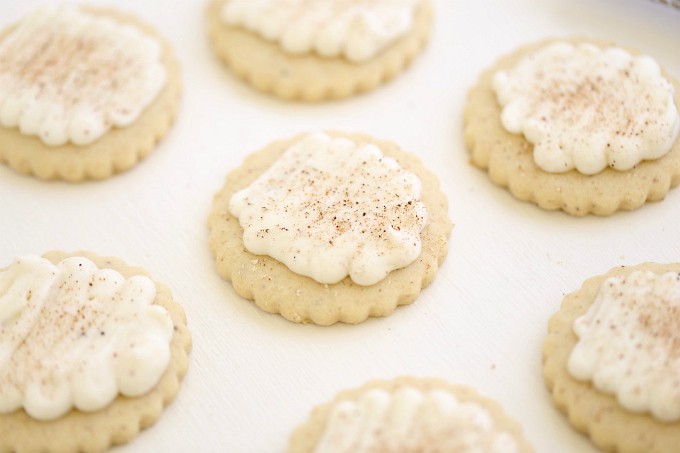 I rolled the cookie dough and cut them out with a scalloped cutter, and quickly piped the frosting on top and added nutmeg.
This is where you can never have too much nutmeg. I had fresh nutmeg I grated, but feel free to use from a jar. Don't sprinkle it over the cookies as I'm sure you'll get too much too quickly.
Use your fingers to pinch it and sprinkle over the tops, or a super fine strainer to dust over the tops of the frosted cookies.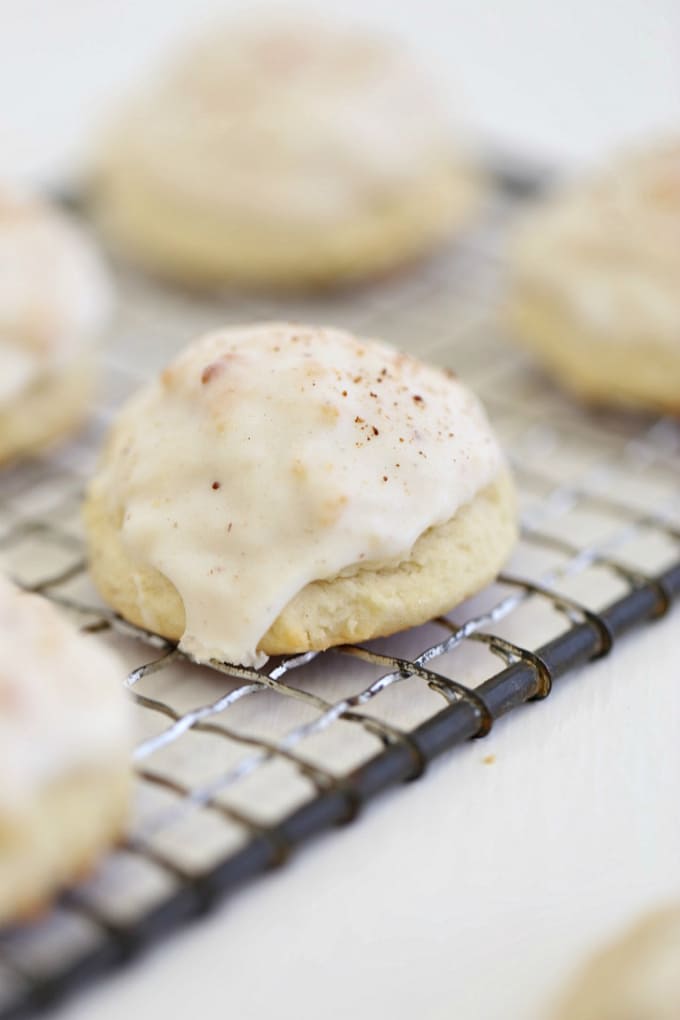 These were simply made by scooping the dough out with a 3 tablespoon scoop, then I warmed the frosting just a bit, so that when I dunked the cookies into the frosting it went on like a glaze and drizzled off nicely.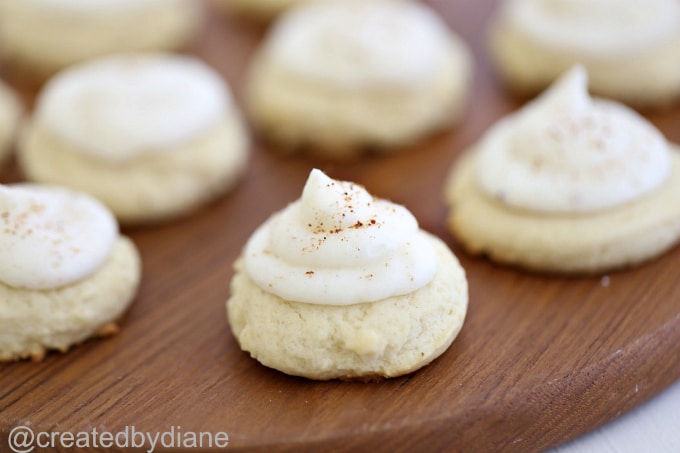 These were made with a 2 tablespoon scoop of dough, then I flattened them with a smooth mason jar lid dipped in flour, so they are a combination of the texture of the cut out cookies, slightly more compressed and they got a swirl of frosting on top.
This recipe is a winner.
Soft and delicately flavored, topped with a beautiful sprinkling of nutmeg, these little delights are the perfect accompaniment to your favorite hot beverage. Hot cocoa for me, please, but my friend loves them with strong, hot coffee.
Tuck them in a lunch bag, bring them to a party, pack them into your picnic basket on a beautiful wintry day.
Wherever they go, they're sure to disappear lickety-split!
My favorites are the rolled cutout cookies with the scalloped edge. Top with frosting and nutmeg, and there's no doubt about what you're about to bite into… eggnog deliciousness!
Eggnog Cookies
Ingredients
1/2 cup butter (room temperature)
1 oz cream cheese (room temperature)
1 teaspoon vanilla
1/2 teaspoon nutmeg
1/4 teaspoon rum extract
1 cup powdered sugar
1 egg
1 1/2 cups flour
1 teaspoon baking powder
Instructions
In a large mixer bowl beat butter with cream cheese until whipped well
Add in vanilla, nutmeg, and rum extract, mix well.
On medium low mix in powdered sugar until fully combined.
Add in the egg and mix completely.
Mix in flour and baking powder until well mixed.
Roll dough out with a little flour in between wax paper sheets for cut out cookies,
this dough is a little sticky.
Scoop out cookies for drop cookies with a 3 tablespoon scoop, and a 2 tablespoon scoop for smaller cookies to press flat.
Place cookies onto parchment lined baking sheets.
The cookies bake at 400 degrees for 7-9 minutes.
Allow cookies to cool on baking sheet before moving them.
Eggnog Frosting
Ingredients
1/4 cup butter
1 oz cream cheese
1/4 teaspoon rum extract
1/4 teaspoon nutmeg
1 1/2 cups powdered sugar
1/4 cup heavy cream
additional nutmeg for topping cookies, fresh nutmeg or dry.
Instructions
In mixer bowl beat butter and cream cheese until smooth.
Mix in rum extract and nutmeg.
Add in powdered sugar and heavy cream and beat on high until fluffy.
Pipe onto cookies with a #6 round tip for cut out cookies or small drop cookies, for larger cookies heat the frosting for 10 seconds just until it's warm, then dip the cookies into the frosting and allow to firm up on a rack.
sprinkle cookie with nutmeg before frosting firms up.
Use a fine strainer or pinch the dry nutmeg so there isn't too much on each cookie, freshly grated nutmeg is wonderful and perfect on these cookies if you find it.