Special winter events call for a very special dessert… and this one, hands down, "takes the cake!"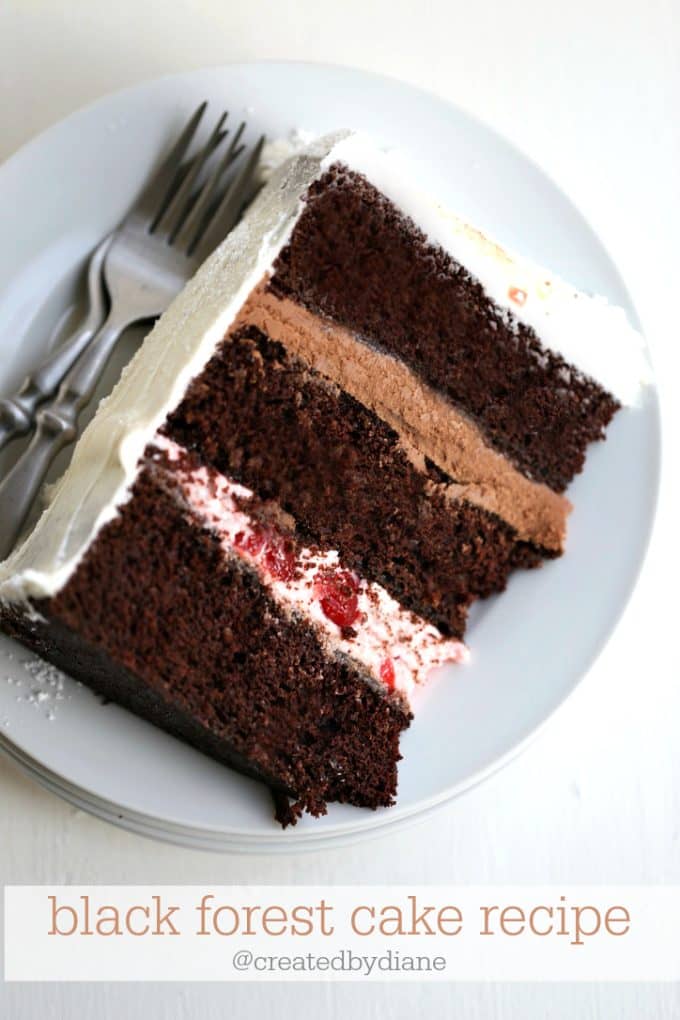 Let's just get right to the decadent details here, shall we…
Three layers of delicious chocolate cake sandwiched together with a layer of rich chocolate filling and another layer of sweet and glorious cherry filling.
A snow-white blanket of creamy vanilla frosting topped with an edible almond pine cone, and delicately dusted with powdered sugar, it's truly magical!
♪ "Walking through a Winter Wonderland…" Yes, it seems like snow is glistening.
This cake isn't only perfect for the winter, it's great year-round. Top if smoothly without pine cones, or add some sliced cherries, maybe some chocolate curls!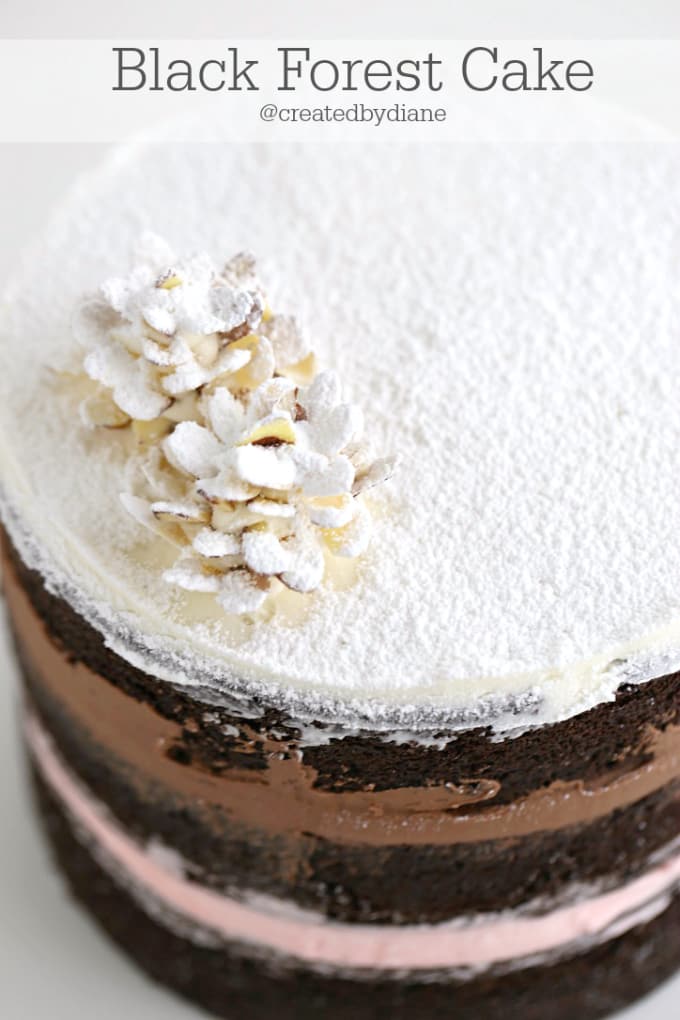 I can't even pick a favorite part of this cake, there are so many.
I just love the almond pine cones… maybe I should have covered the whole top with them, now that would be a FOREST!
I took photos of the cake only frosted on the top and sides and with it lightly frosted on the sides.
I really loved the cake both ways and had a hard time choosing, so I let everyone else decide, they like the naked cake.
The holidays are busy and hectic, and I wanted to create a cake that was both a show stopper AND easy to make.
This one delivered both inside and out, everyone just LOVED it. Even the people who are not the biggest cherry fans. The cherry filling was just right.
It only needed a little bit of cherry juice to make it perfect.
The holidays are busy and hectic,
and if you know me at all you know…
I wanted to create a cake that was both impressive to look at AND easy to make.
The secret is the layers of round, frosted cake, which give the ILLUSION of something extra-fancy and difficult to make.
We can just keep that part our little secret.
The only problem is… it's so pretty, you won't want to make the first cut!
But go right ahead and get in there, the sooner you cut into it, the sooner you can enjoy a piece.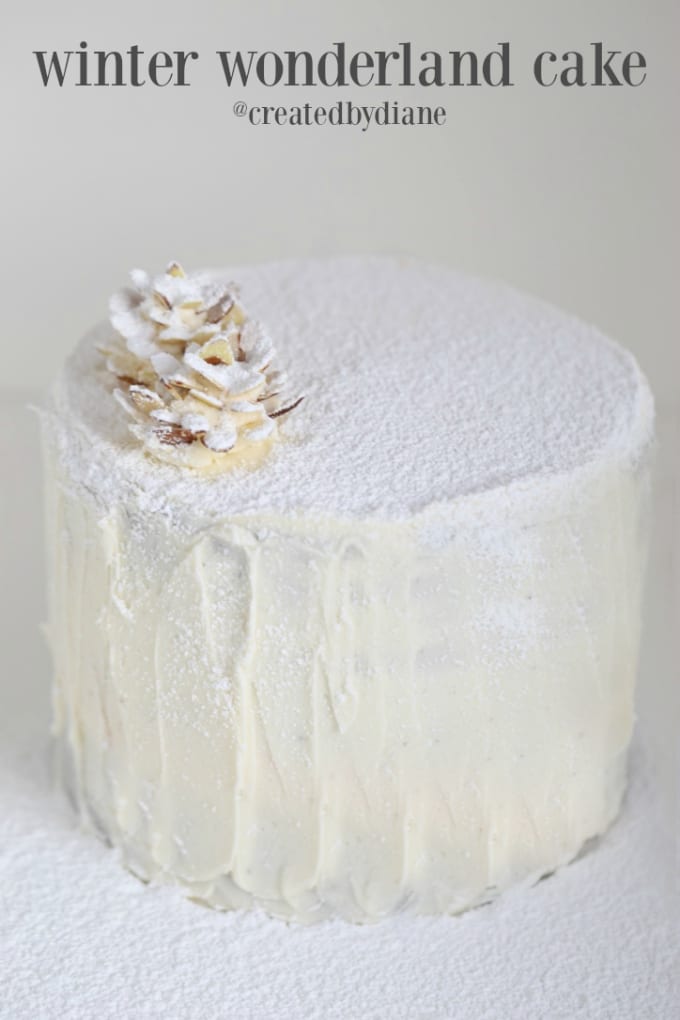 I frosted the outside bottom of the cake and it really does look like a winter wonderland!
You can choose if you like a naked cake or all frosted.
The pine cones are created with frosting piped up about 2 1/2 inches and then sliced almonds pushed into the frosting and dusted with powdered sugar.
Black Forest Cake
A delicious chocolate cake with the great flavor of cherry, chocolate, and vanilla frosting for a delicious and super pretty cake.
Author:
Diane Schmidt, Created by Diane
Ingredients
2 cups boiling water
1 cup unsweetened cocoa
1 cup butter
2 1/2 cups sugar
4 eggs
1 teaspoon vanilla
2 3/4 flour
2 teaspoons baking soda
1/2 teaspoon salt
1/2 teaspoon baking powder
Instructions
Preheat oven to 350°
In a medium bowl, place boiling water with cocoa and mix with a whisk until smooth.
In a large mixer bowl beat butter and sugar.
Add in eggs and combine completely, then mix in vanilla and mix on medium for 3 minutes.
On low add in flour, baking soda, salt. and baking powder along with cocoa mixture until it's all combined.
Spray 3-8" pans with a baking spray and diving the batter evenly into the pans.
Bake at 350 degrees for 25-30 minutes or until a toothpick comes out clean.
Cool pans for 3 minutes, then turn the cakes out onto a cooling rack and cool completely.
Wrap and freeze completely cooled cakes for an hour to 24 hours.
Freezing the cakes will lock in the moisture and allow you to decorate the cake easily with minimal crumbs and without the layers sliding.
Buttercream Frosting
American Frosting, whipped smooth and creamy and great in the layers of cake
Author:
Diane Schmidt, Created by Diane
Ingredients
1 cup butter
4 cups powdered sugar
1 teaspoon vanilla extract
3 tablespoons heavy cream
24 maraschino cherries
3 tablespoons cherry juice
1/4 cup dark chocolate chips melted
1/3 cup sliced almonds
powdered sugar to sprinkle on top
Instructions
In large mixer bowl beat butter until smooth
Adding powdered sugar and vanilla along with heavy cream until whipped smooth.
Portion out about 3/4 frosting and mix in 24 maraschino cherries along with 3 tablespoons cherry juice for the cherry filling layer.
Add the melted chocolate to another 3/4 cup of frosting and spread that over the next layer of cake.
Top with remaining frosting.
I frosted the cake thinly if you want more frosting double the portions.
To create the pine cones pipe a small amount of frosting into a cone shape and add the sliced almonds to create the pine cones or trees.
Sprinkle the powdered sugar over the top of the cake/