These cookies are BIG, and full of FLAVOR!   
Espresso Chocolate Chunk Cookies
Don't miss one delicious recipe from Created by Diane and get my FREE e-cookbook click here!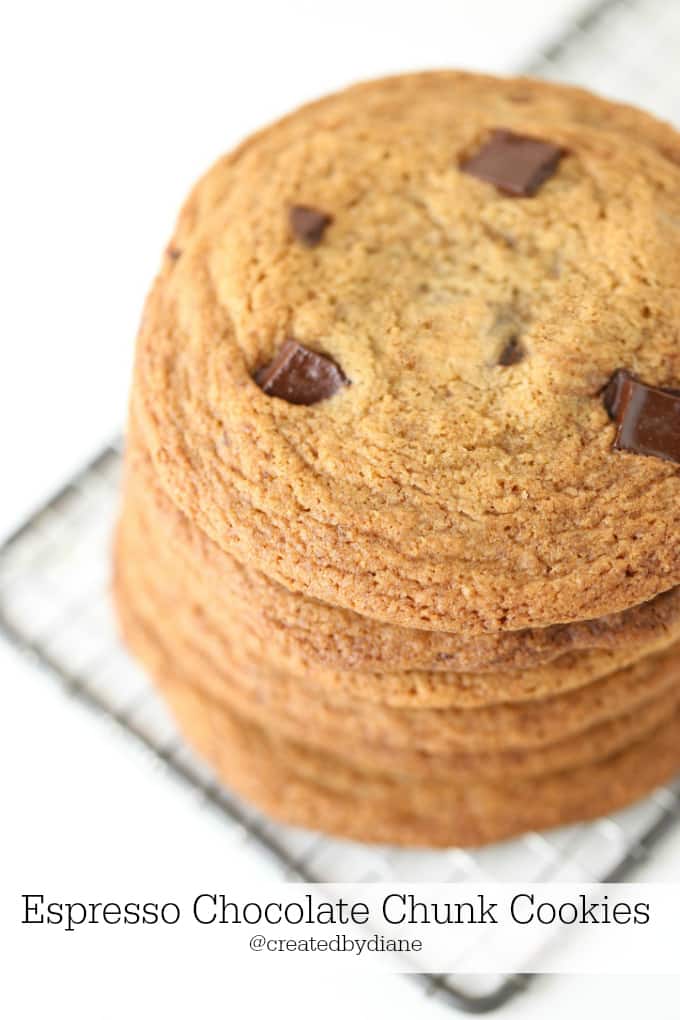 I just love big cookies, this recipe makes 6-7 cookies.
I baked 6 and the 7th never got baked.
What could have ever happened to the dough?!?
I used 3 tablespoon size scoop to make these cookies, they really are my favorite size cookies.
These cookies are crisp on the edge, chewy in the center.
Coffee and chocolate go so well together, that it's the perfect combination in these cookies.
I like making small batches of big cookies, they bake up quick and in well under an hour you'll have made, baked and cleaned up.
Now you can bake cookies anytime without it taking TOO much time.
And aren't warm cookies the BEST!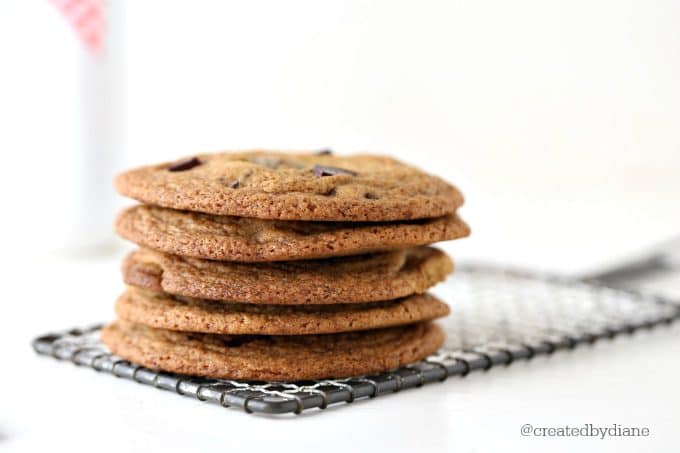 These may look like simple cookies, but the flavor isn't simple, it's fantastic!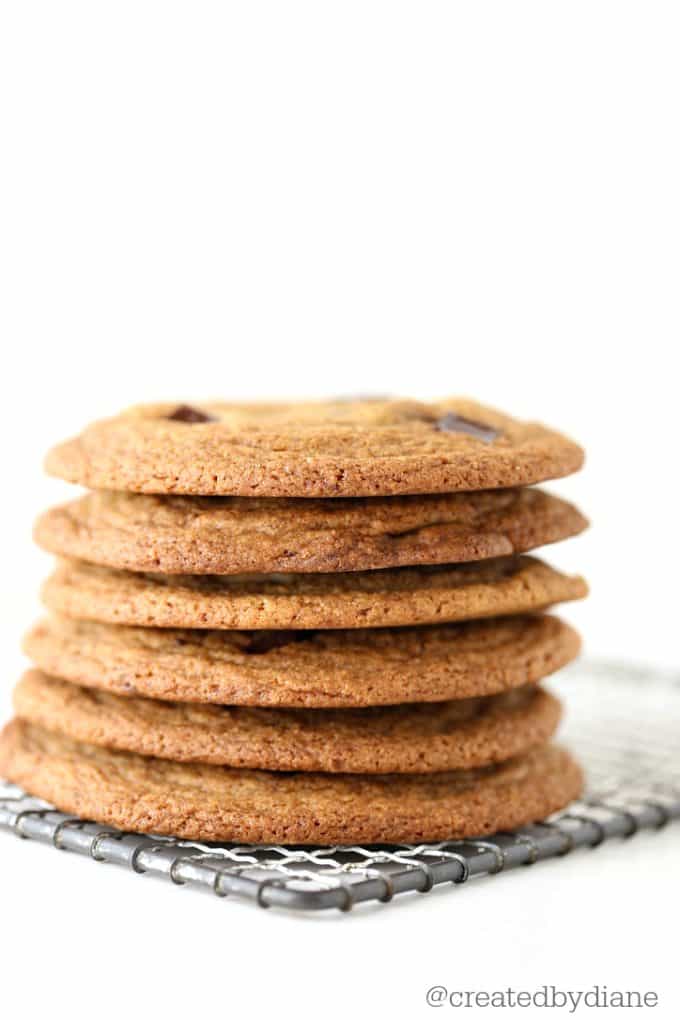 See the edges of the cookies…
mmm… nice and crispy just the way I like them,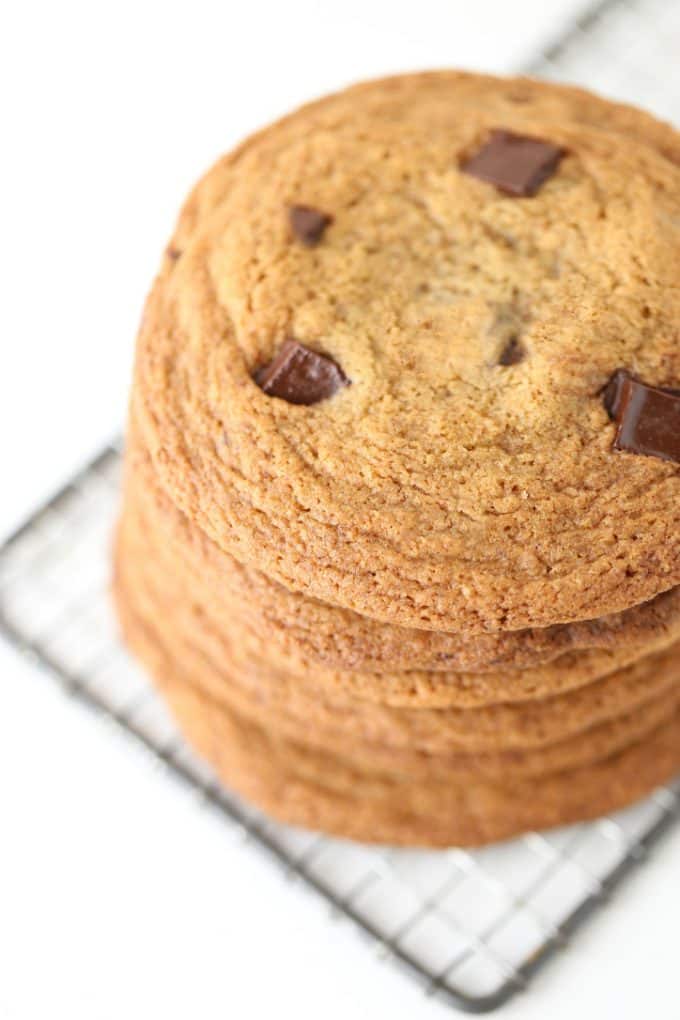 and the middle,
the middle of the cookies are chewy.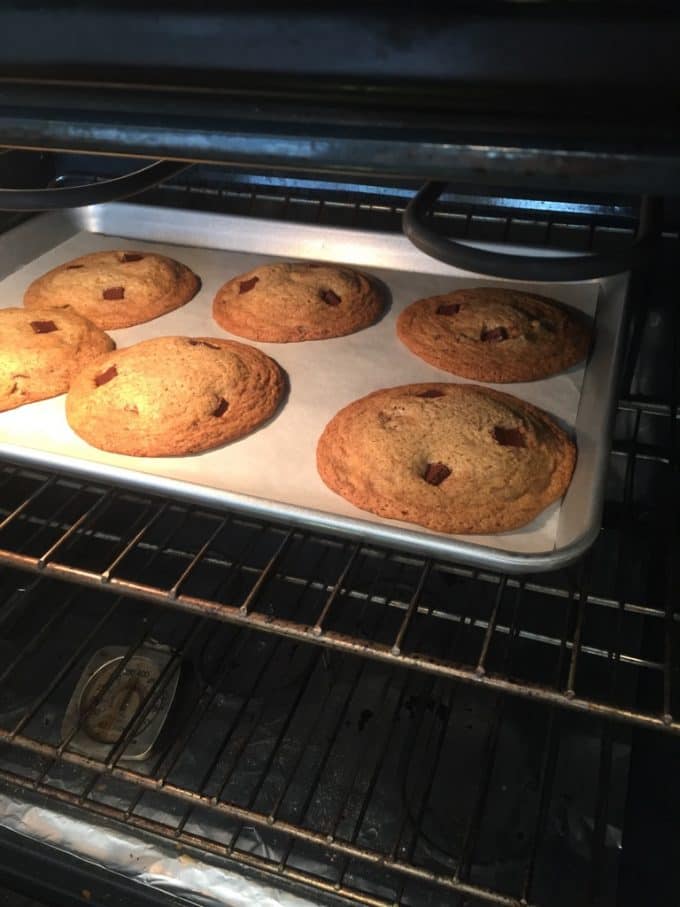 I bake my cookies in the upper part of my oven, on a parchment lined baking sheet. Thick baking sheets bake the beat cookies.
These cookies are big and spread when baked, so be sure to leave plenty of room around each portion of cookie dough.
Watch them the last couple of minutes while they are baking, the center will still be soft, it will firm up when cooled.
Cool the cookies on the tray, don't move them while they are hot. They will break too easily.
Pour yourself a glass of milk or coffee and enjoy!

Espresso Chocolate Chunk Cookies
Serves:
6-7 large cookies
Ingredients
1/2 cup butter
1/4 cup plus 2 tablespoons granulated sugar
1/4 cup plus 2 tablespoons brown sugar
1/2 teaspoon vanilla
1 1/2 teaspoons instant espresso powder
1 egg
1 cup plus 2 tablespoons flour
1/2 teaspoon baking soda
1/2 teaspoon salt
3/4 cup dark chocolate chunks (I use 62% cacao)
Instructions
Preheat oven to 375 degrees.
In mixer bowl combine butter and sugars and beat until fluffy.
On medium low mix in vanilla, espresso and egg and mix until combined completely.
On low mix in flour, baking soda and salt.
One all ingredients are mixed well, stir in chocolate chunks. If you want to be sure chocolate chunks are on top of the cookies after being baked, reserve some chocolate chunks and place them on top of each ball of cookie dough so they stay on top.
Scoop 3 tablespoons size dough for the large size cookies I made.
Place cookie dough on a parchment lined baking sheet and bake 13-15 minutes, the very center of the cookies will still be slightly light in color, the outer edge of the cookies will be crispy and golden brown.
Allow cookies to cool on the baking sheet or the cookies will "break' as you move them.