In minutes you can enjoy this delicious dessert with the FABULOUS Flavor of PUMPKIN!   
Pumpkin Cannoli Cones
Don't miss one delicious recipe and get my FREE e-cookbook click here!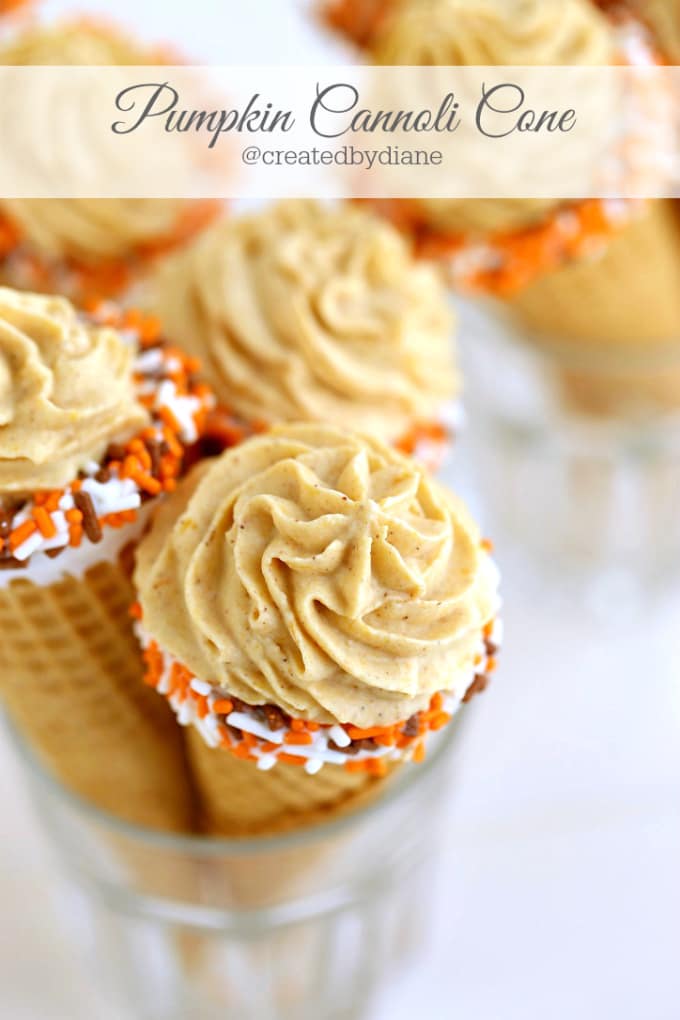 There are many times I'd like a quick and easy dessert and if it can be made in minutes…. that's a huge BONUS
that's a huge BONUS!
These are the perfect bite-sized desserts, and simple enough to make that they are great for a fun weeknight treat. And are cute enough to be served at parties!
Cannolis are filled with sweetened ricotta cheese and these are no different, except these are piled high with pumpkin flavor.
I'll give you some tips the cones to make these even yummier!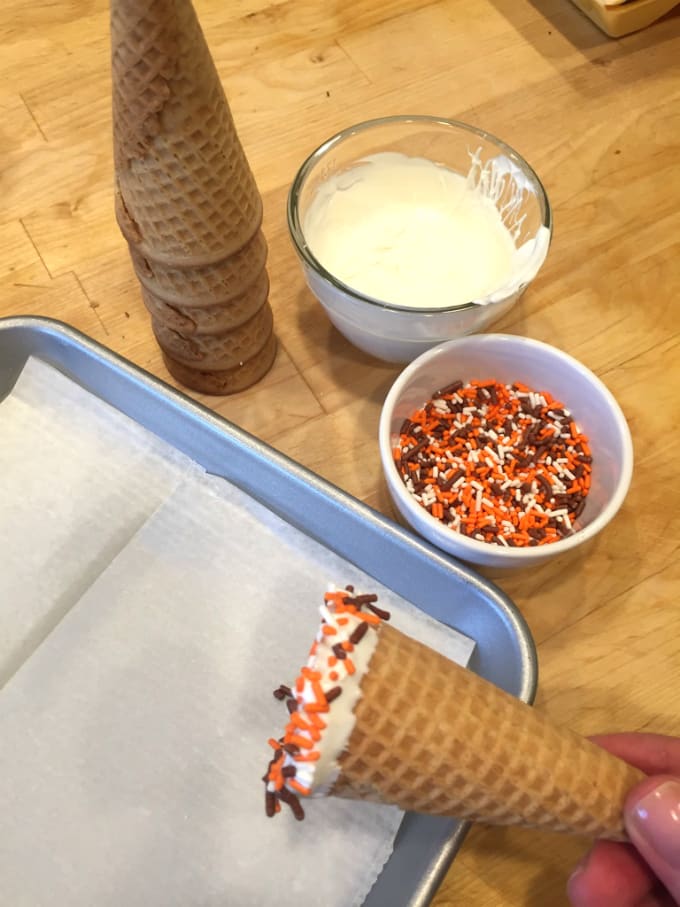 I like to dip the edges of the cones in melted white chocolate and then sprinkles. If you want more pumpkin pie spice flavor stir some Pumpkin Pie Spice (click for my recipe)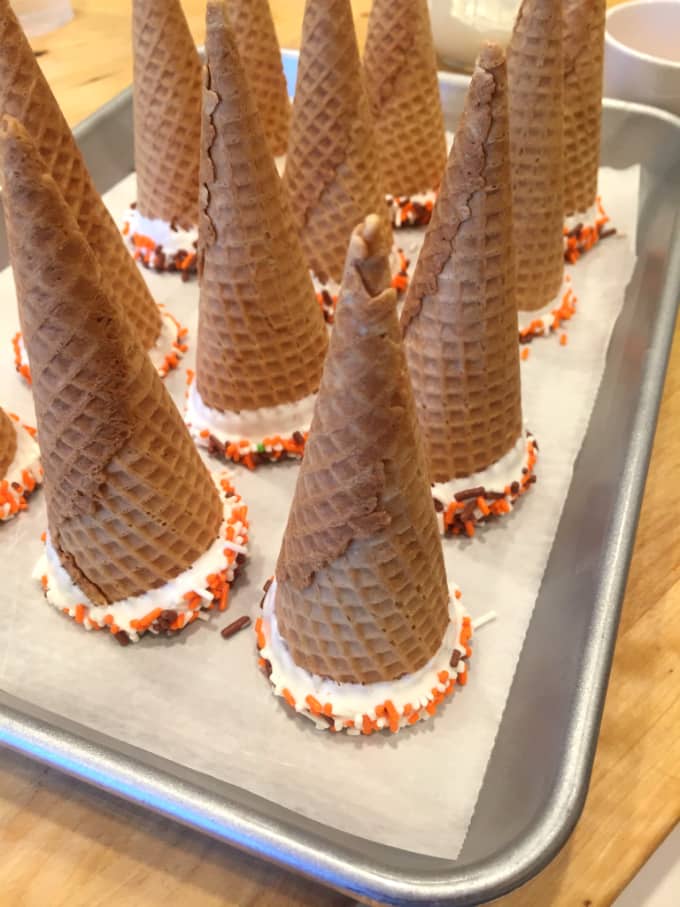 If you plan on waiting more than a half hour before serving these, fill the cones with the melted chocolate, so the filling does not make the cones soft. You can then fill the cones ahead of time and place them in the fridge until they are needed. To be sure you have plenty of space for the filling in the cone, allow the melted chocolate to drip out and leave only a thin coat of chocolate.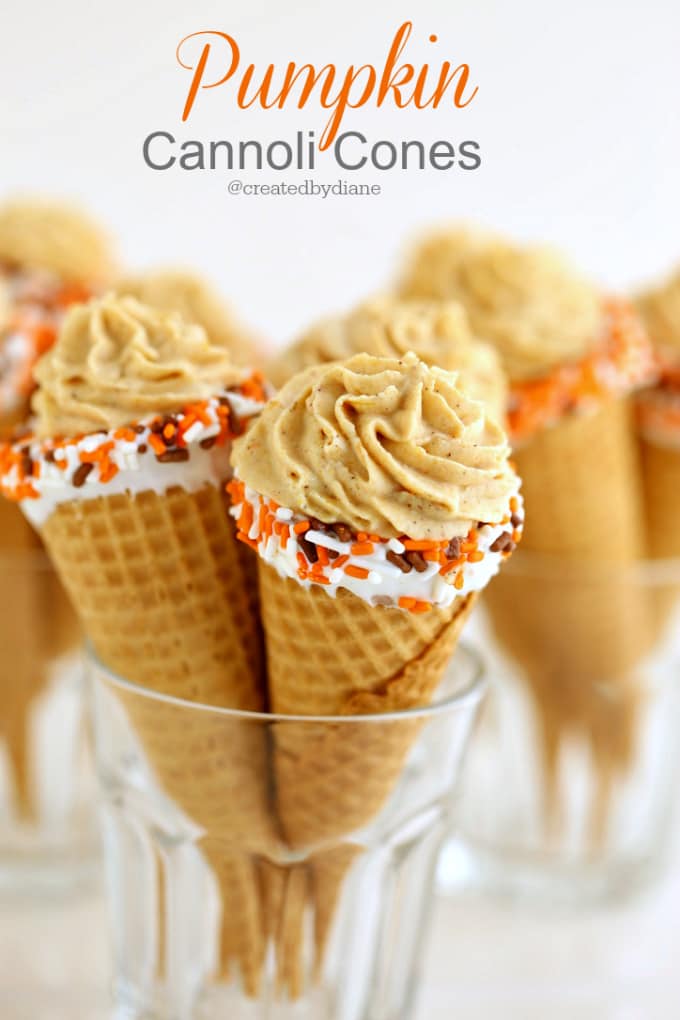 You can use milk or dark chocolate for a fun flavor option, and as far as sprinkles go… the possibilities are endless. I mixed white, orange and brown sprinkles for a fun fall combination. You can use any color you like. For fun flavor, you could dip the cones in toasted coconut.
Now onto the delicious creamy filling, the flavor reminds me of pumpkin cheesecake, yes… it's that yummy.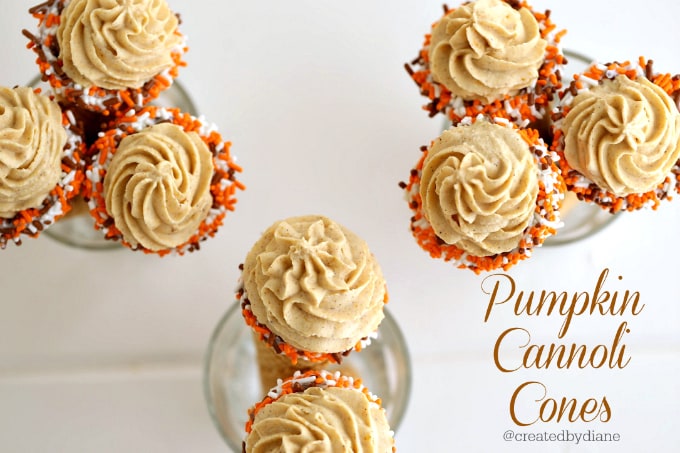 You can drain the ricotta cheese in cheesecloth or paper towels to drain the excess liquid if you are not serving these immediately. This will ensure they are firmer and will hold up well in the cones longer.
These will soon become a favorite fall dessert!

Pumpkin Cannoli Cones
Ingredients
24 oz ricotta cheese
1/2 cup heavy cream
1/2 cup powdered sugar
1/2 cup canned pumpkin
2 teaspoons pumpkin pie spice
12 ice cream cones
1/2 cup white chocolate melting wafers (1 1/4 cup if filling the cones)
Sprinkles
Instructions
Place ricotta cheese in cheese cloth or paper towel and allow the excess moisture in it to dip out over a bowl or sink for 5-10 minutes.
Melt white chocolate and place a piece of wax paper on a try to rest the freshly dipped cones on so you can transfer them to the fridge easily.
Dip the edges of the cones in white chocolate then in sprinkles.
Place them on the wax paper lined tray and put in the fridge for 5 minutes.
(If you make them ahead of time put melted chocolate in the whole cone, so the filling doesn't soften the cones, but be sure to allow the chocolate to drip out so it's only a thin coat.
In mixer whip heavy cream until it's firm and fluffy.
On low add in powdered sugar, pumpkin, pumpkin pie spice and ricotta cheese and once the mixture is blended, mix on medium speed until fully combined.
Place mixture in a piping bag with a star tip and pipe into cones.
Keep in fridge until ready to serve.