This Apple Cinnamon Cheesecake is not only so fantastic tasting, you'll find new ways to make this into your dessert rotation often.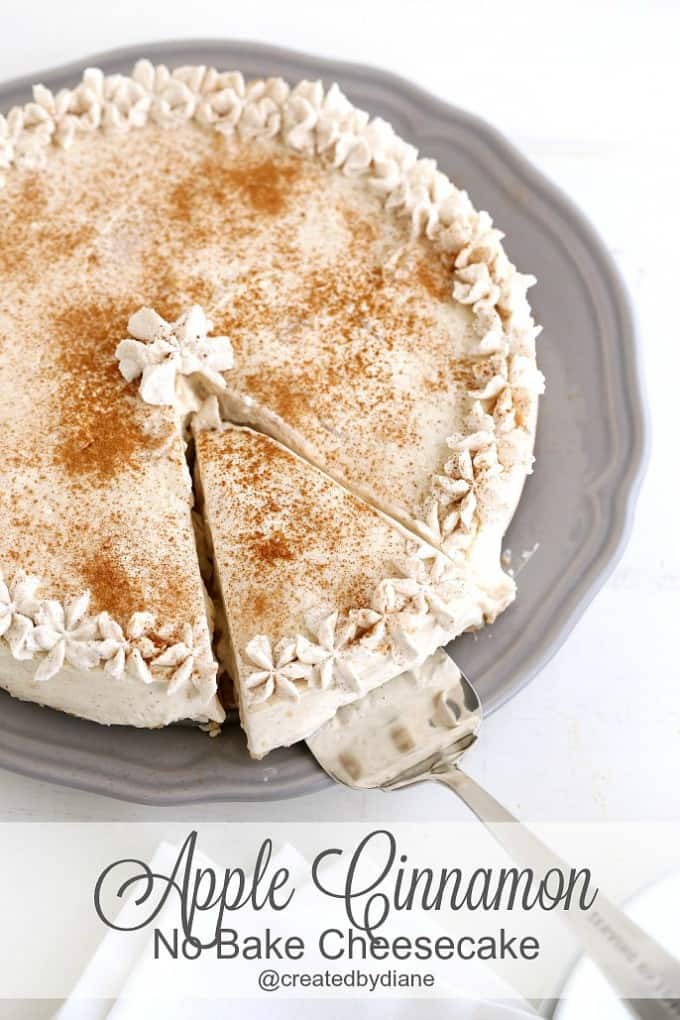 Have you ever eaten a dessert that looked just Ok, but tasted AMAZING!!!!
Well, that is this dessert.
Trust me, this was a sure-fire WINNER with everyone.
There are chunks of apples in this cheesecake and each and every tester said,
they were so surprised how FANTASTIC it tasted.
There were a dozen testers for this one, and it was unanimous…. it won BEST dessert all week, and I made lots of desserts that week. This one is really one of my all-time favorites!
On a week that I made 4 desserts, I'd say that was pretty good. Needless to say, some desserts went back to the "drawing board" some just sat there and although they liked them, there was a true LOVE AFFAIR with this one.
I just love it when that happens.
True love when you least expect it!
Just like any great movie!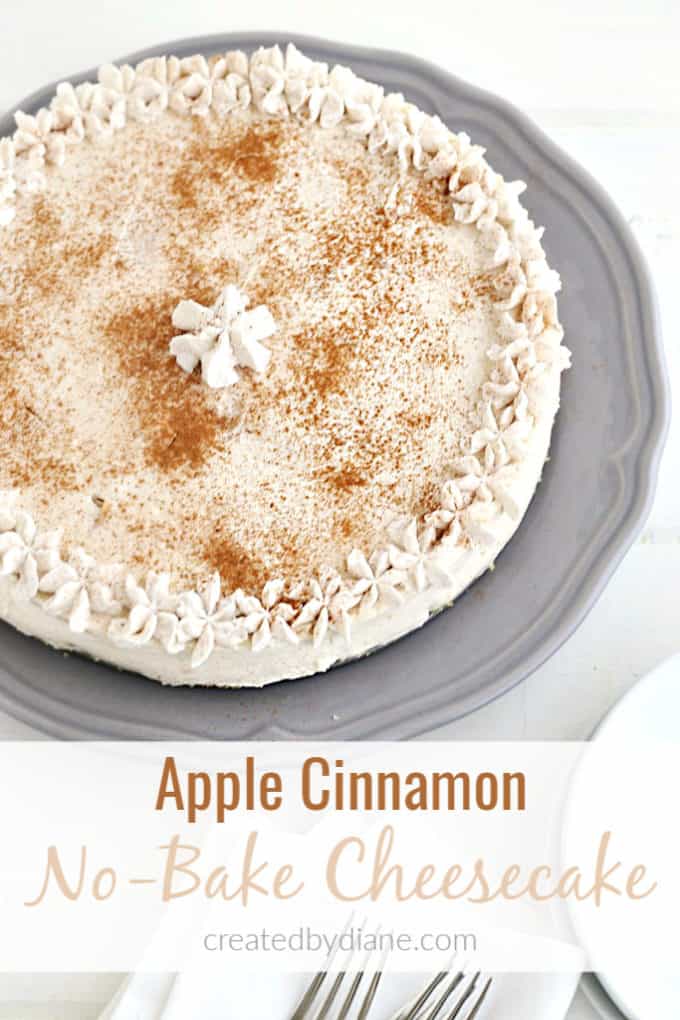 In just a few simple steps you can have this cheesecake assembled and ready to go into the fridge to chill…
no chilling this is KEY, to a great result. 
You'll want to slice it and have it all set so it's not "sloppy" on the plate.
Alternatively, you can put the filling into jars and chill them, they don't take as long to chill and are portion control, which is great too! You can put the graham cracker mix on the bottom of jars or sprinkle them over the top, lots of delicious choices here.
Apple Cinnamon No-Bake Cheesecake
the most delicious no-bake cheesecake, with the best flavor combo, apples, and cinnamon!
Author:
Diane Schmidt Created by Diane
Ingredients
1 cup graham cracker crumbs
4 tablespoon melted butter
1/4 teaspoon cinnamon
3 cups chopped peeled apples (2 very large apples) about a 1/2 inch dice on the apples, perfect bite-size pieces for a cake
1 tablespoon butter
1/8 teaspoon cinnamon
2-8oz packages cream cheese (room temperature)
1/2 cup heavy cream
1 1/2 teaspoons vanilla extract
2/3 cup sugar
1/4 teaspoon cinnamon
1 cup heavy cream for topping
more cinnamon for dusting
Instructions
Thie is made in a 9" springform pan. You can use a different size, small with result in a thicker cheesecake, Individual pans will work as well.
Crust:
In small bowl with pastry cutter or fork, mix butter with graham cracker crumbs with 1/4 teaspoon cinnamon.
Press mixture into a springform pan and refrigerate.
In a saucepan heat apples with butter and 1/8 teaspoon cinnamon for 3 minutes on medium-high heat. It will soften them without making them mushy.
In large mixer bowl beat cream cheese until silky smooth, pour in heavy cream and mix on high, then add in vanilla, sugar, and 1/4 cinnamon.
Mix in apple mixture.
Remove the pan with graham cracker crust from the fridge and pour batter into it.
Whip heavy cream until light and fluffy, place in a piping bag with a 2D tip, and pipe the edge of the cheesecake and in the center too.
Dust with cinnamon on top.
Chill cheesecake until completely firm (6 hours)