If you are looking for a fun new cookie, this one if for you…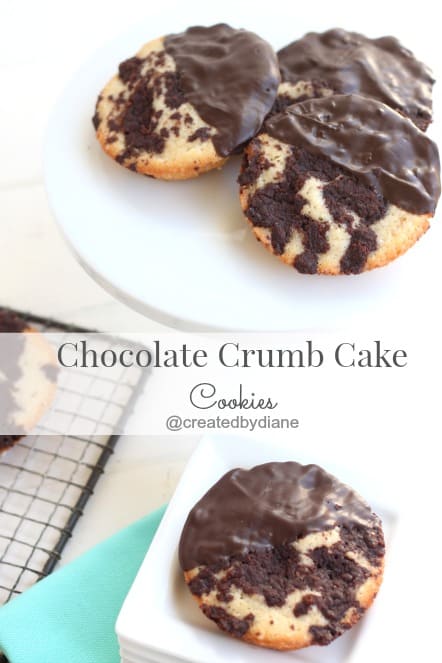 These cookies have all my favorite components,
Vanilla cookies, but thick and kinda like cake…. then the chocolate crumb topping and to top them off…..they are dunked in melted chocolate.
Oh yes, don't forget the chocolate….it makes them irresistible.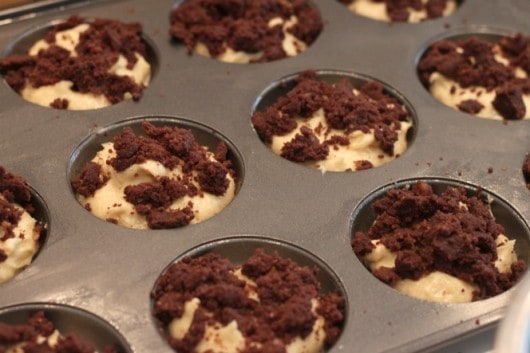 oh how I love crumb topping,
After  the batter is in the deep dish cookie pan (or muffin top pan) top the batter with chocolate crumb topping,
and CHOCOLATE Crumb Topping, well it's the best!
Chocolate Crumb Cake Cookies
Ingredients
1 cup sugar
2 eggs
1¼ cup flour
½ cup milk
¼ cup melted and cooled butter
2 tablespoons oil
1¼ teaspoons baking powder
1 teaspoon vanilla
1 cup dark chocolate candy melts (Melt in microwave until smooth for dipping when cookies are cooled)
Instructions
In mixer bowl, beat sugar with eggs.
Add to it the flout, milk, cooled butter, oil and baking powder and vanilla.
Mix until creamy.
Use a baking spray on a 12 cavity deep dish cookie pan (or muffin top pan)
So the cookies come out easily.
Place 3 tablespoons of batter into each area
Top with a couple tablespoons of chocolate crumb topping (recipe below)
Bake at 350 degrees (if you pan is dark bake at 325 degrees) start checking the center of the cookies at 15 minutes to be sure you don't over bake them if at 350 degrees but at 325 they may take closer to 25 minutes.
Let cookies cool before removing them.
When cookies are completely cooled:
Dip ½ the cookie into melted chocolate
I used chocolate candy melts (Guittard or Merkins are my favorites as I like the dark chocolate flavor they have)
Chocolate Crumb Cake Cookies
Ingredients
¼ cup cocoa
½ cup flour
½ cup brown sugar
6 tablespoons butter
Instructions
In a bowl combine all ingredients with a pastry cutter or fork, until the mixture sticks together.
Then pinch some in your hands and place it on top of the cookie batter.
It will melt in as it's baked and get firm and lightly crisp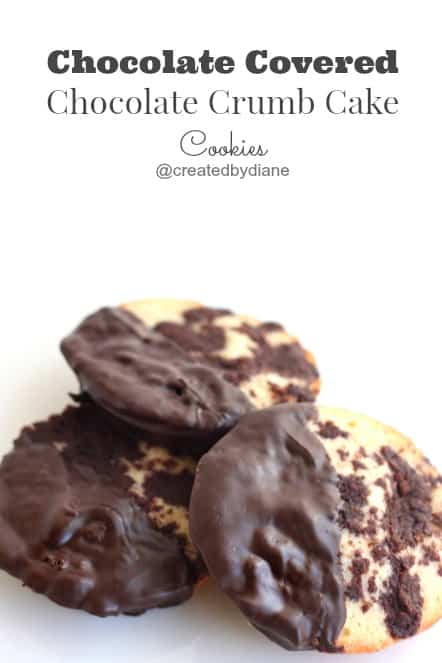 Pour yourself a glass of milk and enjoy!