I'm convinced these are the perfect salad to serve at a party,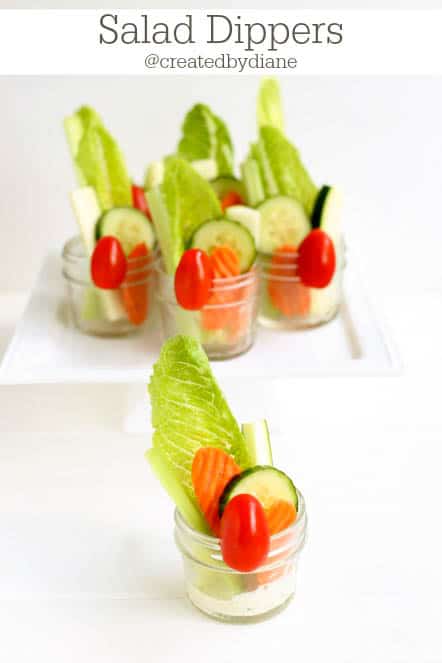 and so were all my guests.
I love that I could prepare them early and keep them super crisp (I share my tip on that too)
One of the best parts is that you can even be walking around and enjoy a salad.
Are you like me, do you hate when you are served food and standing at a party and want to be mobile, but want to eat at the same time.
These are just perfect for those times!
Call these the walking salad 🙂
I used 4 oz glass jars
I filled them with all the things you'd find in a typical salad, lettuce, cucumber, carrot, celery, tomato. I even snuck some zucchini in there (really the possibilities are endless, you can add all your favorites and I'm sure everyone will love it)
I sliced the grape tomato to hang on the edge of the jar.
These got RAVE reviews.
You only need to put a small amount of dressing into the bottom of the jars.
These will help take the edge off at a party when you know everyone has arrived, but it's not quite time for the main course.
Now…how to keep them crisp: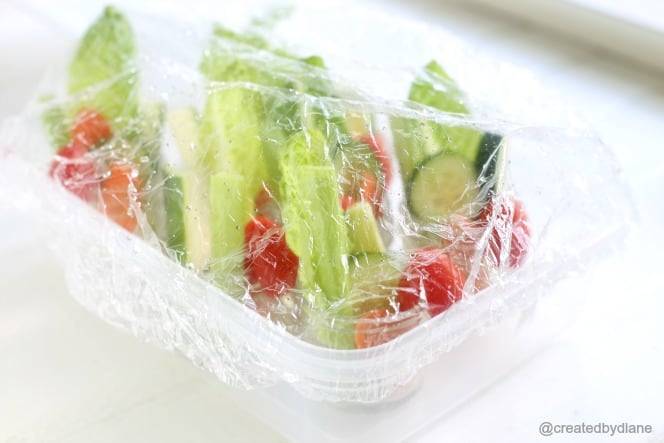 I placed all the filled jars into a plastic container and covered it with a (new) shower cap. I just splashed a little bit of water into the cap, turned it out and secured the elastic around the plastic container.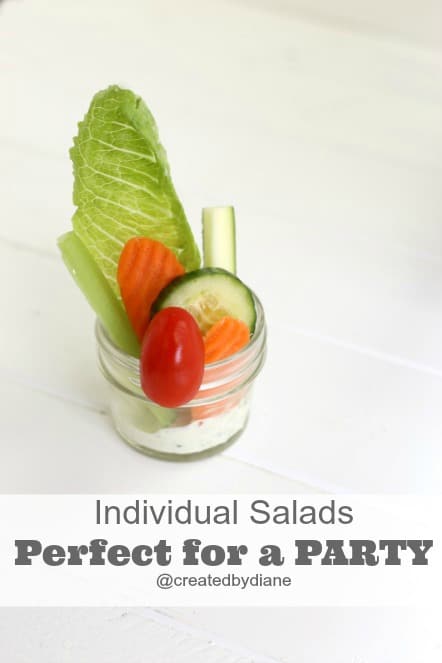 The moisture will keep the veggies extra crisp (think how often veggies are spritzed in the grocery store) they need moisture
I tried it out with the dressing in the bottom of the jars and added it later….trust me, the veggies didn't get soft and you'll want to add the dressing to all the jars first (way easier).
I made a batch of this Buttermilk Ranch Dressing (click here for recipe) and it was the best choice. Some even went home with the dressing in a jar it was that good. I hadn't posted the recipe yet, but I had a jar full and sent it along. Making the dressing from scratch for something like this definitely puts it over the top, the fresh herbs and flavors are perfect.  You can certainly use your favorite dressing, but if you have the extra 10 minutes, make it…you won't regret it!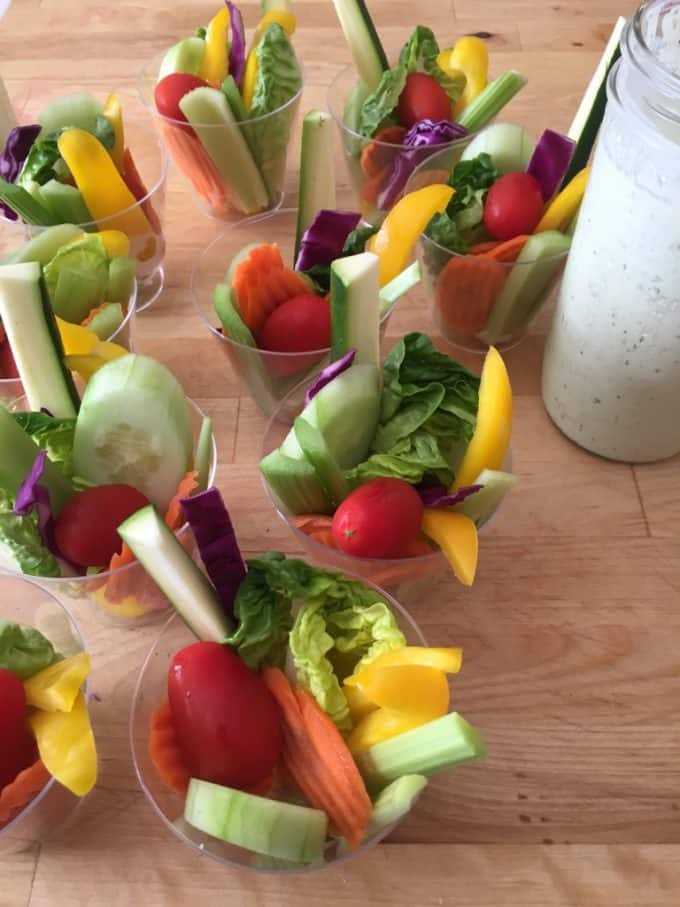 I've made these salads for many parties and everyone LOVES them!
Salad Dippers
Ingredients
8 smaller leaves of romaine
1 small cucumber
1 zucchini
16 carrot chips
8 grape tomatoes
¾-1 cup dressing
Instructions
In 4 oz canning jars
Add dressing to jar first 1-1/2 tablespoons
place the vegetables standing up
slice the tomato so it will hang off the edge
add any vegetable of your choice!
Cover with plastic shower cap with a small splash of water in it and wrap over jars in a plastic container in the fridge until ready to serve.