You will certainly want a BIG glass of MILK to go with this yummy cake.   
It's kind of funny how when I think of chocolate I think of milk,
and when I think of milk,
well you know there is just going to be something delicious going on…
I'm bringing you this post in collaboration with California Dairy Association.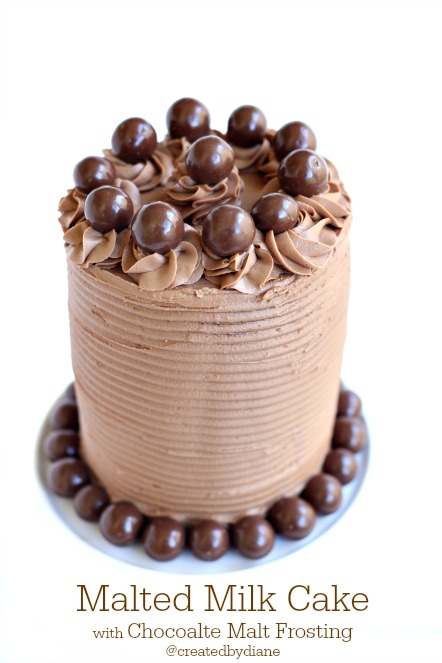 One look at this cake  and for me, well…
I know what's in those chocolate balls,
MALT.
Malt is hard to describe, but oh so delicious.
A chocolate malt I find is irresistible!
Yesterday I shared the recipe for the Chocolate Malt Frosting and today,
well it's all about the cake!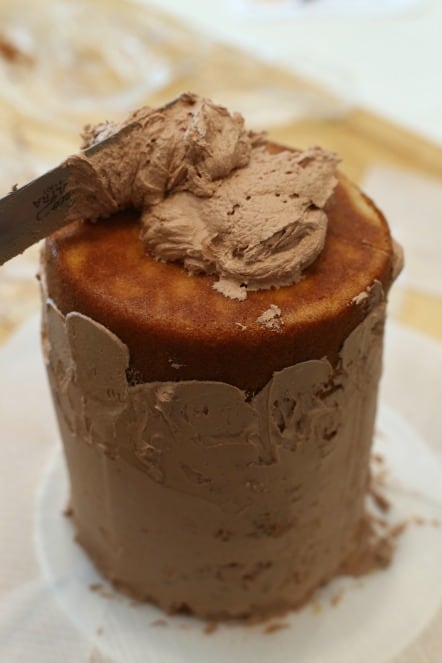 SO break out your baking pans and let's get baking!
I baked this cake in 3  6″ cake pans, I just love this size cake.
It's tall and makes a very great presentation.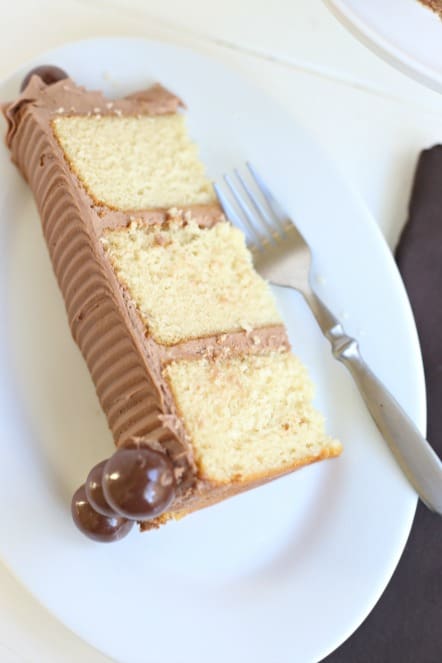 This cake if full of Malted Milk,
oh the flavor is so wonderful and topped with the Chocolate Malt Frosting….
yep, this one is a winner.
To frost the cake and have it stay still and not crumb up too much, I wrap the cooled cakes in plastic wrap and pop them in the freezer anywhere from a couple hours to overnight.
They get firm and then are easy to work with. It keeps the cake moist and delicious.
When I am ready to use them, I simply remove them from the freezer and unwrap them while I get everything ready.
I use a Lazy Susan to frost the cake, so I can spin it around as I'm frosting it. I have a wood Lazy Susan, and yes they do sell them just for cakes, but any type will most likely do.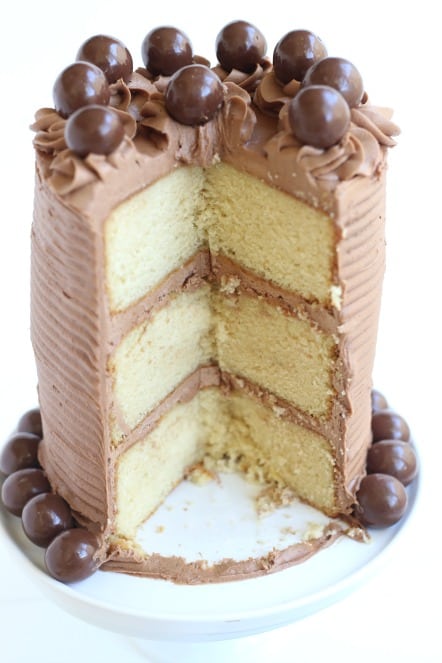 Once the final coat of frosting is put on this cake I used a CAKE COMB to make the groves in the sides of the cake. The cake comb makes it easy to decorate the sides of the cake with not a lot of fussing.
Now the malted milk balls, well I bought the kind that you find in the bulk section. They are much bigger than the kind you find in a box, they are really big, and well….
bigger is better when you have a three layer cake!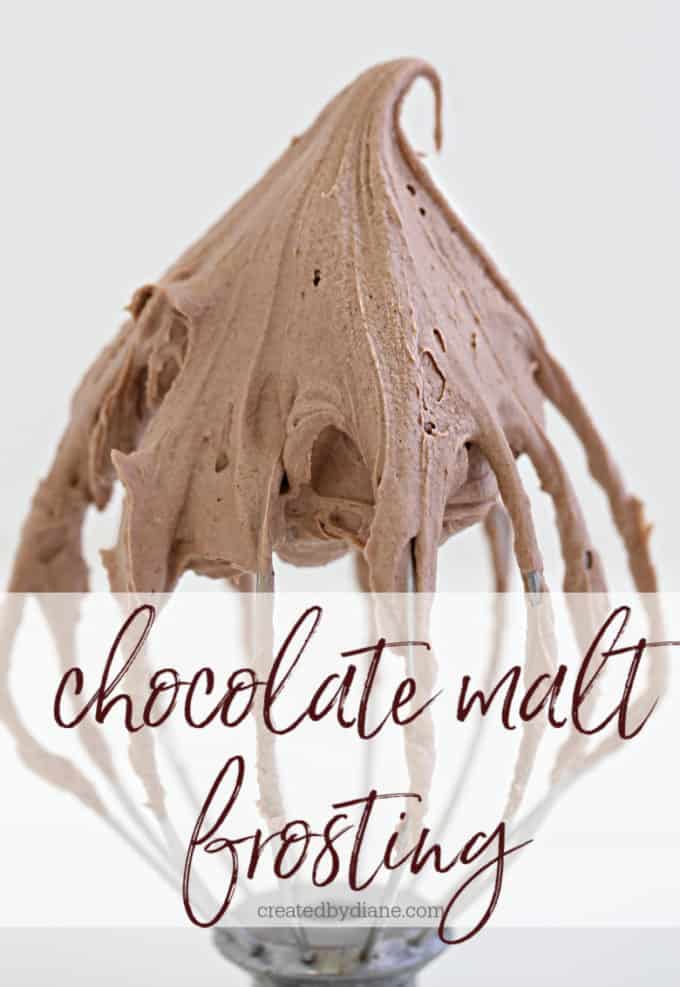 there seems to be come comments that when people pour the batter into their chosen cake pan size the pans are near full. Only fill your cake pans 2/3 full, so the cake shave room to rise abs no spillover. 
if you have remaining batter, you can slays make a few cupcakes.
as far as the baking temperature you have to know you oven. My oven holds its temperature really well, and my cake s baked beautifully at 325 degrees. If your oven doesn't hold an even temperature then maybe 350 would be better for you but as I mentioned I bake three cake sat 325.
happy baking!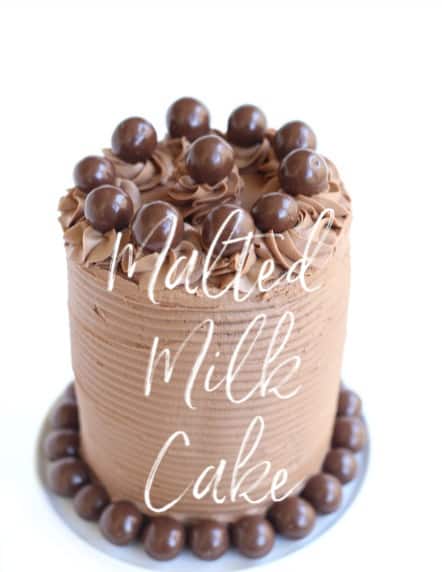 Malted Milk Cake with Chocolate Malt Frosting
Ingredients
3 cups sugar
6 eggs
3 3/4 cups flour
1 1/2 cups California Dairy Whole Milk
1/2 cup dry malted milk powder
3/4 cup butter
2 tablespoons oil
4 teaspoons baking powder
3 teaspoons vanilla extract
Instructions
Beat sugar with eggs until smooth
Add in flour, milk, malt, butter, oil, baking powder and vanilla and mix until creamy.
Spray 3 6" baking pans with baking spray and line bottoms with parchment paper
Bake at 325 degrees for 30-35 minutes or until a toothpick comes out mostly clean. (do not over bake, or cake will be dry) start testing cake at 25 minutes if you are unsure how you oven will bake the cakes. And test every two minutes.
Let cakes cool before removing them from pan.
Notes
to assemble cake, mix up a batch of
chocolate malt frosting found HERE
Place first cake onto plate or cake round and apply about 1/2 cup or so of frosting, spread it smooth. Then add the second layer and repeat. Then add the third layer, give the outside of the cake a thin coating of frosting and place it in the refrigerator to firm the frosting.
Once the frosting is set, apple another coat of frosting and smooth sides of cake with a cake comb, (with teeth) this will create the groves for easy decorating.
Make the top smooth with an offset spatula.
Place the remaining frosting in a piping bag fit with a 2D tip and pipe small swirls on top and add large chocolate covered malt balls to the swirls and around the base.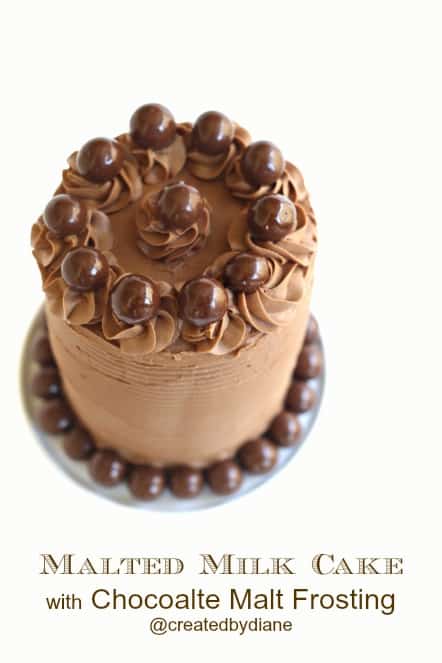 Pour yourself a glass of milk, and slice off a piece of cake and enjoy!
If you love chocolate as much as I do and are looking for another great recipe, take a look at this Chocolate Bread Pudding and in that post, you can read more about California Milk and see really cute cows too.
*Disclosure, I am an ambassador for California Dairy Association and received compensation on this project, all opinions are my own. Thank you for supporting Created by Diane and it's sponsors.