If chocolate is you thing, well you haven't had a delicious chocolate dessert until you've had this warm chocolate bread pudding.
I love working with brands that fit my blog. Today I'm bringing you this post thanks to the California Dairy Association.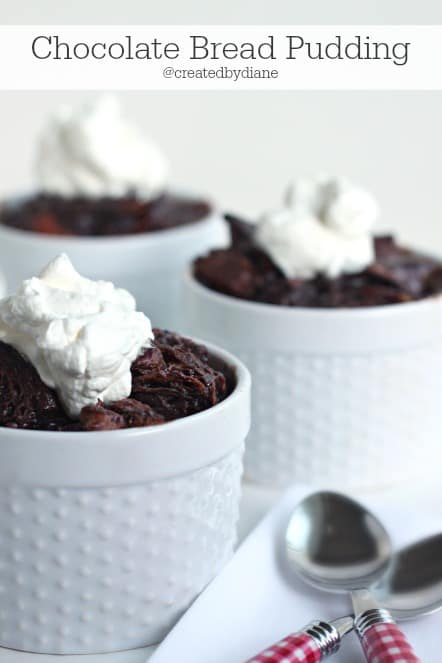 To begin with this dessert starts will all the best ingredients,
let's talk about the bread..
for this bread pudding I wanted a buttery and delicious base, so the bread pudding would be rich in taste,
therefore I chose croissants.
Next I chose the ingredients for the pudding portion,
Milk, cream and chocolate.
The milk and cream are the best part of so many recipes so they were key here too. And I'm sharing my experience with California Dairy later in the post, just wait until you see it.
The chocolate… oh the chocolate,
this has dark chocolate and dutch cocoa powder, which is one of my favorite combinations in chocolate desserts.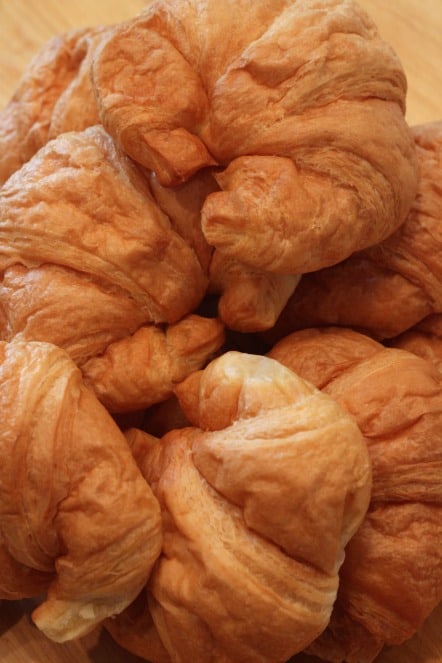 As I mentioned this recipes has croissants, and oh how delicious these croissants make this dish!
Large warehouse stores sell croissants by the dozen, which make it convienant for this recipe. Also my local grocery store boxes up croissants by the dozen when they need to sell them (for a steal I might add) and I buy them when ever I see them.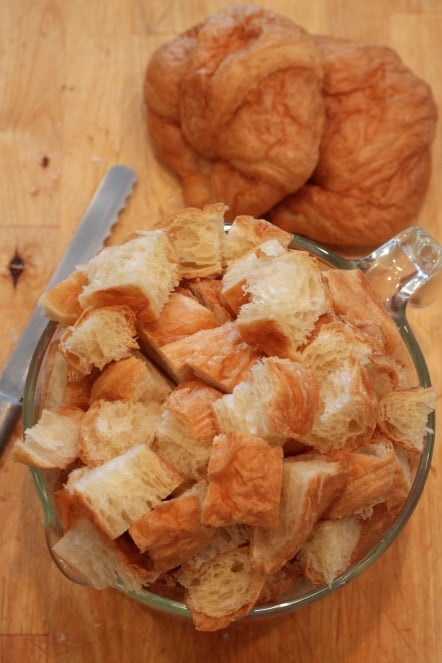 I used 10 croissants and that yielded about 12 cups, in case you want to use another bread item.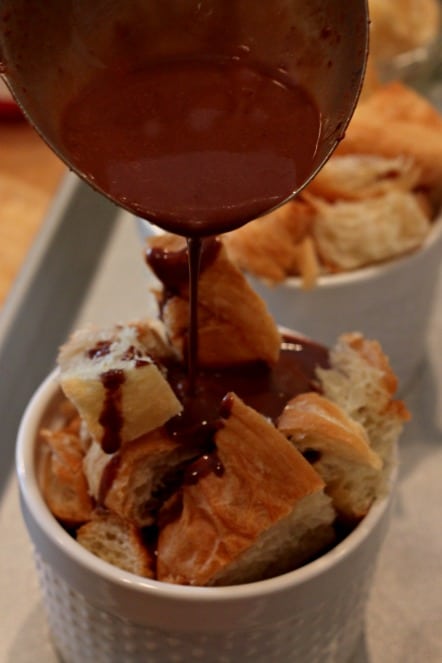 I heated the milk and eggs and whisked in the chocolate and cocoa until it was all completely melted. Then I poured the pudding mixture over the ramekins full of cut up croissants. I over fill mine and am not surprised when the containers need to be cleaned off a bit before baking, so they come out neat. I think using the wide funnel used in canning may be the best item to fill jars and ramekins with less mess (just a suggestion if you like to keep things neat) This recipe can also be baked in a casserole dish if you prefer.
Once the pudding is all poured over the tops of the croissants and they are completely covered, they are ready to go into the oven. I bake the jars and ramekins on a baking sheet.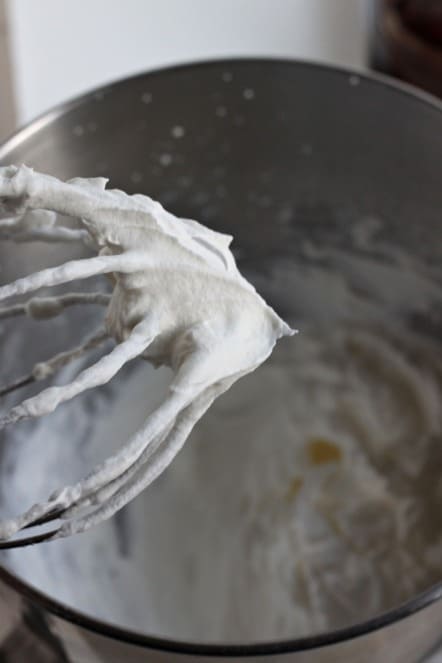 Once they are out of the oven, whip up a cup of heavy cream with a tablespoon of powdered sugar and after the bread pudding has cooled enough to handle top them off with some whipped cream and you are ready to serve them.
If you prepare these ahead of time, simply reheat them for 10-15 minutes in the oven or 1 1/2 minutes in the microwave.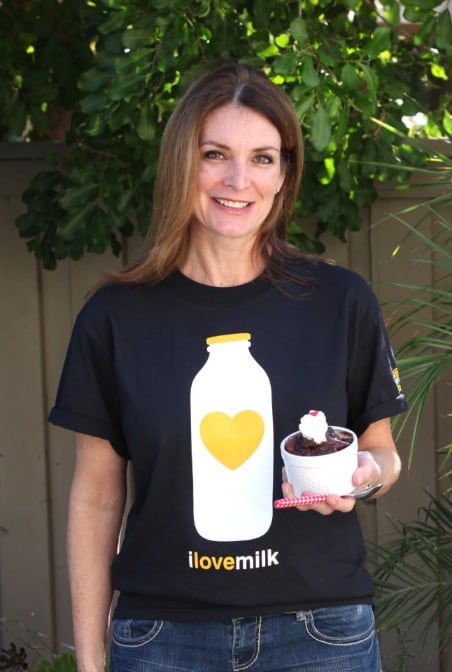 With all the cooking and baking I do, you can imagine how many dairy items I use. From butter to cream, milk and don't forget cheese!
I received this fun shirt from the California Dairy Association and I couldn't wait to show off my love of milk with everyone.
Take a look below to see what a great day I had with the California Dairy Association, we toured the Thrifty Ice Cream Plant in El Monte, Ca. Then we headed over to Riverside, Ca for a delicious lunch at the Salted Pig and finished the day off with a tour of the Bootsma Dairy Farm and just wait until you see the baby calfs that is moments old.
I enjoyed spending the day with the California Dairy Association along with other bloggers. If you follow me on instagram, twitter and facebook you may have seen some of the photos I took that day. I enjoyed seeing Valentine from Cooking on the weekends, and Mique from Thirty Handmade Days, and I met Jen of Yummy Healthy Easy, Chung-Ah from Damn Delicious, Glory from Glorious treats and Hayley from Domestic Rebel. It was so nice spending the day with online friends.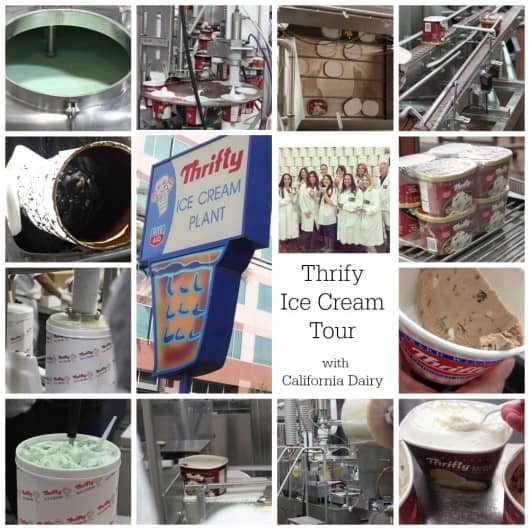 Thrifty Ice Cream is a true California Icon, it's readily available at Rite Aid Drug Stores. It's really creamy and we learned that Thrifty uses Real California Milk. The Thrifty plant is only 20,000 square feet, which is not very large at all for all the ice cream they produce and package. While on our visit they were making mint chocolate chip ice cream and I thought it was so interesting that they don't add chocolate chips to the ice cream, but they mix in liquid chocolate and when it hits the cold ice cream small chards of chocolate are formed and create their mint chocolate chip, which by the way was so delicious as we got to sample it right our of production, you know quality control is very important and eating ice cream in the morning is a MUST!  We also enjoyed their chocolate malted crunch which I learned is a favorite to MANY, it was great. My favorite flavor of theirs is the coconut pineapple and oh yes, you can see it right there in the bottom right photo, we got to enjoy that one too. I think if I lived any closer to where the plant is located, I'd be begging for a job there. Everyone was so nice. Silvia and Scott gave us a great tour and filled us with so much great information about Thrifty. I love hearing how things are made and going behind the scenes. My first job was working at an ice cream shop and I can not tell you how wonderful it was to see ice cream being made on this scale.
Thrifty will be celebrating 75 years in 2015. Thrifty was "born" in Hollywood, California in 1940. The first year they produced enough ice cream for 1 million ice cream combs, now they do that every week. They use between 100-150 thousand pounds of milk a day and in the summer about 250 thousand pounds.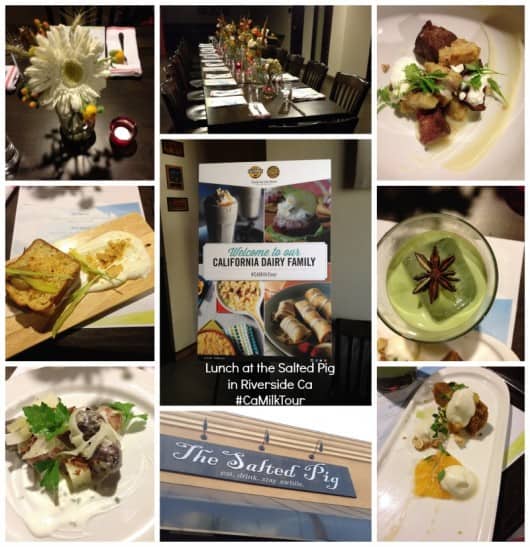 California is the country's largest milk producer. More then 20% of the US milk production. Approximately 44 % of all California's cow's milk goes to make California cheese.
We enjoyed a milk centric lunch at the Salted Pig in Riverside. The first course out is still on my mind. It was a malted milk toast….I really need to try to make this! It was served with California Burrata Cheese, it was so delicious. It was followed by a warm potato dish and I will just say that it tasted like the most delicious warm potato salad ever. Next up was the short ribs and gnocchi oh so yummy and the meal was finished off with a ricotta custard. It was so interesting how the chef incorporated all these delicious California dairy items into this wonderful menu. I'm already planning a trip back to the restaurant with friends.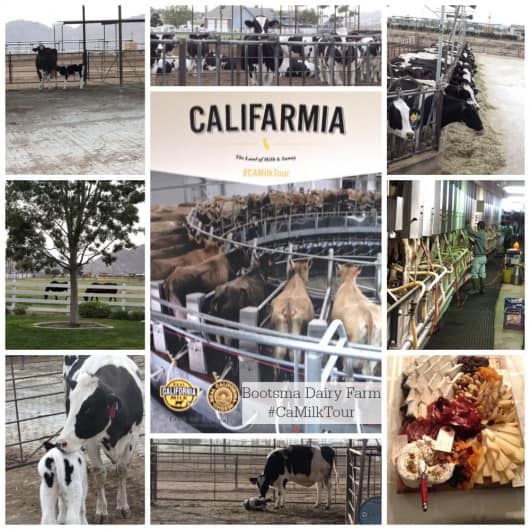 There are over 1500 California dairy families, who house over 1.77 million cows. As they say Happy Cows come from California, be sure to look for the Real California Seal! California dairy products  produced in 2013 41 billions pounds of milk production, 2.3 billion pounds of cheese, 634 million pounds of butter, 127 million gallons of ice cream 590 million pounds of yogurt 98 million pounds of cottage cheese and 583 million pounds of nonfat dry milk. WOW California cows, sure are busy. They are milked each day, at the same time, twice a day. We toured the Bootsma Dairy which is actually really close to where I live. Bootsma Dairy cows are personally checked each day, that means someone is walking around the entire farm to be sure each and every cow is doing well. Hearing about how well they care for their cows is heart warming. Their dairy is so peaceful, I really enjoyed our visit there. I didn't realize their farm was considered a large dairy farm, sure they had lots of cows, but it wasn't what my impression would have been at all of a "large dairy" These cows have plenty of room and space and they really did all seem happy! Really it was quite and peaceful and there is no way I would have thought there were 1700 cows there. I would have thought it would have been noisier and more chaotic. Seeing the baby calf moments after being born, along with the other cute babies born that day was priceless. They were adorable. I even pet one of the babies and he was so soft! The cows were so curious, they all walked over to the edge of the fence and had to take a closer look as we were riding around the farm. It sure was an experience to remember.
Essie and Jim Bootsma were such gracious hosts and I really enjoyed hearing the story of them meeting and dating and Essie designing her home in college and then they built it, it's a lovely home and Essie loves to entertain and she sure had planned out a wonderful home to entertain in. She served up a delicious cheese platter that I only hope to replicate some day. I love cheese and often think it's the best appetizer!
While at the Bootsma farm, I enjoyed hearing all about the benefits of milk. I just had my son at a doctor appointment and they were telling him to up his intake of diary so that as he begins a new sport he will be able to sustain his weight with all the new rigorous activity. Each and every suggestion was dairy based. He is not the best eater, but adding more dairy for him has been so easy. His appetite has increased and I'm happy that he now knows all the right things to be focused on. He was so interested in hearing about my day and what I had learned. I love sharing those experiences with my family and all of you reading this.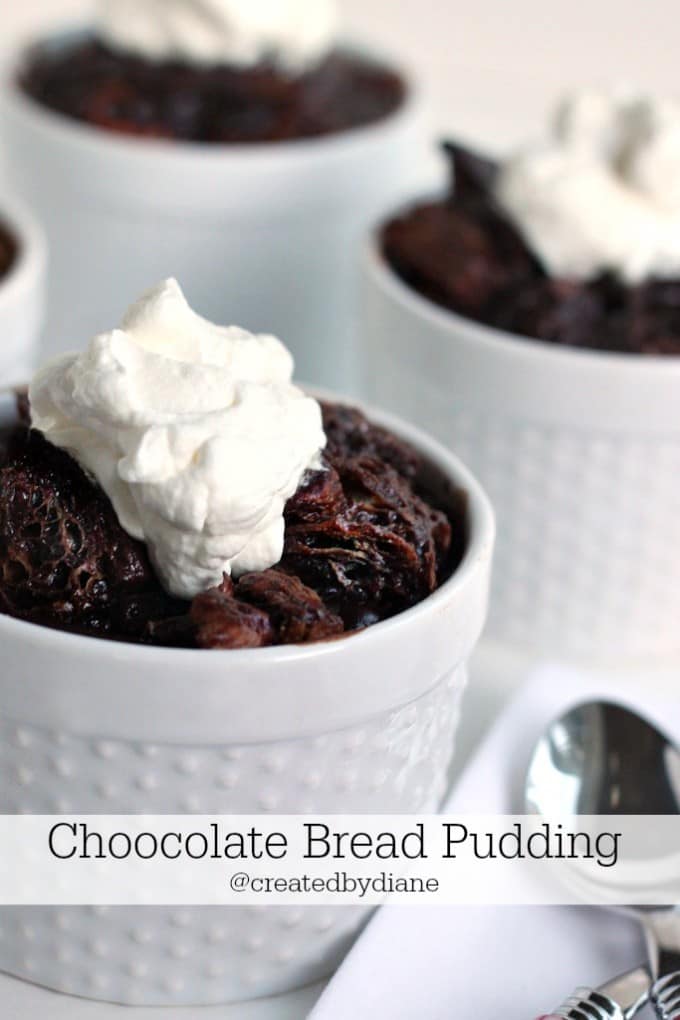 Chocolate Bread Pudding
Ingredients
12 cups croissants (cut into pieces, 10 croissants)
2 cups heavy cream (I use real California Milk)
2 cups whole milk (I use real California Milk)
¼ cup brown sugar
2 teaspoons vanilla extract
6 eggs
12 oz chocolate (I use Ghirardelli 60% cacao Chips)
¼ cup dutch cocoa
Instructions
Cut bread into one inch pieces (apporximatly)
Fill the jars or ramekins with the bread (or place it in a casserole dish)
whisk the heavy cream, milk, brown sugar, vanilla and eggs together
melt the chocolate in a dish in the microwave (about a minute)
in a medium saucepan heat the milk mixture just until warm
whisk in the melted chocolate and dutch cocoa
when it's all combined pour the mixture over the croissants
Bake at 325 degrees for 30-40 minutes until the pudding is set. Timing will be based on the size of the jar/ramekin used. I used both 1 cup and 2 cup sized dishes and they were done in 35 minutes.
I can't thank the California Dairy Association enough for such a great day, they certainly know how to plan an outing and pull if off flawlessly!
*Disclosure, I am an ambassador for California Dairy Association and received compensation on this project, all opinions are my own.
I do wish I could have taken home the baby calf, he was so cute!