Eggnog is a huge favorite this time of year and so is fudge, so eggnog fudge is inevitable and oh so delicious.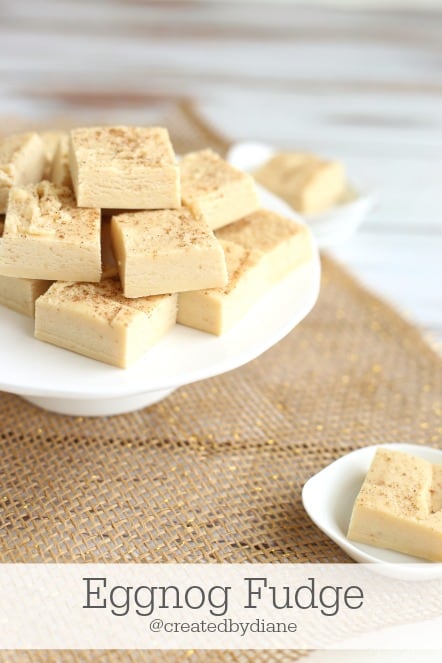 Eggnog itself is so creamy and delicious,
having that same greatness added into fudge makes it doubly delicious!
This fudge flew out of my kitchen,
really.
It was as if it had wings!
That seems to be happening with all things EGGNOG this time of year.
This may just be the year of fudge in my kitchen. I've made many batches already and have plans on making more too.
I may need to bring some of this with me, to  help me with all my Christmas shopping … I have some more to do and this fudge may be just the thing to get me through it!
Are you all set for the Holidays?
If you are you are WAY ahead of me.
Each year it seems to take me longer to get everything done. I need an elf to come and help me!
I'd like the elf to help me carry the bags around, and to and from my car, help with the gift wrapping and let me see, what else….
oh yes the dishes. I'd like help with the dishes!
Eggnog Fudge
Ingredients
2 eggs
1 cup milk
4 tablespoons butter
1 1/2 cups sugar
11 oz white chips
7oz marshmallow fluff
1 teaspoon rum extract
nutmeg
Instructions
Whisk eggs with milk
Add that mixture to a medium saucepan and mix in butter and sugar
Boil until mixture reaches 234 degrees
remove from heat,
stir in white chips and marshmallow fluff
add in rum extract and 1/2 teaspoon nutmeg
stir until smooth and creamy
spread into a parchment or foil lined 8x8 inch pan
sprinkle with additional nutmeg
put in fridge until fully chilled and set.
Remove from fridge.
Lift out the fudge by the edges of the parchment paper.
cut into pieces and enjoy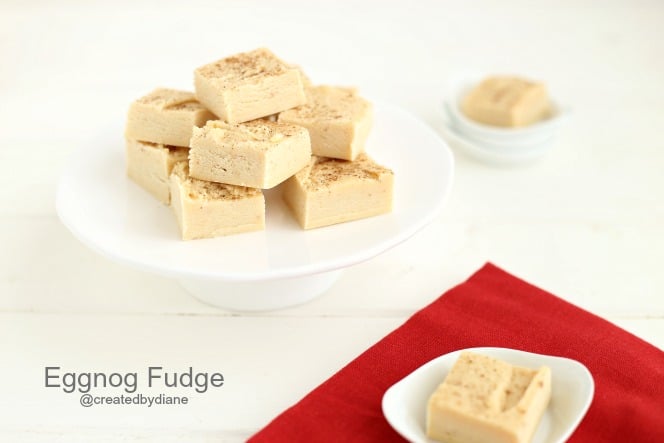 Eggnog fudge makes a really great gift,
and I've been working on some more fudge,
oh how I love fudge!