OMG, this is not your ordinary cake, it's a cake made of popcorn, filled with delicious peanut butter and topped with chocolate. This is the best no-bake cake around!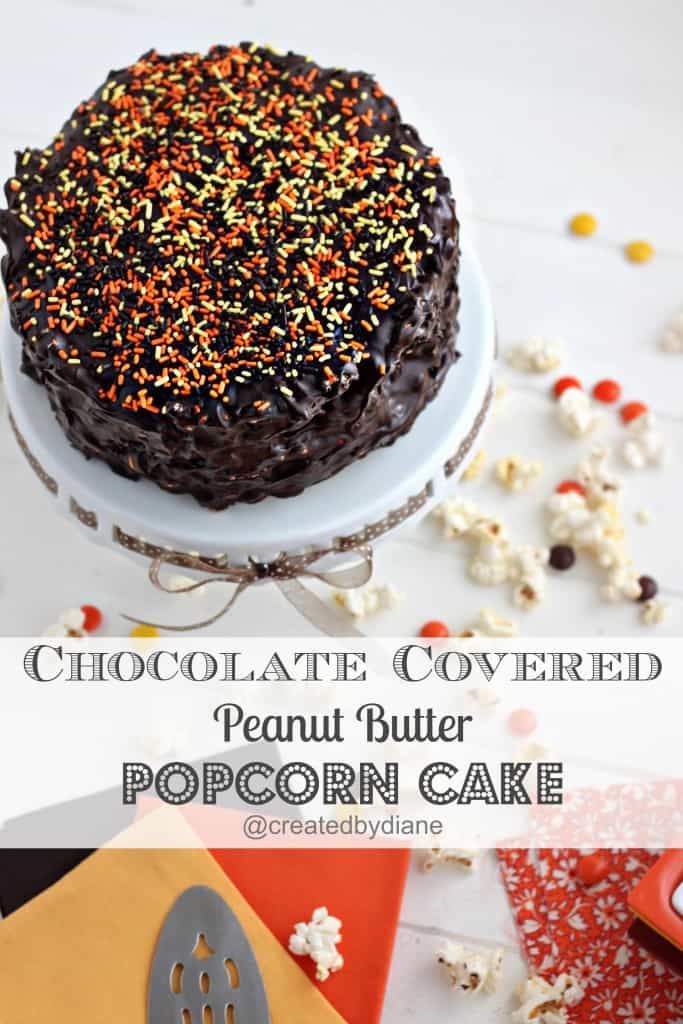 Typically cake is in order for any celebration…at least it is when my family is involved in the celebrations.
Today is no different.
It does deserve an Extra Special Cake…
100 years…
Well, that is cause for a POPCORN Cake in my book.
Popcorn cakes are easy to make, and this has a delicious combo of chocolate and peanut butter together.
It's crispy, buttery, salty, and sweet all at the same time!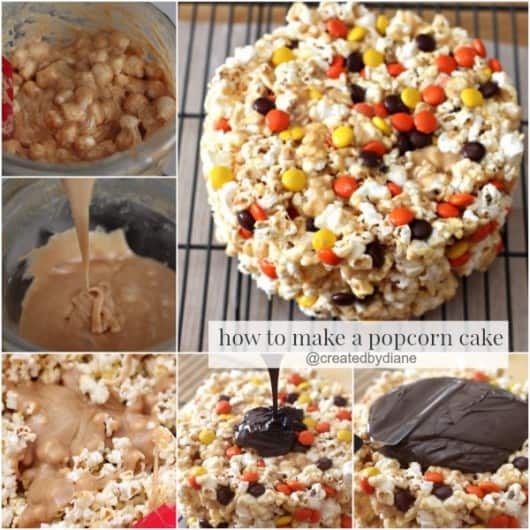 In a few easy steps you can create this deliciousness yourself and believe me, everyone will LOVE it!
By melting peanut butter with marshmallow and a little butter, it creates a sticky sauce. That sauce gets poured over the popcorn, and you'll want to mix it in really well.
Then add in some peanut butter candy pieces for extra peanut butter flavor and some fun color.
Then for the chocolate…because you can't really have peanut butter without chocolate. Can you?
I don't think so.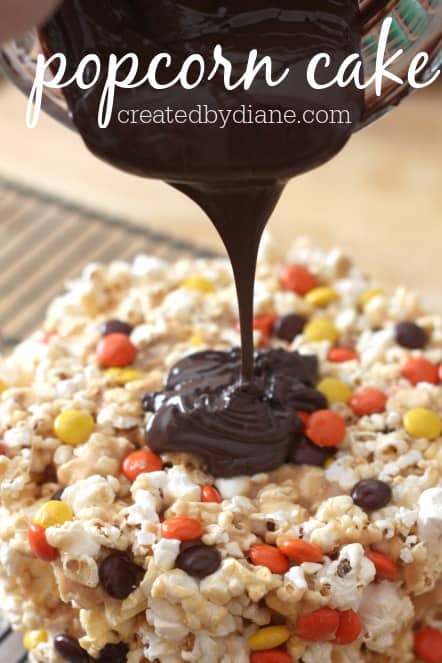 This is such a fun treat! The flavors are so delicious over the popcorn and it's so crunchy…
I just LOVE it.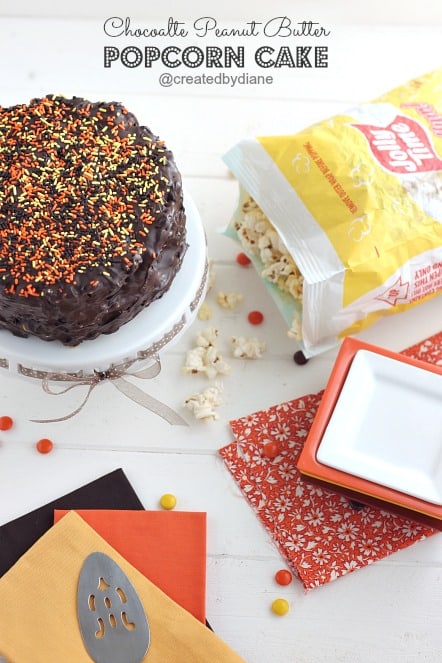 Break out of the ordinary with this super-fun cake
and let's get baking…hmmm…not exactly, there is no baking involved.
Ah, that is just great, a no-bake cake!
Perfect for so many reasons…this takes no time at all to make. Baking, well that takes time.
This cake leaves more time for CELEBRATING.
YIPPEE!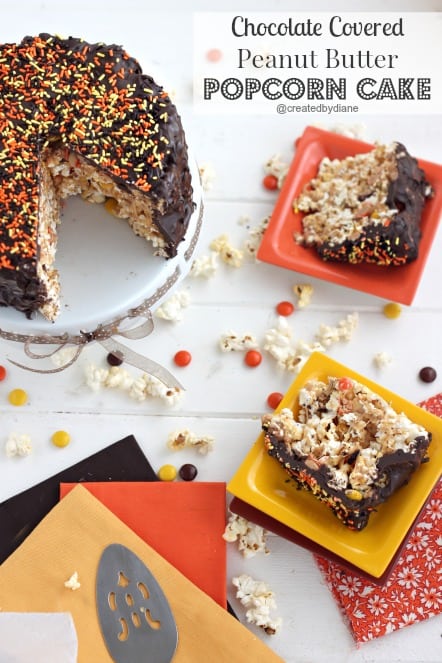 Another great popcorn recipe is here super yummy pumpkin spice popcorn, sweet and delicious.
Chocolate Covered Peanut Butter Popcorn Cake
Ingredients
1 bag microwave Jolly Time Popcorn
16 oz mini marshmallows
3 tablespoons butter (divided 2 tablespoons and 1 tablespoon)
1/4 cup peanut butter
1 cup candy-coated peanut butter candies
1 lb chocolate melting wafers
sprinkles
Instructions
Cook popcorn in microwave according to package directions.
In medium saucepan heat marshmallows,2 tablespoons butter and peanut butter until it's smooth and creamy.
Place popcorn in a large bowl.
Pour marshmallow mixture over popcorn and stir until it's coated all the popcorn.
Stir in peanut butter candies.
In a baking pan (I used a 7-inch pan with a with removable bottom) butter the bottom and sides with remaining 1 tablespoon of butter (you may only need 1/2 tablespoon butter) be sure the pan is coated completely
Place pan in the refrigerator so it chills and the popcorn mixture is set about an hour.
Remove popcorn cake from pan,
place the cake on a tray with a slotted cooling rack so the chocolate that is poured over will drip and not pool at the bottom of the cake.
Melt the chocolate completely.
Pour chocolate over popcorn cake.
Use an offset spatula to spread the chocolate over the top evenly and down the sides until the whole cake is covered.
Top with sprinkles.
Place cake in the refrigerator to set chocolate about 10 minutes.
Remove from the refrigerator.
The cake can remain at room temperature until served.