If you like ranch flavor, just wait until you give this recipe a try. It may just know your socks off.   
October is here and Halloween is out and about in all the stores,
there will be parties and get togethers left and right.
This is one fun and delicious dip,
that will be great with veggies and chips.
All the great taste of a classic buttermilk ranch, with the creamy deliciousness of avocado.
The gorgeous green avocado makes for the perfect backdrop to create this fun spider web in…
and how fun is that spider.
Truth be told, this is the only spider I like!
I don't like the creepy crawly Halloween stuff,
I tend to like the cute, fun, pumpkins such.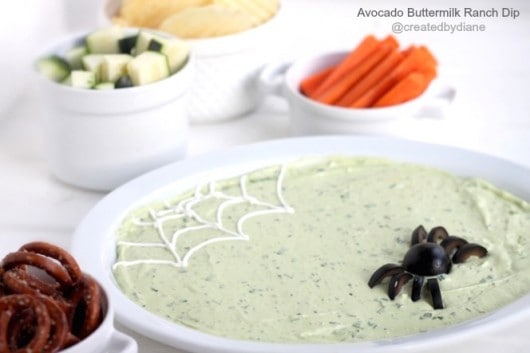 I love Fall, all the leaves are changing and the nights are getting cooler.
There is such fun all around, kids are picking out costumes, there are caramel apples all around and oh the candy….the aisles and aisles of candy that are in the stores has me thinking there needs to be something else to snack on,
that is where this dip comes in.
Grab some veggies or your favorite chips and begin dipping.
I think this will also be super-delicious with fresh baked hot pretzels….comfort food comes in many varieties. For me, it's snacking and everyone thought this was the cutest dip.
Avocado Buttermilk Ranch Dip
Ingredients
1 California Avocado
1 cup sour cream
1 tablespoon dry buttermilk
1/4 teaspoon onion powder
1/8 teaspoon dry chives
1/8 teaspoon dry dill
1/4 teaspoon salt
1/8 teaspoon black pepper
1 scallion chopped fine
1 tablespoon chopped fresh cilantro
garnish
sour cream
black olives
Instructions
In medium bowl
Cut and mash avocado until smooth
Mix in sour cream, buttermilk, onion, chives, dill, salt, black pepper, scallions and cilantro until smooth and creamy.
Spread dip over plate.
Place a couple tablespoons of sour cream into a plastic bag with a small hole cut in corner to pipe on spider web.
Place one whole black olive in dip, then slice an olive in half and cut each half into 4 pieces for the spider legs. Place the legs in dip.
Notes
*dry buttermilk is available in the baking aisle
I'm woking with California Avocados to bring you some delicious recipes, all opinions are my own. I happen to love California Avocados and am glad they are in season now! But they won't be for long, so be sure to enjoy them now before the season ends. If you stock up on them and want to put some in freezer for months to come as you won't find a better avocado until spring time. Take a look at this post on How to Freeze Avocados, it's a must this time of year.