The best casserole dish ever, perfect for making with leftover chicken or turkey, cold cuts and awesome to bring to someone to cheer them up.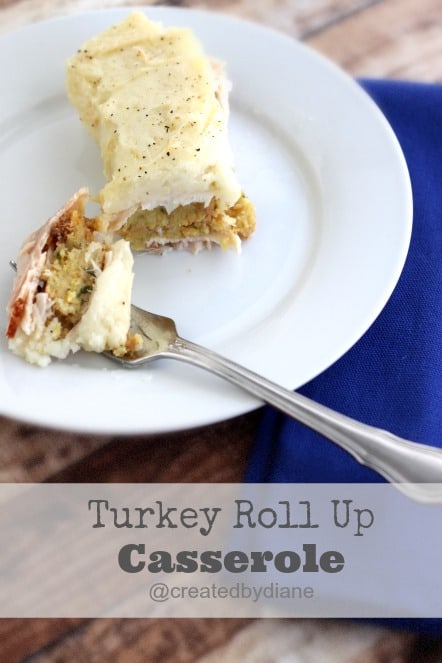 How would you like a new GO-TO Casserole?
This Turkey Roll Up Casserole should go to the top of your must make list.
No need to wait until mid November to enjoy turkey, now you have have all the delicious flavor of a Thanksgiving meal ANYTIME you'd like.
And it won't take all day to make.
It's the Thanksgiving version of enchiladas!
With this baking in the oven, everyone is sure to drop what they are doing and come to the kitchen.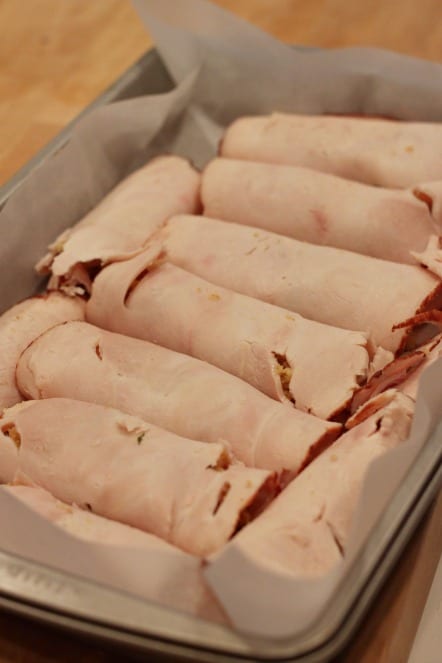 The deli counter will become you new best friend for this meal. Turkey at the deli counter has come a long way.
There are many varieties that have no preservatives or fillers, it's just Turkey. Imagine that, you ask for turkey and you get turkey! GENIUS 🙂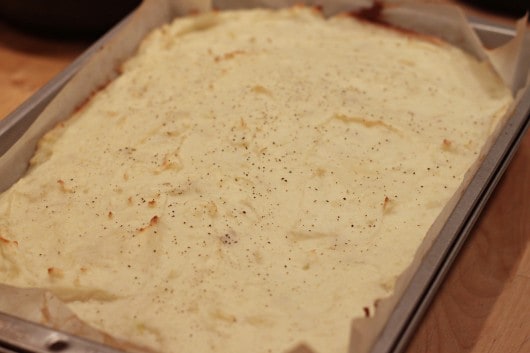 Since this dish is covered in mashed potatoes, it has that hidden treasure quality to it.
My family anxiously awaits to see what is underneath.
But the wonderful aroma of it baking, kind of gives it away!
But they still like to guess what will be inside.
Turkey Roll Up Casserole
Ingredients
1 1/2 pounds oven roasted turkey (or chicken) I used the sliced thick version, I prefer the type that is most like real turkey/chicken with less additives
1 6oz. package of turkey/chicken stuffing
1 1/2 cup chicken broth
1 tablespoon butter
1 tablespoon flour
3 cups mashed potatoes (about 2 lbs of potatoes)
Instructions
preheat oven to 350
line a 13X9 pan with parchment for easy clean up
prepare the stuffing according to package directions
roll two tablespoons of stuffing inside of each slice of turkey
place the roll ups into the pan
heat butter and flour and whisk in the chicken broth to make gravy,
pour gravy on top of the turkey
then cover in mashed potatoes (this dish is great when you have leftover mashed potatoes otherwise this sour cream and onion mashed potato recipe is great)
spread the potatoes smooth and top with salt and pepper.
bake for 20-25 minutes or until everything is heated through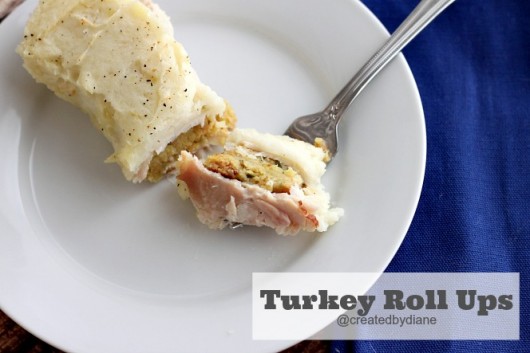 Adding this to your menu will have your whole family reminiscing about their favorite Thanksgiving dinner, what they like best about the day, what their favorite item is when they look at the giant spread of food. What they wished they had more often and well then the topic of DESSERTS comes up.
Who likes pumpkin pie, who prefer chocolate pudding pie and then they start thinking I magically have a pie in the fridge.
Maybe next time I'll make the pie!
I love hearing about everyones favorites!