Salted Caramel Cake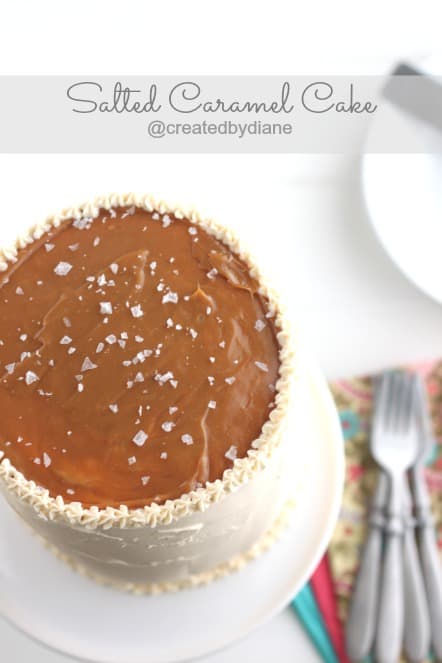 Salted caramel is one of my favorite things and well…
since it seems to be everywhere now a days from frappuccinos to ice cream, and I've made something similar in cupcakes a while ago I thought is was about time it adorned a cake.
So get out your bowl and pans and lets get baking!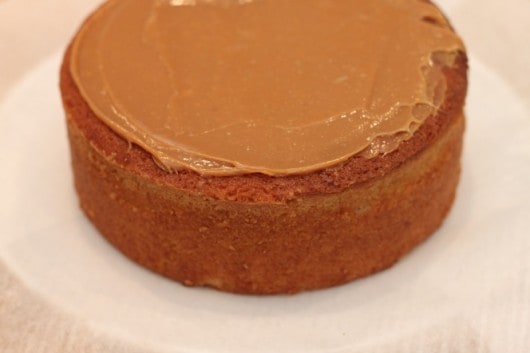 One the cakes are baked and completely cooled. I wrap my cakes and freeze them for about an hour, this makes it easier to stack the cakes and frost them without them wiggling around. You can even freeze the cakes overnight, just be sure to wrap then very well in plastic wrap.
Spread a thin layer of caramel on the cake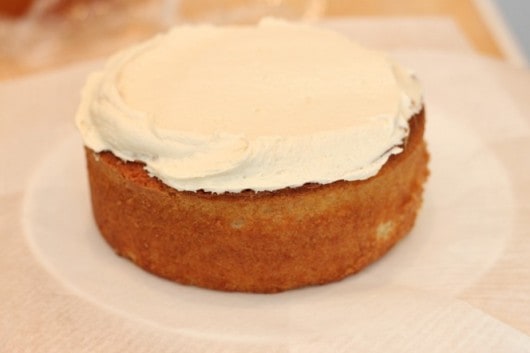 then spread on some frosting,
you don't need to get it too close to the edges, once the cakes are stacked it will spread a bit.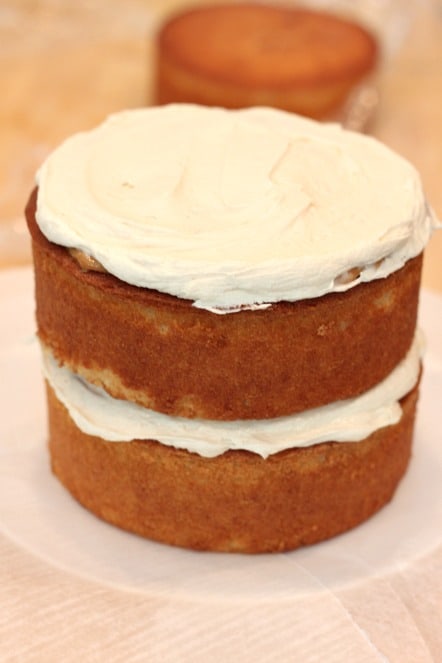 pile on the next cake and repeat. top it off with the third layer of cake,
then place a thin crumb coat layer on the whole cake and chill it until the frosting is firm,
add the remaining frosting and spread smooth reserving some frosting if you want to pipe on an edge like I did.
Than add some salted caramel on top and fleur de sel (coarse salt)
Vanilla Bean Cake (for salted caramel cake)
Ingredients
2 cups sugar
4 eggs
2 1/2 cups flour
1 cup milk
1/2 cup melted, cooled butter
1/4 cup oil
2 1/2 teaspoons baking powder
2 teaspoons vanilla bean paste
Instructions
Beat sugar with eggs until completely combined.
Add flour, milk, butter, oil, baking powder and vanilla.
Mix until creamy.
Separate batter into three 6" cake pans, lined with parchment on the bottom and sprayed with a baking spray.
Bake at 350 for 35-40 minutes, or until toothpick comes out almost clean
Salted Caramel
Ingredients
14 oz can condensed milk
coarse kosher salt
Instructions
Bring condensed milk to a simmer for 1 1/2 -2 hours on medium low heat, stirring occasionaly.
Stir in salt and allow caramel to cool completely before topping cake with it.
Notes
I use i teaspoon salt, adjust to taste
Salted Caramel Frosting
Ingredients
2 cups butter
8 cups powdered sugar
3 tablespoons heavy cream
1/2 cup salted caramel
Instructions
Beat butter until fluffy, add in powdered sugar and heavy cream and salted caramel.
Mix until smooth and creamy.
Place some caramel on top of the bottom layer of cake, then add some frosting, then the second layer of cake, caramel and frosting, then add the top layer of cake, then crumb coat the cake and chill it, then add the frosting to the cake and pipe on a pretty star edge and top with a layer of caramel and add some fleur de sel.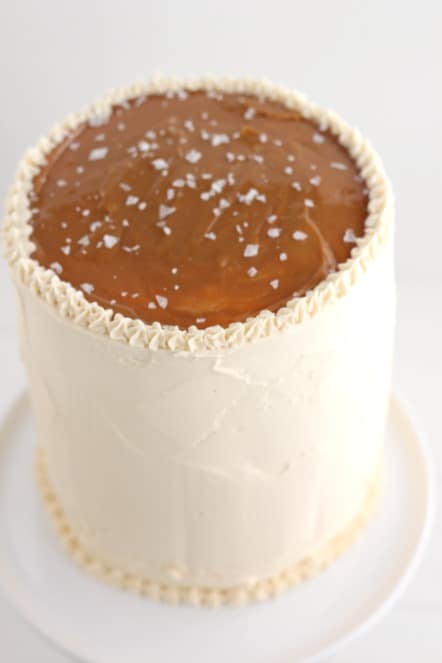 I love how three layer cakes look, and this vanilla bean cake recipe is delicious.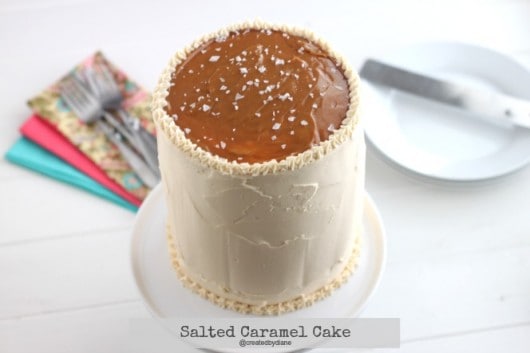 The layers of salted caramel in this cake were a big surprise to all!