Banana Cupcakes with Banana Brown Sugar Frosting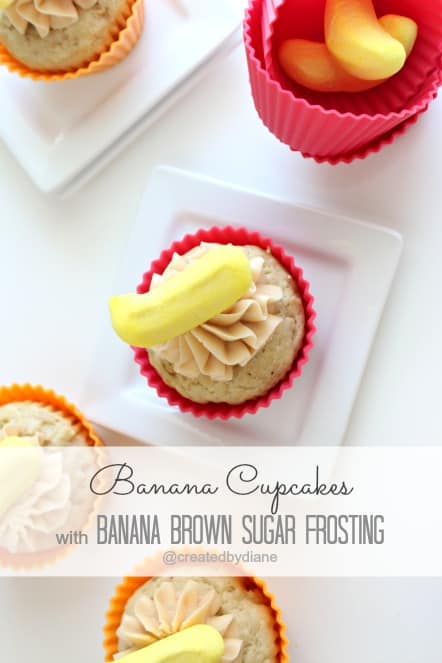 The warm aroma of bananas baking remind me that something SUPER-DELICIOUS will be coming out of the oven,
and oh when these cuppies are baking, believe me….you will know they will be delicious.
They have a hint of brown sugar and well…
brown sugar makes baked items tastier, don't you agree?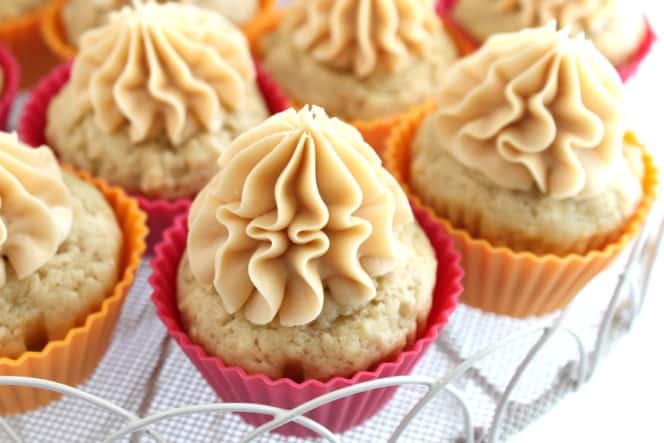 The frosting is smooth and creamy and has a wonderful flavor.
I put the brown sugar in a food processor to grind it super smooth, like dust….so that the frosting isn't crunchy, but has that delicious brown sugar taste!
Banana Cupcakes
Ingredients
1 cup flour
1 1/2 teaspoon baking powder
1/4 teaspoon salt
1/4 cup sugar
2 tablespoon brown sugar
2 ripe bananas mashed
5 tablespoon s milk
2 tablespoons butter melted
1 large egg beaten
1/2 teaspoon vanilla extract
Instructions
In large bowl sift flour, baking powder and salt together.
Mix in sugars.
In small bowl mix bananas, milk, butter, egg and vanilla.
Add we ingredients to the dry ingredients until combined completely.
Place2-3 tablespoons of batter into lined cupcake pan ( i used silicon liners)
Bake at 375 degrees for 20-25 minutes.
Let muffins cool completely before frosting.
makes 9-12 cupcakes depending on how high you fill them and if you use silicone liners, they take up a little more space.
Notes
Cupcake recipe from the book Perfect Muffins & Bakes fro Parragon Publishing
Banana Brown Sugar Frosting
Ingredients
1/2 cup butter (room temperature)
2 tablespoons shortening
2 cups powdered sugar
1/2 cup brown sugar (ground smooth in food processor)
1-2 tablespoon heavy cream
1/2 teaspoons vanilla extract
1/2 teaspoon banana extract
Instructions
Beat butter until fluffy.
Add in powdered sugar and brown sugar and beat until smooth.
Mix in heavy cream and banana extract on low then on medium after 15 seconds.
Mix until frosting is smooth and creamy.
Fill pastry bag with #857 tip and pipe frosting onto completely cooled cupcakes
Notes
decoration: sugar coated banana shaped marshmallow candies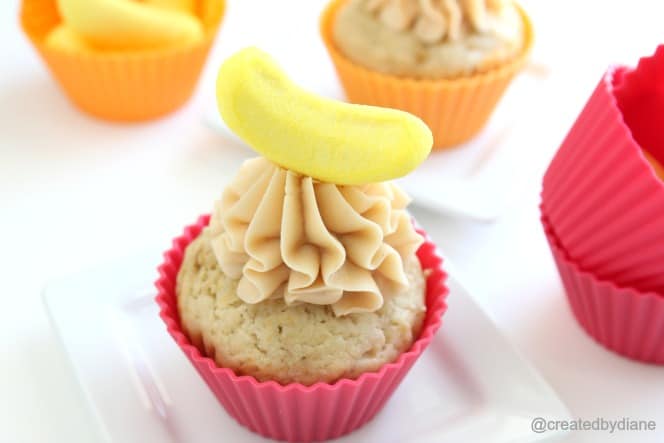 I just love these cute marshmallow bananas, they topped off the cupcakes nicely. Dried banana chips or banana runt candy would work well too.