avocado, goat cheese and beet salad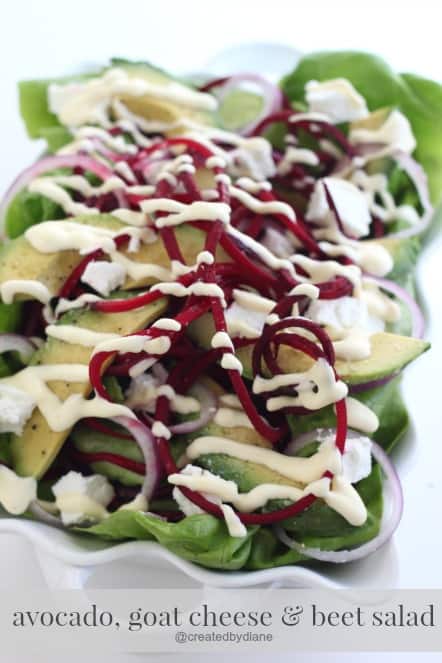 Let's chat about beets…
when I was a kid, I thought beets were always pickled. I think that is the only way I ever saw them served,
now I like pickles, but pickled beets were not my thing.
Move forward thirty  twenty years,  a few  years and I try cooked beets and love them, I like them roasted too, even beet chips…yep, some veggie chip bag had beets in them and I just loved them.
But today it's all about raw beets,
I never thought something that was similar to a potato would taste good raw, but I really like them…
and what I really love is them spiral cut.
I tried slicing the beets, grating them and even dicing them,
but I LOVE them cut with this spiral cutter, the texture of them in salads is great.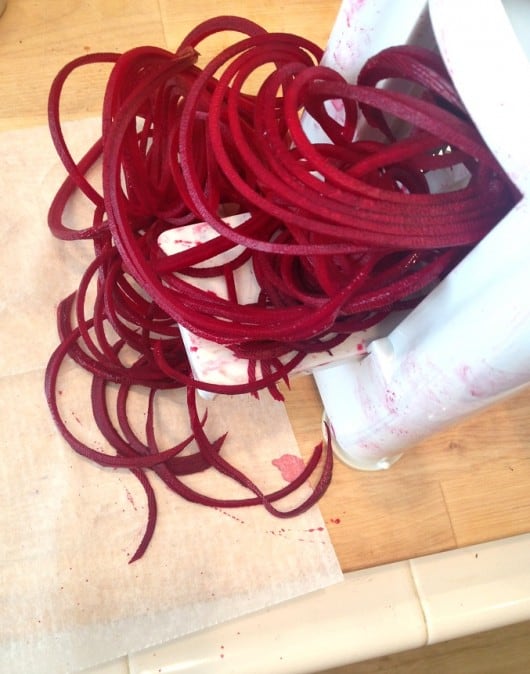 I used this spiral cutter to make the beets into the spiral noodle shape. This is a fun slicer to make zucchini noodles and other fun salads with.
So the weather is heating up and there is not better time to try this delicious salad than now.
Even the non-beet lover in the family enjoyed it, now that is says something!
avocado, goat cheese and beet salad
Ingredients
six leaves butter lettuce
one ripe California Avocado
one medium beet
one to two oz goat cheese
quarter red onion sliced
Instructions
Slice the beet with the spiral slicer, play the beat on the lettuce and place avocado slices on top, place pieces of the goat cheese on top with some slices of red onion
lemon Aioli Dressing
Ingredients
juice of 1/2 a lemon (2 tablespoons)
1 egg yolk
1/3 cup oil
1 teaspoon garlic (or one clove)
Instructions
Blend lemon juice, egg yolk, oil and garlic with some salt and pepper until thick and smooth in a blender or food processor.
Granted beets can be messy, but I think it's worth it. I do a quick cleaning with clorox cleanup on the slicer, cutting board and my fingers and then I was all of them with hot soapy water. I often wear food service gloves when I peel beets to avoid my  kitchen looking like an episode of Dexter.
My last post was a video on how to cut an avocado, take a look!