Cheesy Olive Crostini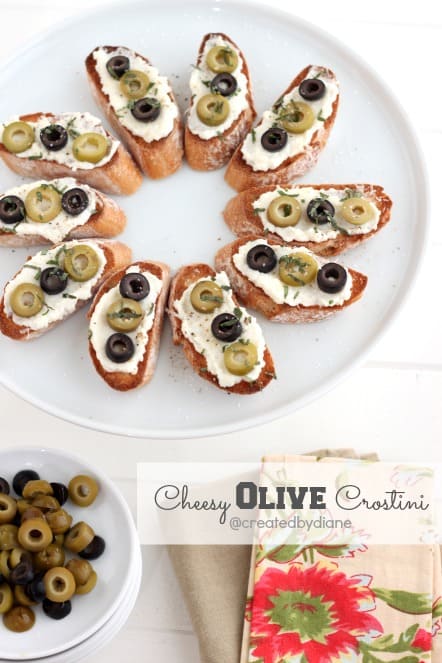 Here is just one more way to enjoy olives, other than sticking them on the ends of your fingers.
Fess up , you do that don't you?
I do, it's one of my favorite ways to eat them. I recall sitting at the dinner table as a kid putting all the olives on my fingers and now I get to do it any time I like, see being an adult has it's advantages.
Granted I think there are many more advantages being a kid. Like today I'd like to make my own schedule, but my day will be based on the kids schedules…who needs to be where when. At mid day I started getting text messages on the line up from my kids. I like that there is an easier way to communicate with me. Texting sure has made it easier, now if there was a way for my car to sit in the garage in the afternoon I think that would make my day even easier!
I'm all for easy.
This appetizer fits that bill.
It's easy and delicious and only takes a few minutes to prepare. Great for an after school snack, before dinner hold-me-over, appetizer at a party or anytime!
My kids love it too. Bonus there!
Cheesy Olive Crostini
Ingredients
1 baguette focaccia or crusty bread
1 cup Ricotta Cheese
2 teaspoons garlic (I use Gourmet Gardens)
1 cup micro-planed Parmesan Cheese
1 tablespoon fresh lemon juice
1/2 teaspoon salt
1/4 teaspoon ground black pepper
1/2 cup sliced ripe California Black Olives (I used Early California Olives)
1/2 cup sliced ripe California Green Olives (I used Early California Olives)
6 fresh basil leaves thinly sliced
Instructions
Slice baguette on a diagonal in one inch pieces.
Mix Ricotta with Parmesan, garlic, lemon salt and pepper.
Heat in microwave just till slightly warm 10-15 seconds. (to take the chill of the cheese and release the garlic flavor into the cheese, not hot or it will become thin)
Place pieces of bread flat on a try and broil for 2 minutes or until golden and lightly crisp on the edges.
Spread about 2 tablespoons of mixture onto each piece of bread and to with olives, additional parmesan cheese and salt and pepper to taste along with thinly sliced fresh basil.
There are two canneries that process and can
California Olives
that are readily available in grocery store shelves. The Bel-Carter facility packages Lindsey Olives and Musco Family Olive Co. packages Early California brand Olives. The green olives I used are not the variety that are Canned in a brine/marinade they are just a green olive, with a similar taste to the black olive. I love that the combination of the two olives on this appetizer looks so pretty.
Did you know olives are a fruit? …I should have known that, after all they do grow on trees.