6 Vanilla Cupcakes perfect for birthday celebrating… 
no need to go bake up LOTS, when you want to keep it simple, 
this is a small batch and so worth making for everyday celebrating.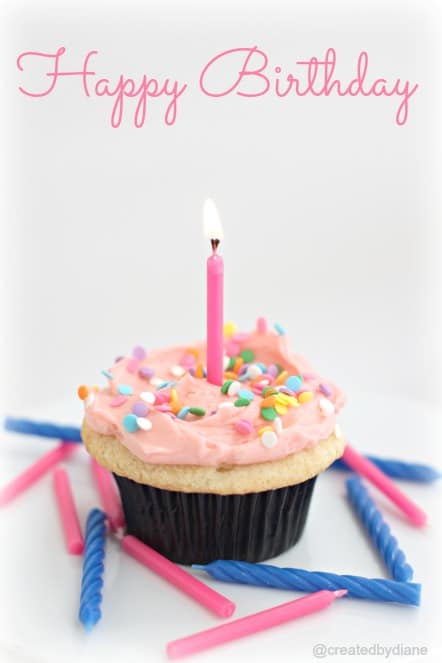 Whoo Hoo,
today is my BIRTHDAY.
Aren't Birthday's the BEST! You can tell I like celebrating, right?
But the more opportunities to celebrate mean the more chances of eating desserts,
after all, it's not a celebration without cake or cupcakes.
This year I decided to make a SMALL batch of cupcakes for my birthday.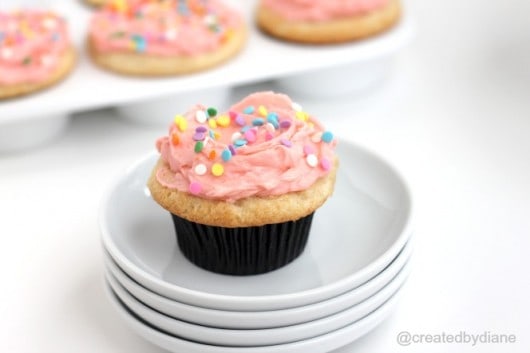 I really think having a small batch recipe will come in handy like it did today.
I like having 24 cupcakes around, but sadly other parts of me aren't handling it so well!
This recipe makes between 6 and 8 cupcakes depending oh how full you fill them.
I made 7, looking back two were a bit bigger, I could have made 6 and not scraped the bowl dry, or made 8 normal size to just puff over the liners.
They say the average family is 4 that means the two adults can each have one cupcakes and the kids can have two,
or you can have one for breakfast, one for lunch and then when you sit down to dinner there are 4 cupcakes to celebrate with your family.
If you make 8 well, I'm sure you can figure out something to do with the extras, and maybe your family is a bit bigger and you need another cupcake or two.
My parents are coming over tonight, so there will be 6 of us and well I may need to try one beforehand for quality control!
Simply because there are always SO many sweets on the counters at my house and I don't need to the temptation of these beauties to last more than the day.
Plus I'm going to lunch and I think there may be cheesecake involved there and well, I have to spread out the celebrating and desserts, because it has in fact happened before that the celebrating lasts more than a couple days.
I have no self-control when it comes to pretty pink icing and sprinkles! So 6 cupcakes will be perfect for tonights celebrating.
Besides if you are celebrating with your family you don't need 24 cupcakes, even if you'd LIKE to have that many…all things change when you start piling on more candles that go on the cake!
Don't miss these other small-batch recipes:
Birthday Cupcakes
Small Batch 6 Vanilla Cupcakes, perfect for family birthday celebrating
Author:
Diane Schmidt Created by Diane
Ingredients
1/2 cup sugar
1 egg
3/4 cup flour
1/4 cup milk
4 tablespoons butter melted
1 tablespoon oil
1 teaspoon baking powder
1/2 teaspoon vanilla extract
Instructions
In the bowl with a mixer beat sugar and egg until creamy and smooth.
Add in flour milk, butter, oil, baking powder, and vanilla and blend until it's combined without beating.
Fill cupcake liners with 3 tablespoons of batter. (This will fill 8 cupcakes liners with 3 tablespoons of batter each) If you fill the cupcake liners more full, you'll get fewer cupcakes.
Bake at 350 degrees for 15-18 minutes, check with a toothpick until it comes out clean.
Remove cupcake pan from oven and let cool 5 minutes before placing cupcakes onto a cooling rack to completely cool.
I made a batch of Italian Buttercream Frosting Recipe, there is more than enough to frost these cupcakes, I simply place the remaining frosting into a container and place it in the fridge to use later, it easily lasts a month in the fridge, just bring it to room temperature and re-whip it.
I added a drop of egg yellow coloring and three drops of light pink Americolor coloring to a cup of the frosting that I used on these cupcakes and topped them with confetti sprinkles.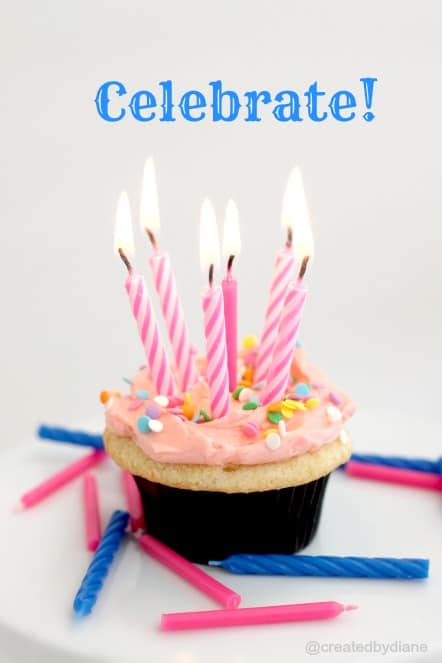 Now it's time to CELEBRATE!
Each year we pile on more candles, that just means there is more to celebrate.