Bringing a classic PB&J sandwich to the breakfast table with these Peanut Butter & Jelly Belgian Waffles.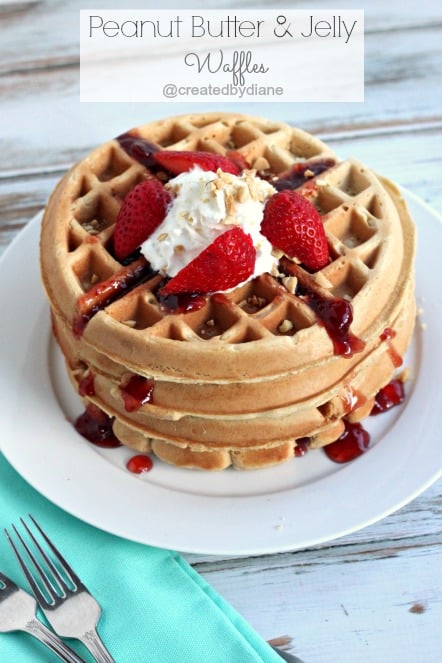 Wow the days seem to just fly by,
How is it December already?
It seems like the kids just started back to school.
PB&J's are still the most requested sandwich in my house. Now matter what I stock the fridge with, it's peanut butter and jelly all the way!
When it comes to enjoying a big breakfast on the weekends I try to make breakfast that will please everyone.
PB&J to the rescue…..
who could resist Peanut Butter Belgian Waffles with hot strawberry jam and then topped with whipped cream and strawberries and peanuts, not me.
You need to make these, it's a sure-fire way to get your teens out of bed early so they don't sleep half the day away. If you have younger kids maybe they'll take a nap with a full belly after breakfast. It worked on my kids, well almost…the nap worked on the teen. Go figure!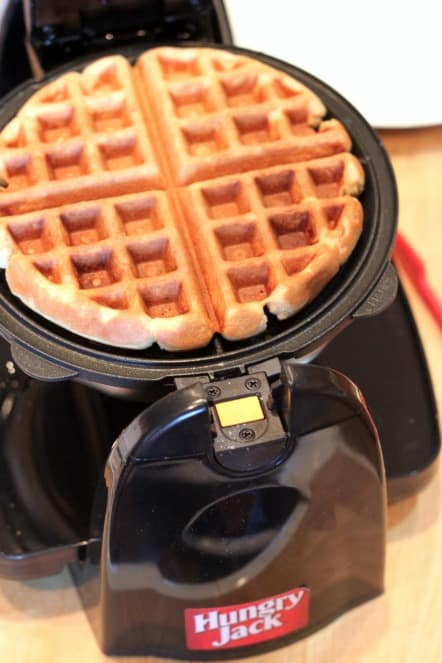 Peanut Butter and Jelly Waffles
Ingredients
3 cups Hungry Jack® Belgain waffle mix
2 cups water
2/3 cups creamy peanut butter
1/2- 1 cup strawberry jam (heated)
whipped cream
chopped peanuts
Instructions
In large bowl whisk the water and peanut butter together then add in the waffle mix. Pour 3/4 cup batter onto preheated, lightly oiled waffle iron and cook until golden about 5 minutes.
Top waffles with warm strawberry jam, whipped cream and chopped peanuts.
Bring back breakfast!  Bring on the eggs, bacon and of course the WAFFLES. I think every weekend should be filled with Belgian Waffles, I think I need to make some more fun varieties…I know my kids will love eggnog waffles. Those are for next weekend for sure.
Do you have a favorite syrup, put your eggs on top of them, even make chicken and waffles. What is your family's #1 way to enjoy waffles?
Tips on serving warm waffles:
Place them in a tortilla warmer like I did here.
Keep them in the oven at 200 degrees.
Heat the plates in the oven or dish warmer.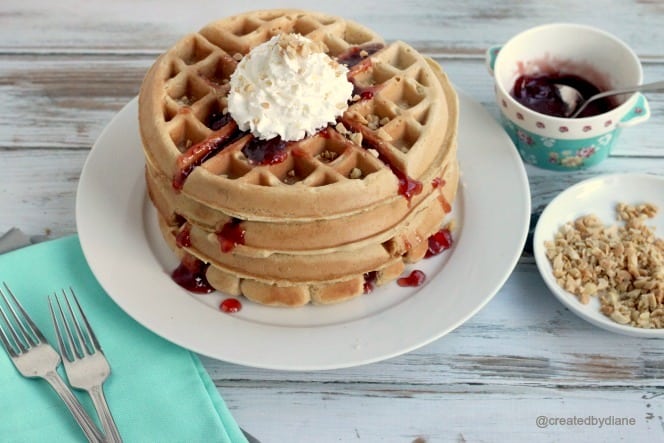 I just remembered how I really LOVE to eat WAFFLES for breakfast….A la MODE!!!! Yes pile them high with chocolate ice cream and well, my kids love them that way too. If my kids have anything to say about it they'd have ice cream every day for breakfast….and well they sure are happy when I break out the whipped cream so either way, it's a win-win. It's a win-win with me too.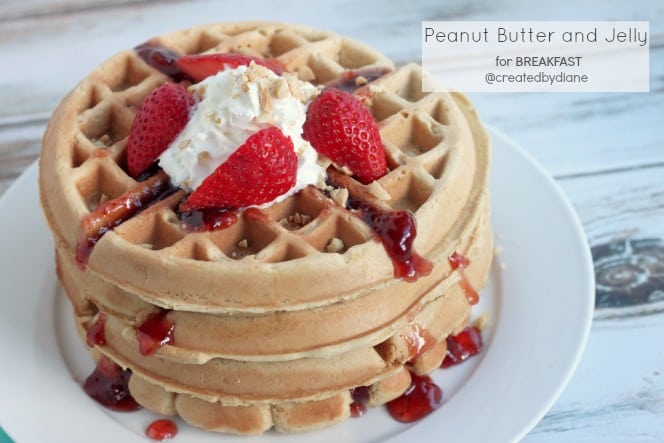 I was compensated for this post. All opinions are my own. Those are priceless.