The Black and White Cookie is…well, it's a CLASSIC.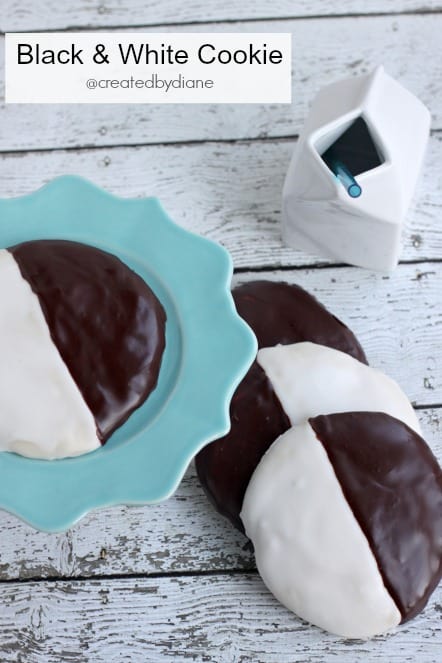 It's a classic cookie that can be found in almost any good deli in NY or NJ.
They are big and soft and sweet and irresistible!
The memories of childhood come flooding back with these….
I think I'm feeling a little homesick.
I hear from many that the Black and White Cookie brings back great memories, if that is the case then this post is for YOU!
If you've seen the TV show Seinfeld, maybe you caught this episode from 1994.

Look to the COOKIE!
In true Seinfeld form, I'm joining with some blogging friends to celebrate FESTIVUS. We are airing our grievances, and if you read to the end of this post you will find a FUN Giveaway too!
Here is a list of my grievances:
1) No matter how many times I call the Do Not Call Registry, the solicitors keep calling. I call about every 30 days and still get about 15 calls a day. I now have my answering machine pick up after one ring and only listen to the messages once a week. My cell phone is starting to get many of them too. It is really annoying to have the phone ring and then there is no one on the other end of the line.
2) Lousy pizza, really it's NOT that hard to make good pizza, start with great ingredients. I am so sick and tired of people telling me that some fast food style pizza is good, I could throw it at someone. I avoid the pizza conversation now, I'm glad to have a few to go to, even if it takes me 45 minutes to get there, or I make it myself.
3) Hotel/Resort fee and Luggage fees. They have become ridiculous! $20 resort fee…. luggage fees on airlines, it's never-ending.
4) owners manuals, nothing seems to come with an owners manual anymore, I need to ask my kids how to set up new electronic devices, I think it's crazy when I can't even figure out where the button is to turn it on.
5) Cell phone company…they own me. I'm in for life, there is NO getting out. It's like a bad timeshare with fees for everything and you can't quite figure out how you got roped into it into the first place. The taxes on top of it all are crazy.
6) Points and rewards at store or credit cards, miles, points, rewards….just LOWER the price. I am tired of all the silliness and want it to stop! Just give me a dollar off my grocery bill and I'd be happy. The companies have all sorts of information about what I buy and when I buy it, how often I buy it and yet they never share it with me. I would like an itemized list at the end of each month, it would make all my shopping so much more efficient and maybe I wouldn't forget to get the loaf of bread or milk that someone finished and didn't put on the list.
7) No Solicitors. I have no patience for solicitors. They are on my property and I didn't invite them. I even have a sign on my door and for the person who dares to make one sound at my front door will most likely hear an ear full from me.
8) TV stations play the same shows over and over and don't keep reruns in order. They have to have the rights to all the previous shows they have played over the years and why don't we see any of them anymore.
9) Coupons! Need I say more. sort, clip, organize…remember them. I wish all the stores with apps for smartphones would add their coupons to their apps. The stores that do have made it so nice. Now I want all stores to do it.
10) Adjustable waist in jeans. They have it in kids clothes and yet NO ONE has put it in adult clothing. Funny when someone goes from a size 14 or 16 then jumps to a men's small they really expect those sizes to fit? Woman's clothes, especially jeans should have an adjustable waist, it is too much to ask for me NOT to have to fix and fiddle with jeans that aren't accommodating to me eating a dozen cookies or Thanksgiving dinner without changing my pants.
Let me hear them, Air Your Grievances!!!!! Tell me all about what bothers you most.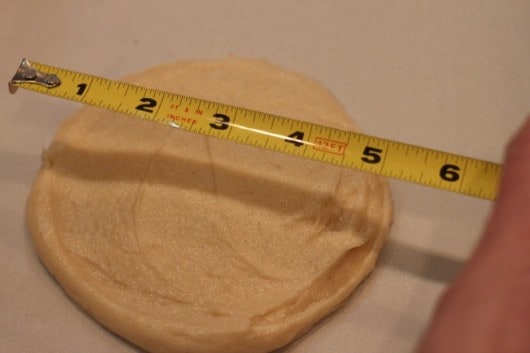 Mix the cookie batter and pour 1/2 cup onto parchment lined baking sheet and spread with a small offset spatula until they are 5 inches across.
Bake cookies for 15 minutes at 375 degrees.
Allow cookies to cool on baking sheets, do not transfer as they are cake-like and will crumble if moved before they are completely cool.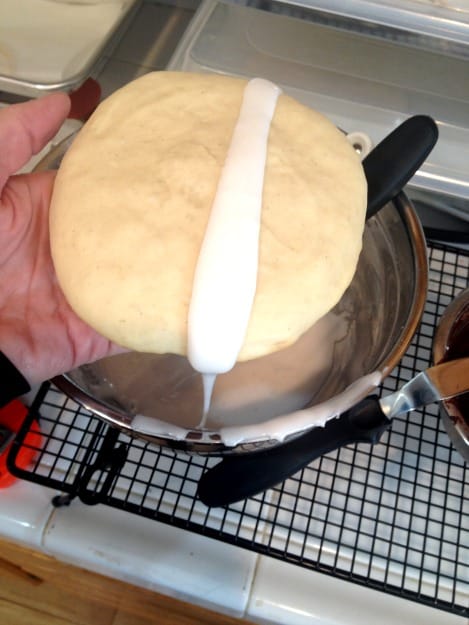 When the cookies are absolutely cooled, mix vanilla icing and chocolate icing and with a small offset spatula drop a straight line over the center of the cookie and then add more icing to one side and smooth with the spatula, allow excess icing to drip off and clear off the bottom edge of the cookie and then place a cookie on a cooling rack that will allow any excess icing to drip onto a baking sheet underneath the cooling rack. Allow the vanilla icing to set and then add the chocolate icing. Allow icing to dry completely. Once the icing has firmed up to the touch, place cookies on a baking sheet so the icing can dry completely without the cookies getting stale. The iced cookies can sit on a baking sheet overnight without getting stale and the icing will completely set up.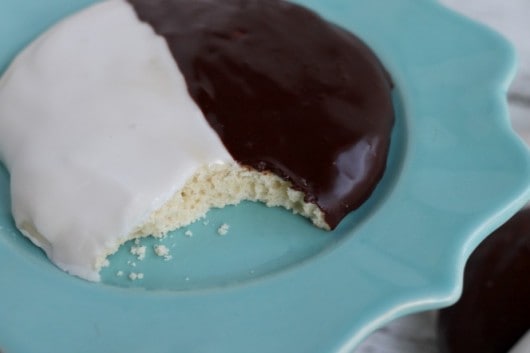 Try to wait until the icing is set up, but…  I won't lie it will be hard. I had one right away.
THERE ARE 3 Recipes for these cookies,
print all three if you're planning on making them just as I did. (sometimes people want just the cookie, or just an icing recipe, that's why they are separated)

Black and White Cookie
Serves:
makes 12, 5" cookies
Ingredients
1 cup butter (room temperature)
1 3/4 cup sugar
4 eggs
1 1/4 cups milk
2 teaspoons vanilla extract
2 1/2 cups cake flour
2 1/2 cups all-purpose flour
1 teaspoon baking powder
Instructions
Beat butter with sugar until smooth and fluffy.
Mix in eggs one at a time.
Add in milk and vanilla and mix until completely blended.
Blend in flour and baking powder.
Pour 1/2 cup batter for each cookie onto parchment lined baking sheet and spread to 5 inch round with a small offset spatula.
Bake for 15 minutes at 375 degrees.
Don't brown cookies.
Allow cookies to cool on the baking sheet completely. They will not transfer easily, they are a cake like cookie.
Black and White Cookie-Vanilla Icing
Ingredients
2 cups powdered sugar
2-3 tablespoons hot water
1 tablespoon corn syrup
1 teaspoon clear vanilla extract
Instructions
Mix all ingredients together until they are smooth and creamy.
If you mix this before the cookies are ready to be iced, lay plastic wrap over icing allowing it to touch icing, so the icing doesn't crust and get hard.
Spread half the cookie with icing, drip a line down the middle to separate the cookie in half.
Smooth the icing and allow the excess to drip off and add the chocolate icing after 5 minutes so it has time to set up and not mix with the chocolate icing.
Black and White Cookie-chocolate icing
Ingredients
2 cups powdered sugar
1 tablespoon unsweetened cocoa
1/4 cup melted chocolate (60% cacao)
2 tablespoons hot water
1 tablespoon corn syrup
Instructions
Mix all ingredients together until smooth.
Add more water a 1/4 teaspoon at a time as needed to achieve the consistency you can spread easily.
Apply the icing with a small offset spatula and smooth over half the cookie.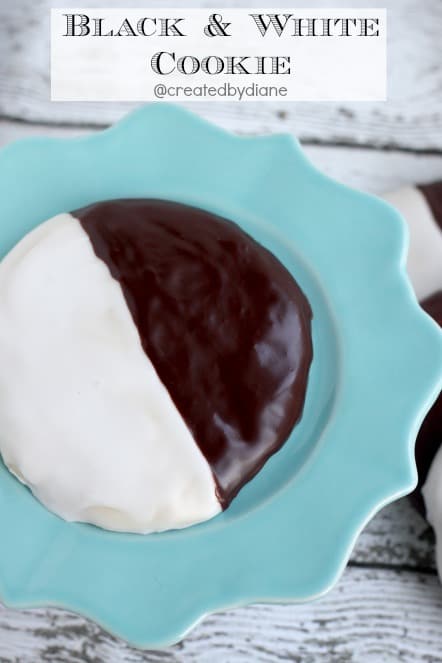 These cookies are irresistible with their cake-like cookie bottom and smooth icing in vanilla and chocolate. No need to choose which you like more, you can have your "cake" and eat it too.
Look to the cookie… all our problems will be solved.
Oh, how I wish that were true.
Take a look at the other Seinfeld food items my blogging friends made…..