Gingerbread Madeleines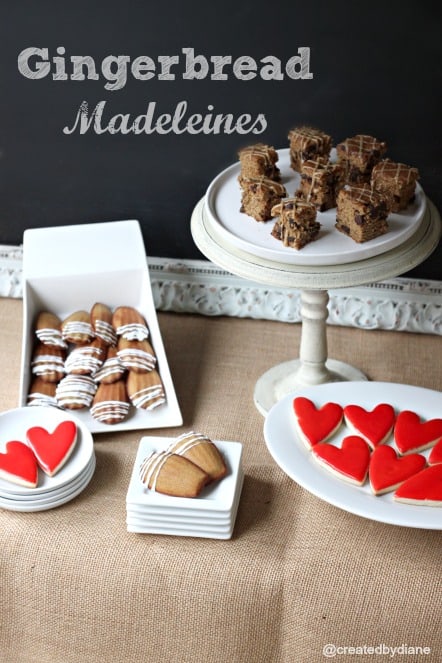 GINGERBREAD time of year is coming fast and furious,
at least in my house it is.
I don't actually prefer my gingerbread overly spicy or heavy tasting. I like to call it gingerbread spice.
I had a whole conversation about this the other night. I love gingerbread items, but have had some that are almost burning. That I don't like!
If they have too much ginger in them, they can be too strong.
I made some gingerbread items for my friends to come on over and try and it turns out they like gingerbread just like I do, not to spicy.
All the recipes I made were a hit! (Yippee!)
There is one thing about gingerbread that I find funny.
It's the molasses.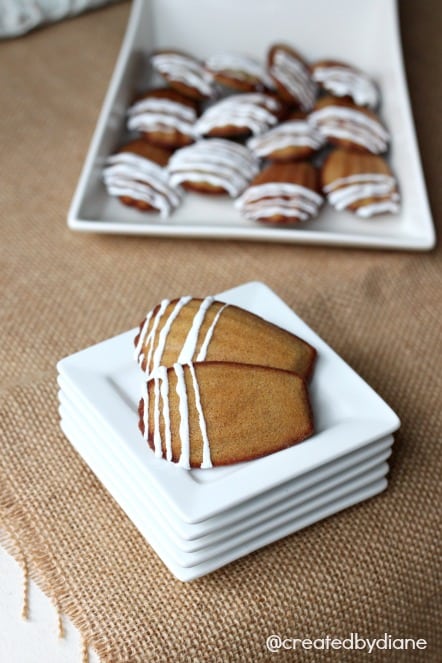 Molasses doesn't pour as slow as I had imagined, especially with the age old saying "slow as molasses".
It is REALLY sticky though.
I can never seem to keep the jar clean enough, actually I'm a complete mess with it. I've made a few gingerbread recipes lately and I decided the jar needs a pour top spout.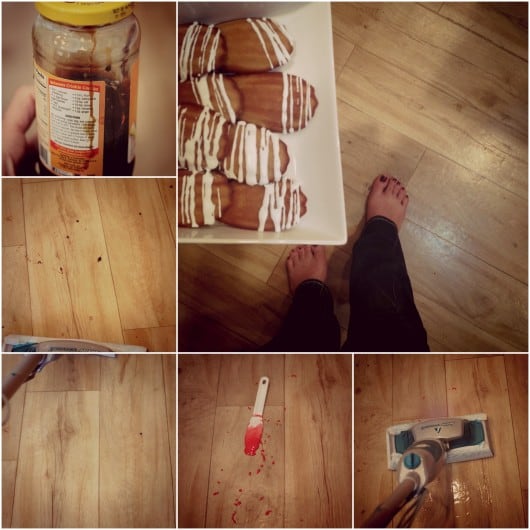 I am often making a mess in the kitchen and Swiffer must have gotten word of this and asked me to try their new Swiffer Bissell Steamboost.* It arrived just in time to clean up some sticky messes. Molasses and icing seem to make their way onto my floors more often than I'd like and since I live in Southern California and walk around barefoot all the time, I like my floors CLEAN! The Bissell steam mop was easy to use and the heat really helps loosen up the sticky messes and made cleaning them up quick. It's very light and easy to use. Be sure to enter the giveaway to WIN a Swiffer Bissell Steamboost, instructions at the bottom of this post.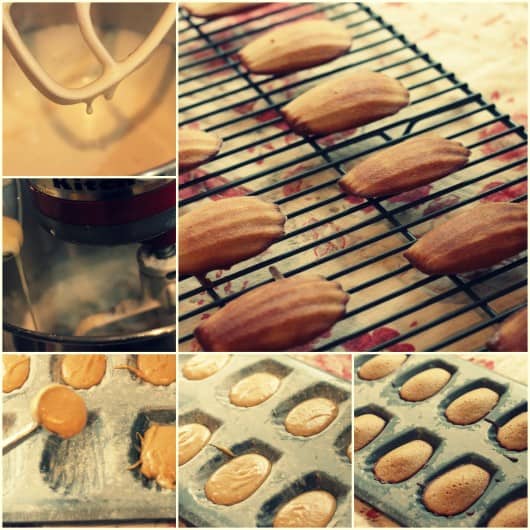 The top left photo is of the eggs, sugar and salt beaten for 5 minutes. It's smooth and creamy. Be sure to mix this part as directed.
Fill the Madeleine pan in two or three tablespoons in each portion depending on what size Madeleines you'd like.
This recipe can easily be doubled. This makes 12 large Madeleines or 18 medium sized Madeleines.
Gingerbread Madeleines
Ingredients
2 eggs
1/3 cup sugar
1/8 teaspoon salt
1/2 cup flour
1/4 cup melted and cooled butter
1 teaspoon vanilla extract
2 tablespoons molasses
1/2 teaspoon pumpkin pie spice
1/8 teaspoon dry ginger
1/2 tablespoon butter and 3-4 tablespoons flour to prepare pan
Instructions
preheat oven to 375 degrees.
Butter and flour Madeleine pan.
Beat eggs, sugar and salt together for 5 minutes until it's smooth and creamy.
Mix in vanilla, molasses, pumpkin pie spice and ginger.
Fold in flour and butter alternating in three additions each.
Place 2 tablespoon into each section of the Madeleine pan for smaller Madeleines, or three tablespoons for larger Madeleines.
Bake for 7-8 minutes, until they spring back to the touch.
I drizzled the Madeleines with a glaze of 1/2 cup powdered sugar, 1 tablespoon corn syrup and 2 teaspoons water and a drop of white food coloring. Mix until smooth and drizzle onto cooled Madeleines.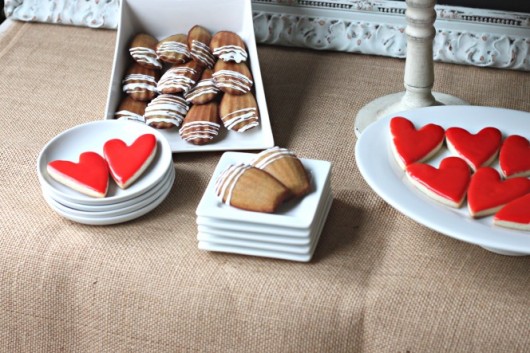 The Gingerbread Madeleines were a big hit with my friends and I have two more recipes in the photos that I will be sharing with you real soon!

In the meantime Enter to win a Swiffer Bissell Steamboost:
GIVEAWAY CLOSED
Mandatory Entry:
Leave a comment telling me what your favorite gingerbread items is or what you seem to make a mess with and would like the Swiffer Bissell Streamboost to clean up.
Extra Entries:
1. Sign up for EMAIL Updates HERE  to receive the latest recipes delivered to your inbox from Created by Diane, leave me a comment telling me you signed up.
2. Follow me on Pinterest and Pin the Gingerbread Madeleines, come back and leave me the link to the pin in the comments.
3. Follow me on Facebook. Then leave me a comment with your fb name.
4. Share the Gingerbread Madeleines on facebook or share the Swiffer Bissell Steamboost and tell all your friends about the giveaway. Come back and share the link to your share in a comment.
Giveaway will run from 11/13/13 to 11/26/13
Winner will be contacted by email and have 72 hours to reply or a new winner will be chosen.
Open to US Residents only.
*I was compensated to create a recipe for this post by Swiffer. All opinions are my own.