Verde Chicken Risotto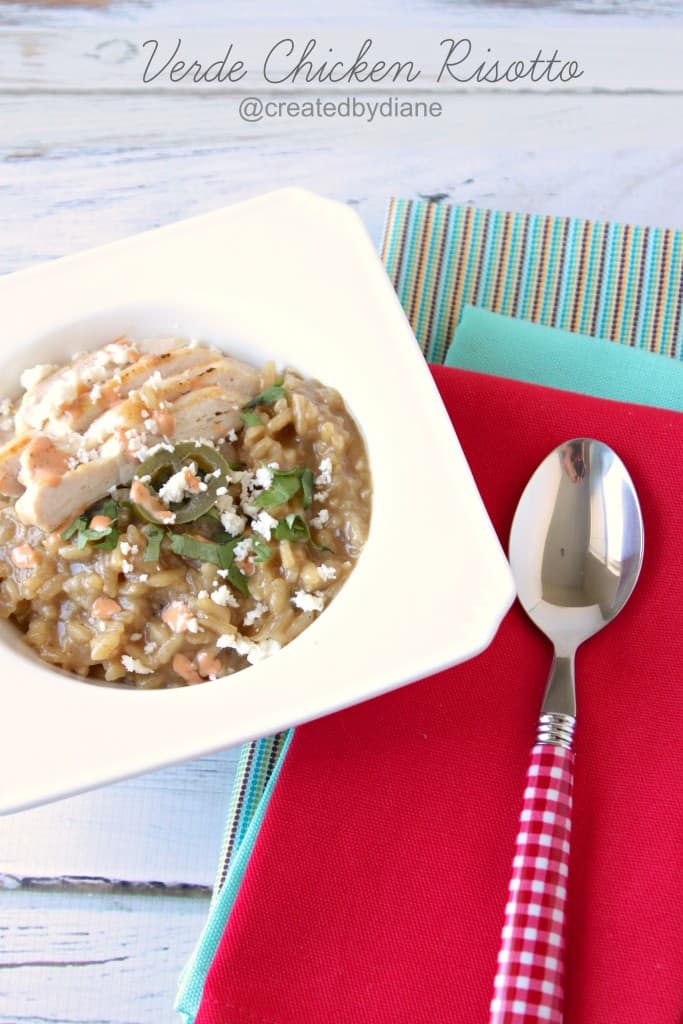 Well it's back to school around here and that means…
crazy weeknight schedules…
dinners need to be easy and loved by all.
I think it's funny when you have a conversation about something and then a day later it seems like your having the same conversation with someone else.
That happened to me last week….about cilantro.
I love cilantro and buy a few bunches each week.
I would say my family likes it, but one of mine prefers not to see large pieces placed on top of their dinner, but mixed in is ok.
Solution, I don't put the plate I took a photo of where said child sits.
I've heard people describe cilantro as having a soapy taste, I really have no idea what they are talking about.
I've tried growing my own cilantro, but haven't had much luck and think I'd have to have a whole acre full to be sure I had some as I'm sure most plants wouldn't survive my black thumb.
I often end up putting the bag full of cilantro in the crisper, but when I remember to store it like a bouquet of flowers in a glass jar on the top shelf it really does seem to last longer. Since use it often, I don't have it go to waste too often though.
Onto the risotto…
and I have a video to share with you of me making this risotto, it goes step by step so if you haven't made risotto before, you'll get to see how to make it and be able to recreate easily.
So who is ready for to make risotto now?
I wish you could smell how wonderful the kitchen aroma was, my videographer couldn't wait for me to give him a bowl full. Special thanks to my little guy who did a wonderful job!
Verde Chicken Risotto
Ingredients
6-8 cups chicken broth
1 tablespoon butter
1/2 onion diced
1 1/2 cup Arborio Rice
1 12-16 oz jar tomatillo, salsa verde (or green any Mexican green sauce)
2 chicken breasts
Garnish
Cotija Cheese
cilantro
Jalapeños
Instructions
Heat chicken broth in large pan, having it hot will prevent the risotto from cooling off each time you ladle the broth into the hot pan.
In a large skillet over medium-high heat, add butter and onion.
Turn on to medium heat and add rice, stir until it's lightly toasted.
Add green sauce.
Ladle in 1 cup of broth, stir to blend everything together.
As the rice absorbs the broth you will ladle in a cup of broth at a time and keep stirring. This part takes about 20 minutes or so.
Now is the time to cook your chicken, heat grill pan and cook chicken thoroughly.
The risotto is finished when the rice has absorbed the liquid and isn't crunchy.
A thick sauce will form and you are ready to serve.
Place the risotto into serving dishes, top with chicken, cilantro, cheese, jalapeños and drizzle with creamy ranchero finishing sauce.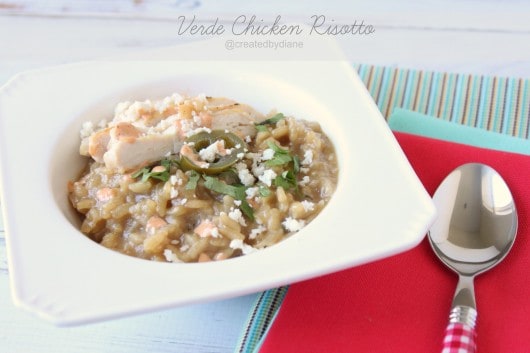 I was compensated for this recipe, all opinions are my own.