Spicy Yogurt Salad Dressing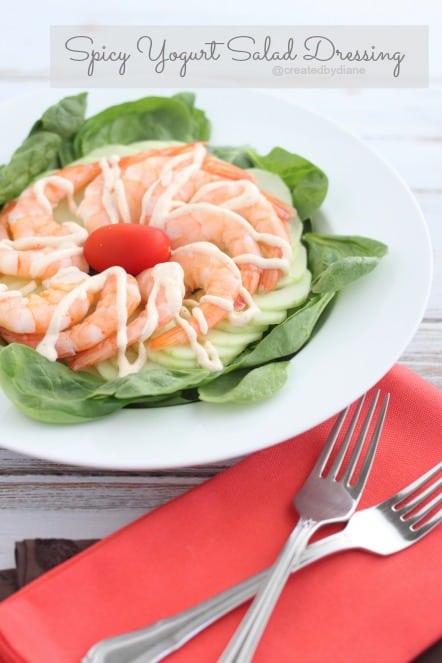 Gone are the days of having a salad and it being some pieces of Iceberg Lettuce and offering no flavor or nutritional value.
The exclusion there is a wedge salad with blue cheese, that is yummy.
But I recall many times being served a so-so salad.
No, I try to plan out my salad eating better so it's more interesting tasting and filling.
This one sure fits that.
I like facts and figures so I look up the calories on My Fitness Pal online and enter all the ingredients into their recipe calculator.
I liked knowing that 10 medium shrimp only have 80 calories.
1 cup of spinach has 7 calories.
There are 25 calories in a medium cucumber.
I have always liked Greek Yogurt, I like that it's tangy and thick and use it to get my fill of creaminess on recipes while trying to reduce the high calorie and high-fat alternatives.
At 8 calories a tablespoon I like Greek Yogurt as an alternative to help prepare this salad dressing, I used Fage' Fat-Free Yogurt, it's super thick.
Spicy Shrimp Salad Dressing
Ingredients
1/4 cup fat free Greek Yogurt
1/8 teaspoon turmeric
1/4 teaspoon dry mustard
1/8 teaspoon paprika
2 teaspoons lemon juice
5 drips hot sauce (I used Texas Pete)
1/8 teaspoon celery salt
1/8 teaspoon crushed red pepper flakes
1/8 teaspoon black pepper
Instructions
Grind spices with mortar and pestle until fine.
Mix spices with yogurt.
Enjoy it on your salad or sandwich.
This has become a favorite lunch for me.
It's quick and easy to make and filling and I love the spicy kick the dressing has.
Since it's low in calorie, I know I'll have extra calories at the end of the day to enjoy a cookie or something fun. It's all about choices. I've lost 12 pounds in about the last 12 weeks, so this is definitely working for me.
Tell me….What works for you?
What's your favorite recipe that's good for you that fills you up?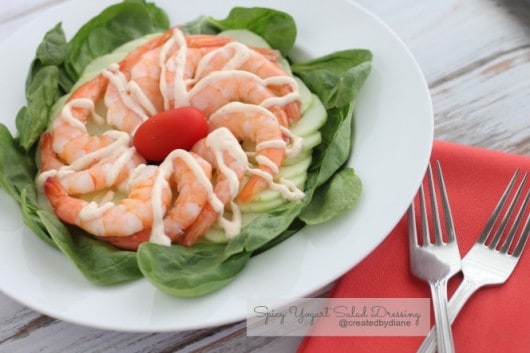 If you are on a salad kick like me, you may also enjoy this delicious Lemon Saffon Salad Dressing