Key Lime Pie Cupcakes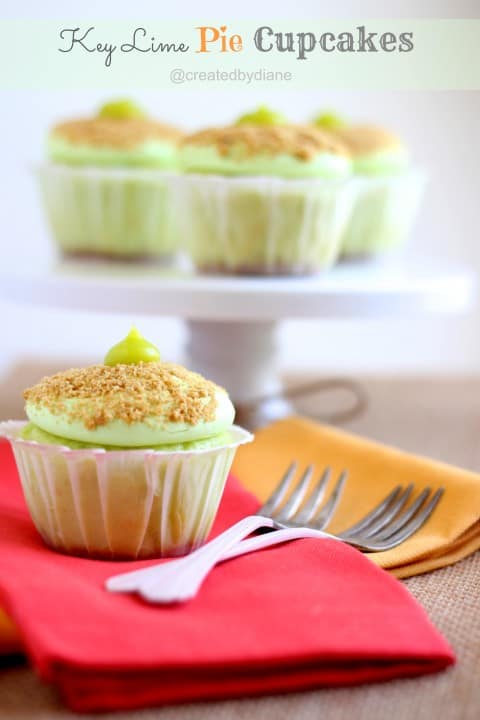 Key lime pie reminds me of being a kid in Florida with my family and grandparents and having them all talk about key lime pie. It seemed like the subject came up often. I could not imagine lime pie, and why everyone was raving over such a concoction. I was one who never passed up a dessert, so one night we had it for dessert in a restaurant and well I was hooked.
I haven't been to the Florida Keys, but based on Key Lime Pie alone I'm sure I'd love it! Putting that on my list of things to do, right now.
If you are hooked on key lime pie like me, you will just LOVE these Key Lime Pie Cupcakes!
If you ask me the graham cracker crumbs play a VERY big role here, and after I had my fair share of these cupcakes I couldn't imagine them without the really addictive taste that reminds me of really delicious pies, and well s'mores…but that is a whole other subject.
I put graham cracker crumbs on the bottom and top of these along with Lime Curd, you heard right, lime curd. It's super easy to make and yes you really don't want to skip this step, trust me. Make the lime curd and while you are whipping up the cupcakes take a spoonful and if you still have any left when the cupcakes are cool, then put some on top, otherwise, enjoy every spoonful it's that yummy!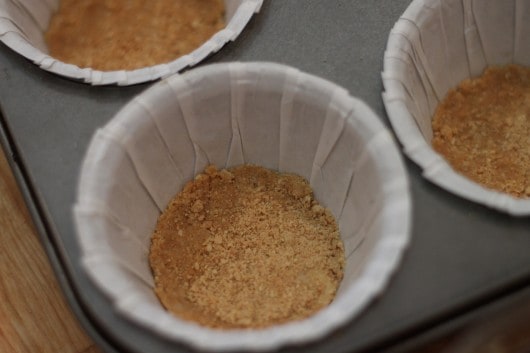 I pressed a teaspoon of the graham cracker mixture into the bottom of each cupcakes liners. Since I didn't want a lot on the bottom of each cupcakes, once I placed the teaspoon in I added just a tiny bit of "dry" graham cracker crumbs on top of the mix I made. It made it easier to press. The remaining crumbs didn't stick to my finger and pull away from the liner this way.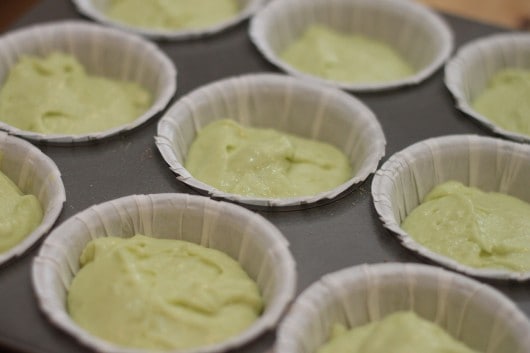 Then I filled the liners with the cupcake batter.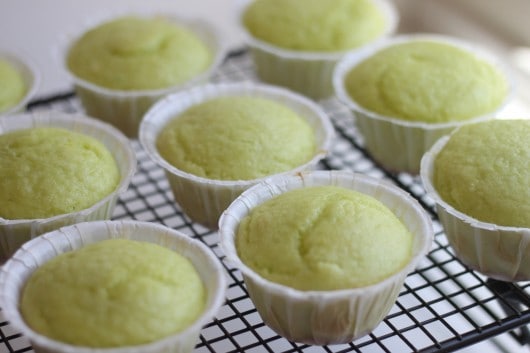 and baked them up all nice.
I bake my cupcakes in a dark coated pan so I put the temperature at 325 degrees. If I bake them at 350 degrees they get a golden color and are a bit dryer.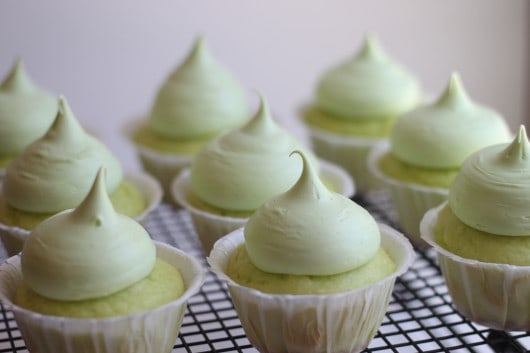 I whipped a container of key lime frosting with powdered sugar so the frosting would hold up to dunking it in graham cracker crumbs without sliding off the cupcakes.
*updated to add, if you are unable to find Pillsbury Key Lime Cupcake Mix, Use a white or vanilla cake mix and add a1/2-1 teaspoon key lime extract. Alternatively, you can add a tablespoon of lime juice to vanilla or white cake mix. The same goes for frosting, use vanilla or white frosting and either add key lime extract or some lime juice and green coloring.

Key Lime Pie Cupcakes
Ingredients
Lime Curd
1/3 cup sugar
2 teaspoons cornstarch
1/4 cup lime juice (juice of 1 large lime)
1/4 cup butter
2 eggs
Key Lime Cupcakes
1 box Pillsbury Key Lime Cupcake Mix (along with ingredients to prepare)
1 cup graham cracker crumbs
2 tablespoons butter
1 container Pillsbury Key Lime Frosting
Electric green food coloring (if desired)
Instructions
Prepare Lime Curd first so it has time to cool.
In saucepan whisk sugar, cornstarch, and lime juice until smooth.
On medium, heat mixture and whisk in butter.
Allow to come to a light boil.
Take off of heat.
In separate bowl whisk eggs lightly.
Temper the eggs by pouring a thin stream of hot sugar mixture into the eggs while whisking the eggs the entire time. ( you don't want the eggs to curdle so keep mixing)
Place saucepan back on stove on medium heat and cook for 2 more minutes, until thick.
Add a drop of electric green food coloring.
Remove and place lime curd in a dish to cool.
Mix graham cracker crumbs with butter until completely combined.
It will resemble wet sand.
Place a teaspoon of the mixture in the bottom of each cupcake liner.
*sprinkle additional dry graham cracker crumbs over the mixture if it pulls away from paper.
Press until the bottom of the cupcake liners are smooth.
Prepare cupcake batter according to package.
Add 3 tablespoons cupcake batter to each cupcake liner.
Bake at 325 degrees (for dark coated pans) for 18 minutes.
Allow cupcakes to cool for 5 minutes, then remove from pan to cool completely.
Frosting
In mixer on medium, mix two containers key lime frosting with 2 cups powdered sugar along with three drops electric green coloring (if you want the color more vibrant like I did so it matches up nicely with the lime curd) otherwise the lime curd will be yellow in color.
Place frosting in a pastry bag with a #809 tip and create a dollop on each cupcake, holding the pastry bag close to the cupcake and allowing the frosting to spread on the cupcake nicely before pulling the tip up.
Press the cupcakes into the remaining graham cracker mixture.
Place lime curd in a piping bag with a #10 tip and top off the cupcakes with lime curd. If you make a double batch of curd you can fill the cupcakes with lime curd.
Notes
if you are unable to find key lime cake mix or frosting, you can purchase key lime extract. Loranns sells it online.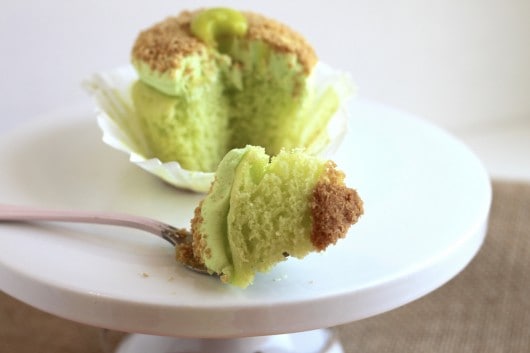 Every bite of the cupcakes had the delicious tangy lime taste along with the graham cracker crumbs. I may even fill them with the lime curd next time. That is if I don't EAT so much of it 🙂
Here are a couple fun ideas that will make it a perfect situation to serve these Key Lime Cupcakes:
Invite some friends, neighbors or family over for a "Spring Break" party and have them all wear tropical attire, a perfect combo with these Key Lime Pie Cupcakes.
How about having everyone bring a photo of a childhood vacation and see how many people have traveled to the same place. Who knows it could even be Florida.
Host a pot luck dinner with everyone bringing a part of the meal that they've had on vacation.
I just love parties and celebrating, if you do too… run into the kitchen and make these quick, believe me as soon as everyone gets a whiff of these even your neighbors will be stopping by asking what the party is for. A simple answer will be who needs an exact reason, just celebrate and have fun!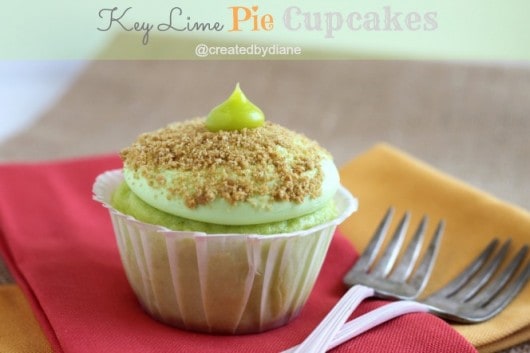 *Pilllsbury compensated me for this, but I just love cake and can't help myself, I just had to share this with you. All opinions are my own.