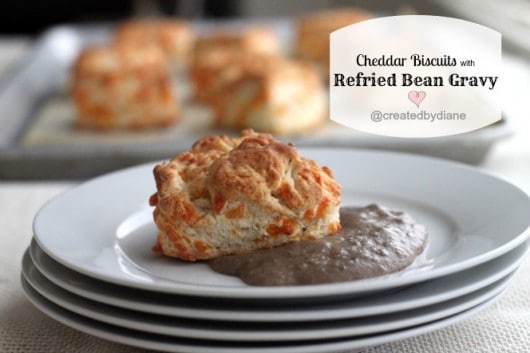 These are NOT your ordinary biscuits!
These are biscuits and gravy Mexican Style.
Fluffy and high these Cheddar Biscuits are perfect for this gravy.
Truth be told about gravy. I LOVE it, I love it on french fries, mashed potatoes, it's so yummy I really like dunking stuff in gravy.
Old El Paso asked me to create a recipe using their traditional refried beans and really when I dreamt this one up I wasn't sure how it would turn out. But believe me, two batches of biscuits later the gravy was a huge hit, my kids saw me writing this up and they mentioned again how much they loved the gravy. Even my pickier eater loved it. I think he wanted me to stop everything and whip up a batch as we were speaking.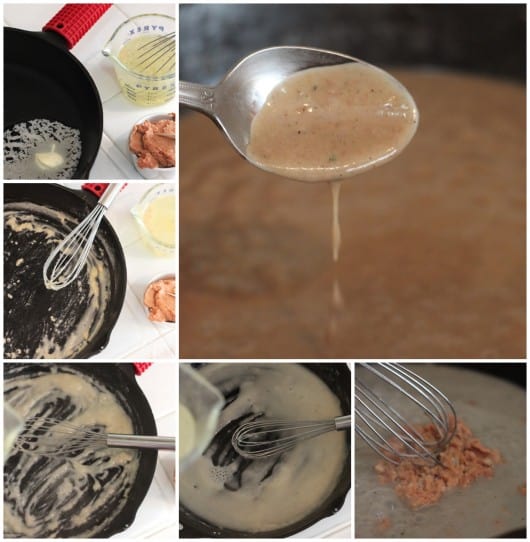 Heat butter and flour, whisk and cook 1 minute. Slowly add in chicken broth, whisking continually. Add in refried beans and whisk, the gravy with thicken upon standing.
Cheddar Biscuits with Refried Bean Gravy
Ingredients
1 tablespoon butter
1 tablespoon flour
1½ cups chicken broth
8 oz. Refried Beans
½ teaspoon cumin
Cheddar Biscuits
4 cups flour
4 teaspoons Bakewell Cream
2 teaspoons baking soda
1 teaspoon salt
½ cup shortening
1½ cups cold milk
2 oz. grated Cheddar Cheese
Instructions
Heat butter and flour in a skillet.
Slowly pour in chicken broth and whisk continually.
Add in refried beans and whisk until smooth.
Stir in cumin.
Gravy will thicken upon standing.
Cheddar Biscuits
Mix, flour, Bakewell cream, baking soda, salt with shortening with a pastry cutter until crumbly.
Add milk and cheese and stir with a fork until incorporated.
Roll out and cut ½" thick biscuits with cookie or biscuit cutter.
Bake at 475 degrees for 5 minutes.
Turn oven off and leave biscuits in the oven for 5-10 minutes until golden.

I was asked by General Mills to create a recipe for Old El Paso Refried Beans. All opinions are my own.