Mint Cappuccino Cupcakes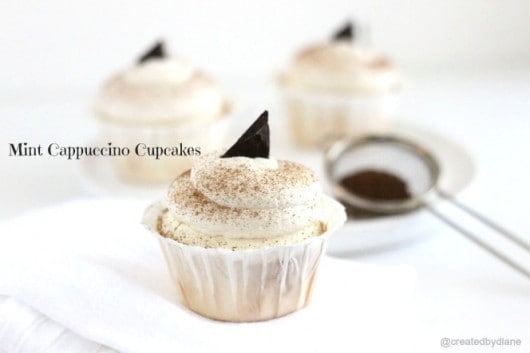 Imagine the cool crispness of a peppermint patty smashing into your cappuccino.
and well that cappuccino in cupcake form.
I think I dream of all yummy  things in cupcake and cookie form. Don't you?.
It's cool and crisp and comforting and yummy all at the same time.
I think I saw something like that on a York Peppermint Patty Commercial in the 80's or….. well maybe I should have.
I think they had some funny commercials for those delicious peppermint patties!
I'm not going to lie, I bought a bag of heart shaped peppermint patties around Valentine's Day and I think I ate most of them myself before I shared some. Not sure why no one found them hiding in the back of one of my baking cabinets in a brown paper bag.
I'm not sure why they never look in the brown paper bags, but in my house it's usually hiding the best candy. If I didn't put it in there,well the candy would be devoured in minutes, by me or them it would all depend on who got to it first.
I'm convinced everyone hides something at one time or another, hides their feelings, hides bad grades, hides money they secretly want to indulge on something with or they hide candy from others.
Mint Cappuccino Cupcakes
Ingredients
1 box white cake mix (plus ingredients listed to prepare)
2 teaspoons instant coffee
Mint Buttercream Frosting
1 cup butter
4 cups powdered sugar
3 tablespoons heavy cream (more if needed)
1/2 teaspoon peppermint extract
1/4 teaspoon instant coffee
5 drops white Americolor food coloring
topping
cut up peppermint patties
1 teaspoon instant coffee
Instructions
Prepare cupcakes according to package adding in the instant coffee along with the mix.
(alternatively) you could replace the liquid in the cake mix with cooled coffee, but the cupcakes won't have a white look to them.
Beat butter and sugar along with cream, mint and coffee, until smooth.
Pipe icing on cooled cupcakes with a #809 tip.
Place a piece of peppermint patty on top and dust with some instant coffee.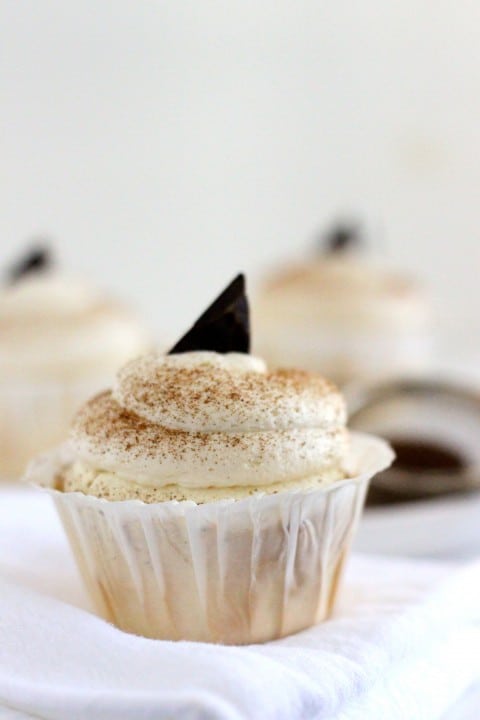 Ok, I need to go eat more cupcakes now.