Pink Coconut Chocolate Chip Cookies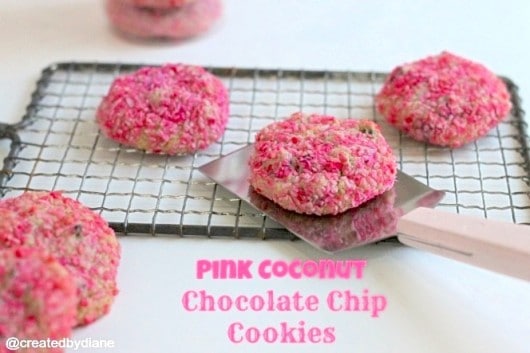 I just love that February is full of all things Pink and Red.
No better way to dress up a yummy chocolate chip cookie but to wrap it in PINK COCONUT if you ask me.
They remind me of those snowball cakes I had as a kid. So pretty in pink.
To make pink coconut, tint it with a few drops of pink gel food coloring. Unsweetened coconut works well for this as it's dry and the color gets absorbed quickly.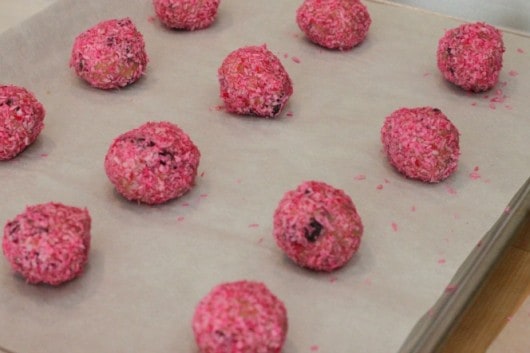 Roll the cookie dough into the coconut and place them on a parchment lined baking sheet.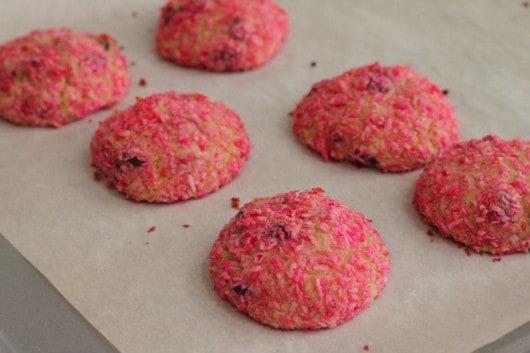 Allow cookies to cool completely before packaging them.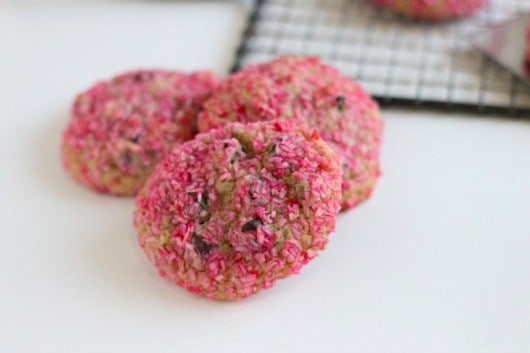 Oh yea, Chocolate Chip Cookies just got KICKED UP a NOTCH with this pretty pink coconut.
[RSS-CUT]

Pink Coconut Chocolate Chip Cookies
Ingredients
1 pouch Betty Crocker Chocolate Chip Cookie Mix
1/4 cup flour
1/2 cup butter
1 egg
1/2 cup unsweetened coconut
2-3 drops pink gel food coloring
2-3 drops water if needed
Instructions
Prepare cookie mix according to package directions and add in the 1/4 cup flour.
To make the coconut pink.
Place the coconut in a bowl, place the pink food coloring and mix, if the coconut is dry-ish add a couple drops of water so it coats the coconut completely without it becoming wet.
Mix the coconut until the color has completely covered it.
Scoop dough with a two tablespoon size scoop.
Roll each ball into the pink coconut, coating them completely.
Place coated cookie dough on a parchment lined baking sheet.
Bake at 375 degrees for 9-11 minutes.
Let cookies completely cool before packaging.
Betty Crocker asked me to create a Valentine Cookie Recipe all opinions are my own.
These cookies were made for my sweetie….
and I know he'll just love them.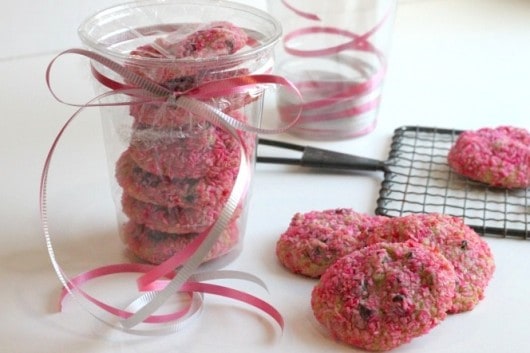 I wrapped the cookies in clear cups with plastic wrap on top tied with ribbon. My husband is sure to see this early in the morning, even if his eyes are half closed. Cups are a great way to portion out cookies and you can easily see what's inside which I like.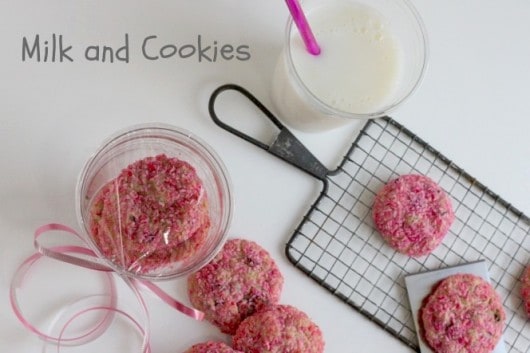 He can take the cookies out of the cup and fill it with milk and enjoy.
Or maybe he will just pour the milk over the cookies seeing as he likes his cookies dunked in milk.