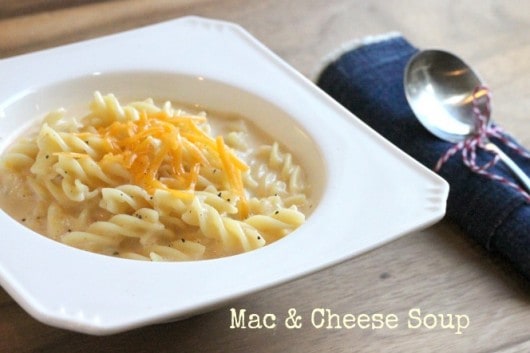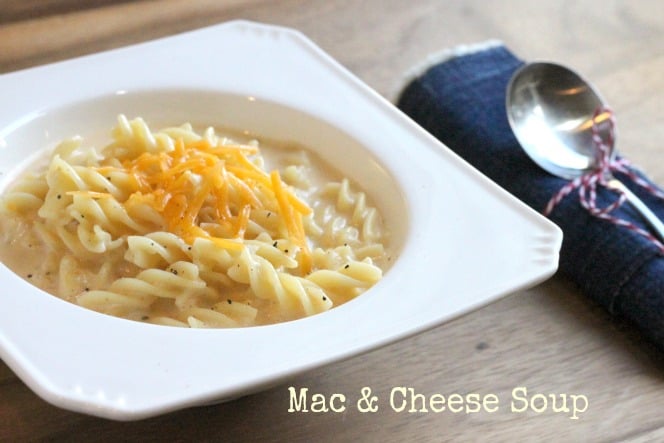 Mac and Cheese SOUP!
Yep, all the yumminess of mac and cheese in a warm and comforting soup.
I've been a soup lover since I was a kid.
I could eat it all year long. It seems that some only like soup when it's cold, not me I like it all year long.
This is a fun soup that my kids love.
It gets thicker as it sits and if you happen to have any leftovers, well then it's pretty much like a saucy mac and cheese.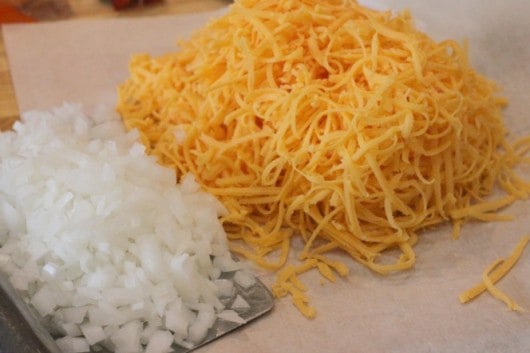 I like that I usually have all the ingredients needed to make this and can whip it up quick.
Diced onion and grated cheddar cheese give this soup wonderful flavor.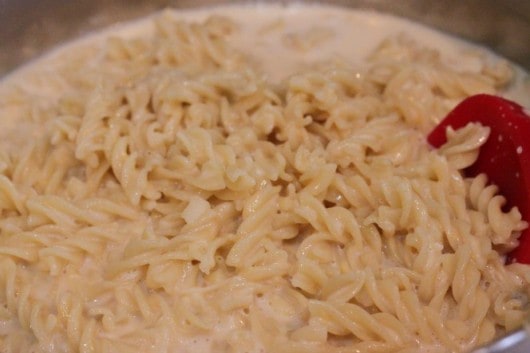 …and well pasta, yes I guess you could say I'm obsessed with pasta. I buy ten boxes at a time and while I'm picking out all the wonderful shapes I'm dreaming of what I'm going to make with them.
I like that the sauce sticks in between the swirls on these, but any shape will be delicious.
My favorite pasta is Barilla, it always cooks up perfectly and I've been using it for years….many, many, years.
add the pasta to the sauce and enjoy.
Mac and Cheese Soup
Ingredients
1 lb pasta
2 tablespoons butter
2 tablespoon flour
4 cups skim milk
1 tablespoon knorr chicken flavor
1 onion diced
8 oz cheddar cheese (grated)
⅛ teaspoon celery salt
Salt and Pepper to taste
½ cup grated Romano Cheese (optional)
Instructions
Cook pasta according to package directions.
Place butter in saucepan and heat on medium, with 1 tablespoon olive oil and saute onion, until tender.
Add in flour and whisk.
Slowly pour in milk whisking constantly. Allow the sauce to thicken as you add the liquid, don't pour it all in at once.
Stir in chicken flavor and cheese.
Pour over cooked pasta and serve.
If you aren't going to be eating it all and want it to remain more soup-like, only add half a pound of pasta. If you add all the pasta it will thicken and set up like a saucy mac and cheese, which is really delicious. But won't resemble soup.