Reuben Pizza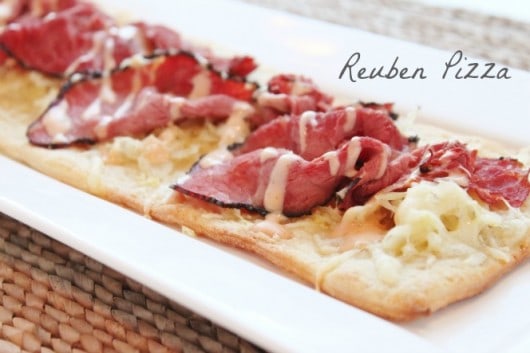 A Reuben Pizza!
A classic sandwich makes it's way onto this easy pizza!
Perfect for those nights when you have no idea what you will have for dinner.
Just a few items needed and you're on your way to a yummy pizza.
Reuben's always remind me of St. Patrick's Day and going to a local Irish Pub after the St. Patrick's Day Parade and my dad would typically order a Reuben. Then a week later he most likely didn't have his fill, he's ask my mom to make one for him. Well here is my quick and easy version of a Reuben, Pizza STYLE. So quick and easy you could make this any weeknight. You know those nights when you are in a crazy hurry and  are debating fast food. Yep perfect for those nights, just stop by the store pick up a few things and you'll be enjoying this. It's better than eating in the car anyway, and yes lots more reasons than that too.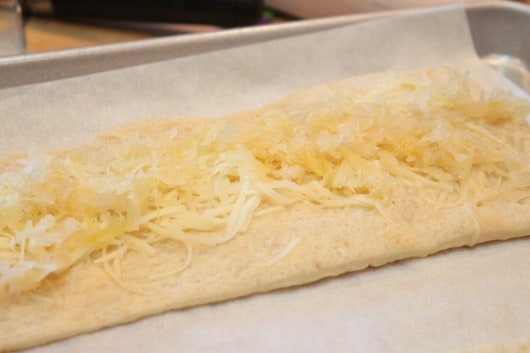 After you prebake the pizza crust so it's firm, pile on Swiss Cheese and Sour Kraut,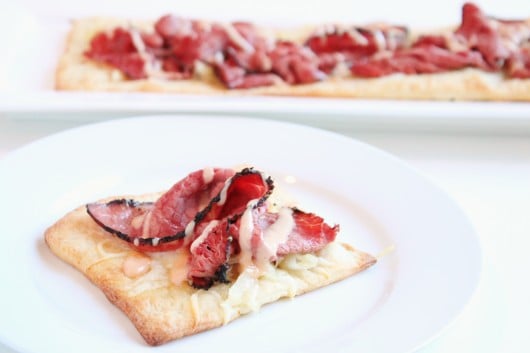 then pile on the Pastrami (or corned beef) Put it back in the oven for a few minutes, then drizzle it with dressing and you're all set.
Reuben Pizza
Ingredients
1 classic Pillsbury Pizza Dough
8 slices pastrami
4 oz grated Swiss Cheese
1/2 cup sour kraut
1/4 cup Thousand Island Dressing
Instructions
Open pizza dough and roll out smooth, cut into two rectangles
Bake at 425° for 8- 10 minutes or until lightly golden
Spread cheese along each piece
Top with sour kraut and pastrami
Bake for 8 more minutes
Remove from oven and drizzle on Thousand Island Dressing
Notes
Drain sour kraut on a paper towel to remove moisture. Slices of Swiss Cheese would work well too