Thanksgiving Leftovers: Pizza with Turkey and Roasted Cranberrie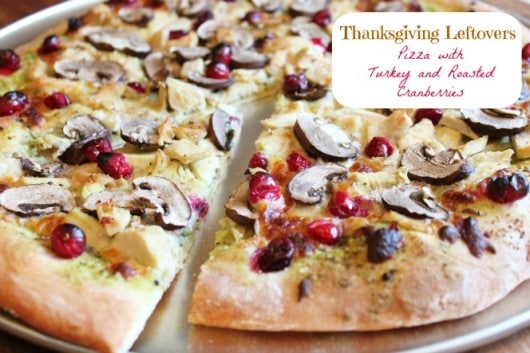 With large Holiday cooking often comes leftovers. Here is a quick easy and delicious pizza to make with turkey. Of course if you don't have turkey leftovers you can substitute chicken in this recipe. Decisions on what to make with all the leftover turkey brings for some interesting dishes. Instead of a soup, casserole or sandwich I opted to make a pizza.
I love pizza.
Making it.
Eating it.
It's all good.
Roasted cranberries give this pizza a wonderful savory taste that compliments the turkey along with mushrooms and pesto.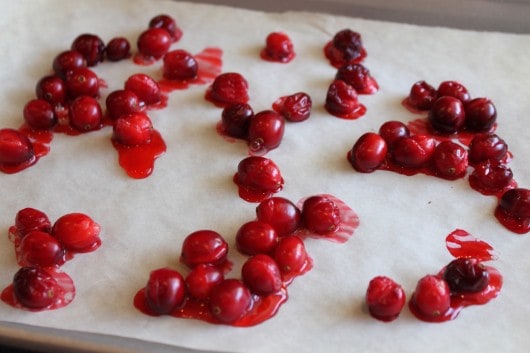 Roast cranberries on parchment lines baking sheet for 10 minutes at 400 degrees.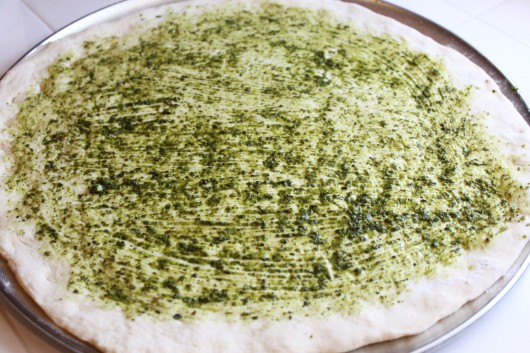 Stretch out pizza dough and spread with pesto sauce.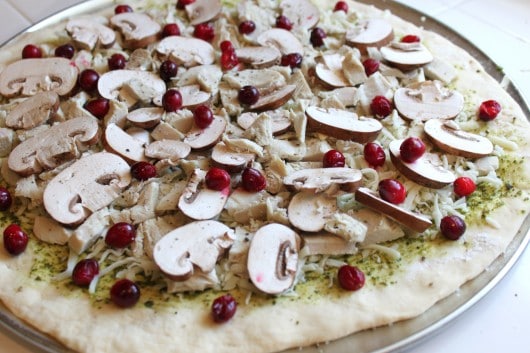 Spread cheese along with mushrooms and top with turkey and cranberries.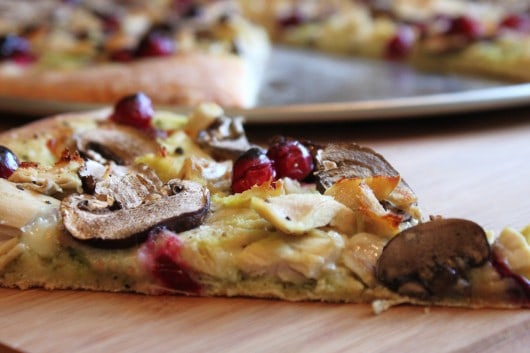 Thanksgiving Left Overs: Pizza with Turkey and Roasted Cranberries
Ingredients
1 16 oz. pizza dough
1 1/4 cups mozzarella cheese, grated
10 small Baby Portabella Bushrooms, sliced
3 tablespoons pesto
1 1/2 cups turkey, cooked and chopped
3/4 cup roasted cranberries
Instructions
Use a 16 oz. pizza dough ball from store or make pizza dough. Sprinkle cornmeal on pizza pan. Stretch dough to fit pizza pan. Spread on Pesto sauce, then add cheese, mushroom, turkey and cranberries. Bake 10 minutes or until crispy.
Notes
Pizza dough Brush Pesto on dough with silicone brush Be sure dough is at room temperature as it will stretch more easily Preheat oven and be sure it's plenty hot to bake pizza properly place cornmeal in a shaker container to shake onto pizza pan to prevent dough from sticking.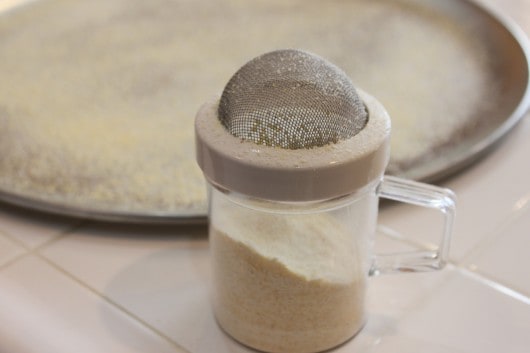 Cornmeal in shaker makes it easy to shake on pizza pan so the dough won't stick.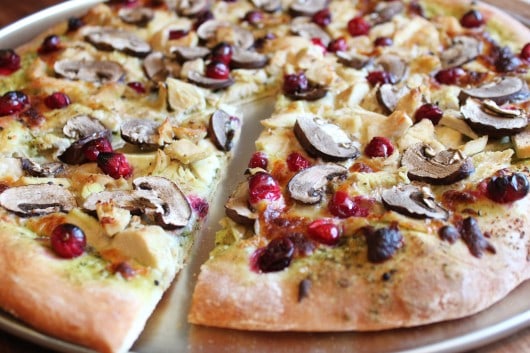 I just LOVED the sweet and tangy cranberries with the turkey and mushrooms.
What a great way to use up leftovers!