If you're a candy corn fan… this cake is for YOU! A fun and easy way to celebrate Fall is with this colorful 3 layer cake.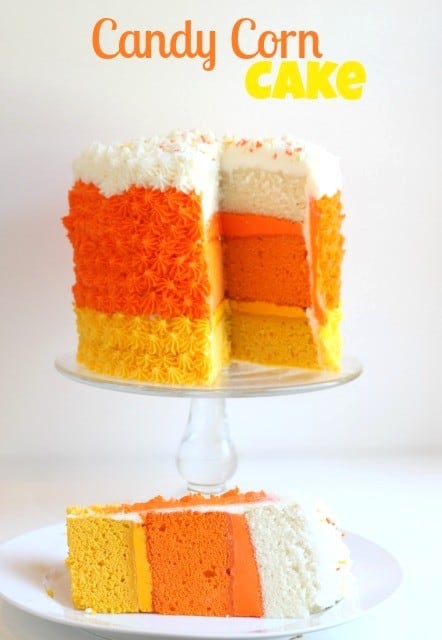 October just wouldn't be October if you didn't see candy corn, right?
I just love this time of year.
The weather is typically cooling off from the summer's heat and the leaves start turning and everything is all sorts of red, orange, and yellow.
Maybe they should have made the top color of the candy corn red? I like red…maybe they makers of candy corn will to and update their ever-popular candy!
To celebrate October it seemed only fitting to share with you my candy corn cake.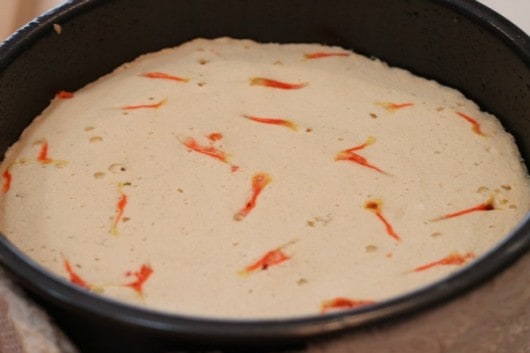 I did actually try to bake candy corn inside the cake, but trust me on this it was NOT a good idea. It looked cute on top, but inside the candy corns all melted and the cake was…..well….greasy. So I quickly made another white layer for my cake with out any candy corn.
Everyone thought the cake reminded them of candy corn and some even  asked me how I got the candy corn flavor into the cake and frosting. It's funny how that POWER of suggestion really took over on this one, I didn't add any unique flavor it was just all in their minds 🙂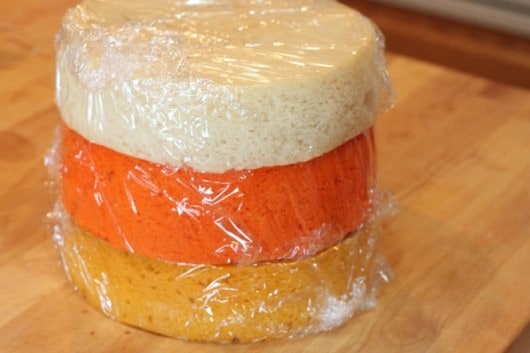 Candy Corn Cake
Ingredients
2 2/3 cups flour
2 teaspoons baking powder
1 1/4 teaspoon salt
1 1/3 cups butter
2 1/3 cups sugar
5 eggs
4 teaspoon vanilla extract
1 1/3 cups milk
Instructions
In mixer beat butter until smooth.
Add sugar and mix until fluffy, about 3 minutes.
Add eggs one at a time and incorporate completely
Mix in vanilla.
On Low add flour with baking powder in three additions alternating with the milk (beginning and ending with flour)
Do not overbeat, just mix in each addition until well blended.
Bake at 325 degrees until cake is fully cooked and the toothpick comes out clean.
Separate the batter into three bowls the total batter is 8 cups. Each bowl will have 2 2/3 cup batter, tint one orange, one yellow, and the other white, (yes they have white coloring it's one of my favorites, it makes it bright white) I use Americolor Colorings. The yellow is egg yellow.
These cakes were baked in 7-inch pans that was sprayed with a baking spray.
My cakes baked for 55 minutes.
Cool cakes completely.
I baked my cakes the day ahead and wrapped them in plastic wrap and placed them in the refrigerator overnight for them to firm up and be easier to stack when icing them.
Notes
Buttercream Frosting 1/2 cup butter 1/2 cup shortening 4 cups powdered sugar 3 tablespoons heavy cream 1 teaspoon vanilla extract Beat butter until smooth add powdered sugar, vanilla, milk. Mix until blended. Add extract and coloring and blend well. I used a #21-star tip for the piping. For this cake, I made two batches, refrigerate leftover frosting or go ahead and eat it with a spoon. separate the frosting into three bowls and color one orange, one egg yellow, and one white. (White Americolor coloring makes the frosting a bright white) I put orange and yellow in between the cake layers and a white crumb coat and placed it in the refrigerator. Then piped with the star tip and placed some sprinkles on top. The cake recipe is Williams Sonoma Great Vanilla Cupcake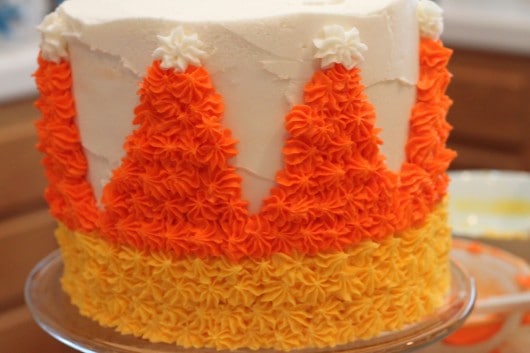 I started piping the yellow and then decided to make the orange go into triangles like candy corn, but then decided I didn't like it and just filled it in between the orange triangles, that is why my white line isn't so straight. Don't be like me and change in the middle of decorating… I sure wished I hadn't. But luckily it has no effect on the taste and all the cake was…..well….to put it simple….devoured!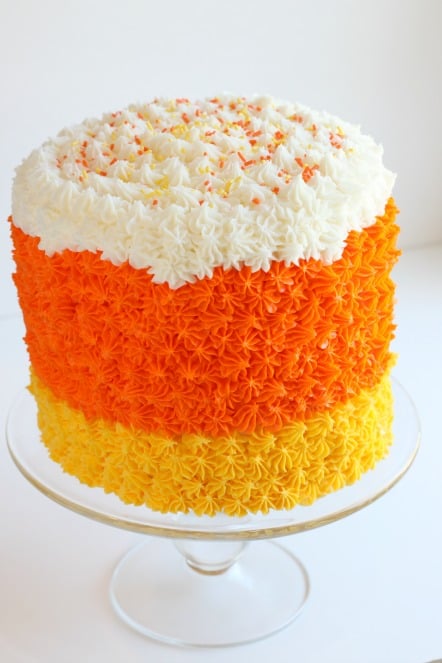 So the question that always comes to mind is do you like candy corn or not?
Doesn't really matter if you don't you would still enjoy this cake, just one more reason to make it there is no candy corn in it for the candy corn haters, it's as if it was a trick cake!
You may also like: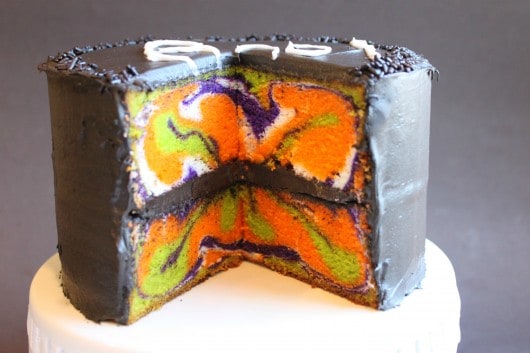 Halloween cake with surprise inside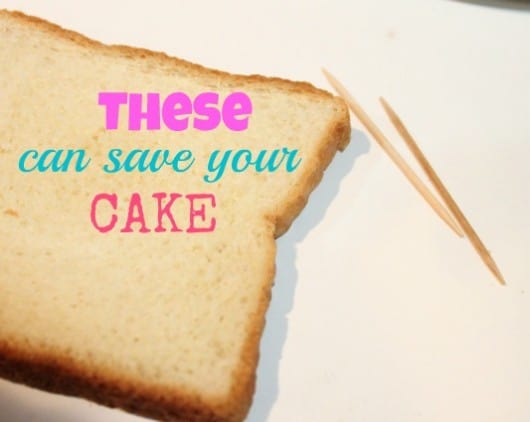 Here is a great tip to keep cake from going stale.