Chicken Salad!
Chicken, black beans, corn, jalapenos, tomatoes, cilantro, and lime.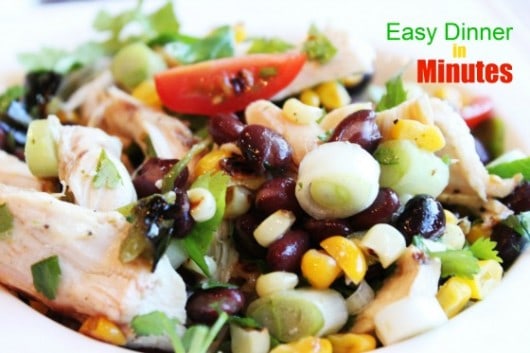 This give a whole new meaning to the term chicken salad.
There is no mayo, or canned shredded chicken here.
This is a quick and easy dinner I make often.
It's great if you have leftover chicken cooked, or if you use a rotisserie chicken, or fried chicken if that is your preference.
This chicken salad is great to bring to a party, or to a friend who may need a meal prepared for them for those times when life is just too difficult to get dinner on the table. It's great for the hectic school nights when there are only minutes to spare before running out the door again as well.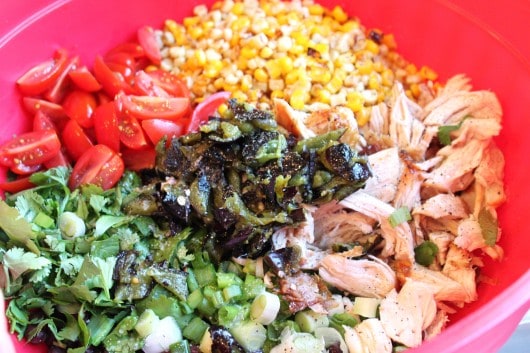 What a great bunch of colors! I think Chicken Salad just got a NEW makeover!
I roasted the jalapenos, and placed the corn in a skillet and roasted it for a few minutes to give it a fresh grilled type of taste.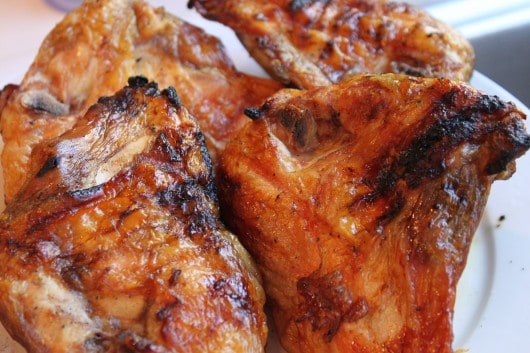 I grilled 4 split chicken breasts. It would be fine to substitute a whole rotisserie chicken, or leftover chicken or even fried chicken. The possibilities are endless, you could use fish, or steak or pork. Whatever your go-to protein is I'm sure it will work.  Well, maybe I didn't think that one through, eggs….well hard boiled eggs would be great. I wouldn't mix it all up thought I'd serve it like a cobb salad.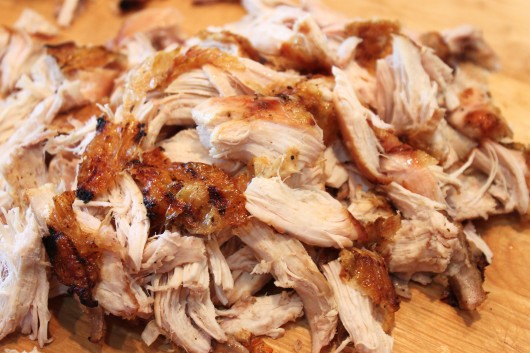 I pulled the chicken off the bone and tried to keep all the pieces about the same size so they would mix evenly in the salad.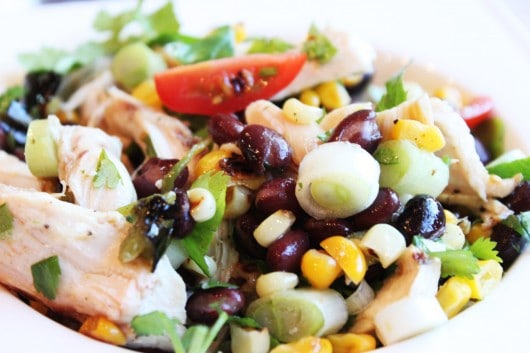 This will easily adapt to other vegetables that you may have on hand or to incorporate your favorites.

Easy Dinner in Minutes: Chicken Salad! chicken, black beans, corn, jalapenos, tomatoes, cilantro, and lime
Ingredients
4 chicken breasts or 4-6 cups cooked chicken.
1 can black beans rinsed
3 cups corn
2 cups grape tomatoes cut in 1/4's
4 jalapeno
1 bunch cilantro, chopped
4 scallions, chopped
1 lime juiced
1 tablespoon oil
salt and pepper to taste
Instructions
cut chicken into bit sized pieces
Heat corn in skillet until it's hot.
Saute scallions until soft.
Roast jalapenos on grill or stove, then remove rib and seeds and chop.
In large bowl place, chicken, cilantro, corn, scallions, jalapenos along with black beans, juice of a lime, tablespoon oil and salt and pepper.
Mix well and serve.
Notes
If you are using leftover chicken and it's cold, place in pan to heat for a minute. It does not need to be hot, but room temperature will taste nice with all the other flavors. If you are planning to serve this dish cold, you may find it nicer to have the chicken cut smaller.