Chocolate Chip Rice Krispie Cookies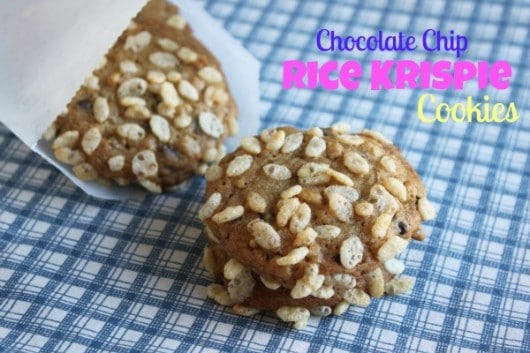 As soon as the door opens all I hear is, what are you baking?
Do I smell cookies?
Yes! Cookies are in the oven. Really who can resist the smell of fresh baked cookies. They pretty much SCREAM, come to the kitchen!
At least in my house they do!
These are no ordinary chocolate chip cookies, they are filled with rice krispies and rolled in them as well. So if you like crunchy……you will LOVE these. I couldn't get over how fun and crunchy they are. Think "crunch" bar. I haven't had one of those in a long time, but I recently had their new mini crunch…. something-a-rothers, they were like chocolate coated rice krispies. They were fun but really not crunchy enough. These cookies on the other hand are pretty crunchy.
I loved how the rice krispies stuck to the cookie dough so well and got golden when baked. It seemed to make them extra krispie.
Extra KRISPIE…Extra Crispy….ahhh either way, they disappeared before I could figure out how I wanted to spell it.

Chocolate Chip Rice Krispie Cookies
Ingredients
1 cup butter
3/4 cup brown sugar
3/4 cup sugar
2 teaspoons vanilla extract
2 eggs
2 cups flour
1 teaspoon baking soda
1 teaspoon salt
1 cup mini chocolate chips
2 cups Rice Krispie Cereal
Instructions
Beat butter, sugar until creamy.
Add vanilla, then one egg at a time, mixing well.
Add in flour with baking soda and salt. Stir in chips and one cup Rice Krispies.
Roll into two tablespoon size balls and then roll into remaining Rice Krispies.
Bake at 375 for 10-12 minutes.
I  can just say these will be just perfect in the hot weather, the Krispies make it great to hold them without the chocolate melting on your hands. Really good for when you bring them somewhere like a picnic or the beach or a party. At home feel free to add a ton more chocolate chips and lick you fingers all you want!
*adapted from Toll House Recipe