Pomegranate Orange Sauce perfect for Ham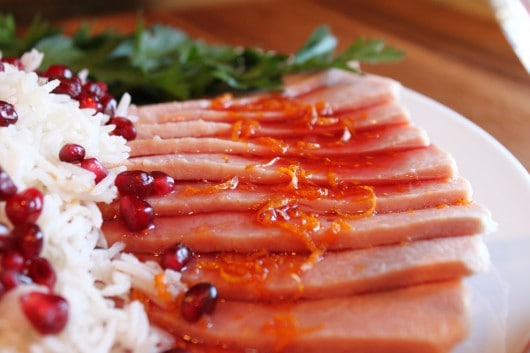 It feels so cold I think it may snow!
Chances are it won't.
We had a few flurries a few years ago, but it doesn't typically snow in Southern California.
It sure feels festive though.
Cold, crisp weather reminds me of Christmas in the East Coast. I recall driving around for hours to find the right Christmas tree to cut down, funny how some memories just pop into you head. We often had ham for Christmas dinner when I was growing up. I always loved the brown sugar and pineapple. Thinking of a sweet fruity topped ham had me thinking the since you can easily find precooked ham, it would be great to have an easy sauce to help get dinner on the table in minutes.
Pomegranate Orange Sauce
This sauce is delicious over ham or cooked carrots, the possibilities are endless I'm sure it would be great on pancakes too!

Pomegranate Orange Sauce
Ingredients
1 cup pomegranate juice
2 cups sugar
1 orange zested then juiced (1/4-1/2 cup juice)
1/2 teaspoon crushed red pepper
Instructions
In a medium saucepan bring pomegranate juice sugar and orange juice to a boil.
Stir then simmer on low 2 minutes.
Add crushed red pepper.
The sauce will thicken more as it cools.
Ham is great for a large gathering, or if you're like me and LOVE the leftovers.
Farmer John is based in Southern California. What you may not know is that Farmer John is the only packaged meat brand based here in L.A., celebrating its 80th anniversary this year. As the makers of the famous DODGER DOG® hot dogs at Dodgers Stadium, no one understands the local flavors of Southern California better than Farmer John. They asked for a locally inspired recipe and since Southern California is known for its oranges and pomegranates. 
Farmer John Hams are available in California, Nevada, Arizona, and Hawaii.