Frosting for the Cause, these royal icing toppers are AMAMZING!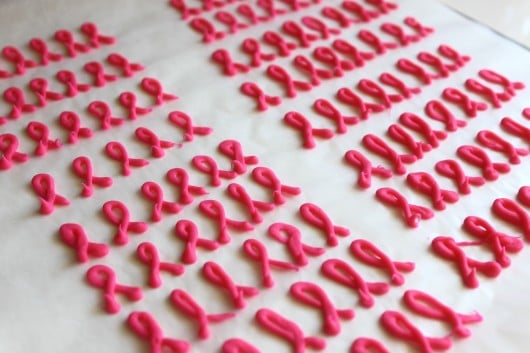 Pink Ribbon Accents made by melting candy melts and piping them onto wax paper.
These could be made with Glaze or Royal icing as well.
Yippee, it's my day….
My day on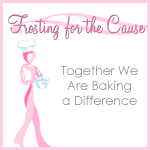 Frosting for the Cause wouldn't be possible without Paula. Do you know Paula-The Vanilla Bean Baker? Paula not only creates the most amazing things with royal icing she created Frosting for the Cause to help build awareness about Female Cancers and she has rallied many bakers to help spread the word.
If you haven't checked out Frosting for the Cause, please head over.
There are still days available if you like to bake and would like to help out. If you are more the observing type, there are plenty of posts to read. Each person contributing to the blog, donates their baked goods to a Cancer resource center and contributes to help with research for Cancer, by the end of 2011 there will be over $9,000 donated.
I hope you'll stop by and see what I've baked and do me a favor, tell Paula what a great job she is doing. After reading the write-up she did about me I really can't begin to tell you how honored I am to be a part of this great project. When Paula visits my blog she always leaves the most sincere comments they fill my heart each time I read them. I wish we were neighbors, I can only imagine all the delicious treats we could bake together!